If Defendant Did Not Meaningfully Understand Deportability?
In the context of Penal Code § 1473.7, there seems to be a general attitude among judges that the legal standard is just too low for a noncitizen to vacate his or her plea based on a prejudicial error and how it is defined.
The Gist of this Article: The following summary exemplifies how a defendant can vacate a conviction when he or she did not understand the potential for a different sentence decided by a judge when one fails to appear for sentencing under a People v Cruz waiver, as defendant had an immigration-neutral sentence but then failed to appear for sentencing, so the judge increased the sentence to an aggravated felony, resulting in his deportation. Yet defendant was able to vacate this conviction based on a claim he did not understand the immigration consequences of such a sentence.

The following case summary does nothing to change this for judges and perhaps, will only fuel their feeling of impotence on such motions.
Juan Romero Rodriguez came to the United States with his parents from Mexico in 1986 before he even was one year old. He became a lawful permanent resident in 2006. In 2007, he was arrested several times, three times in Riverside County and once in San Diego County.

The sentence he received in the San Diego County case, which occurred after an arrest in May 2007 at the San Clemente Border Patrol Checkpoint along the northbound 405 Freeway, is the subject of this article. The case began when the Border Patrol agent noticed an open container in his Rodriguez's truck at about 7:00 a.m., which Rodriguez was driving. When he was stopped, Rodriguez allegedly appeared confused and did not know where he was or where he was coming from.
The agent who made the first contact with Rodriguez directed him to a forward, separate inspection area, where agents discovered that the truck Rodriguez was driving had been reported stolen several days earlier. When confronted with this, Rodriguez acknowledged that it was stolen and commented "but everyone drives it." Rodriguez was then arrested and agents found a glass pipe for smoking marijuana and a small amount of marijuana in his pockets. When questioned further, after waiving his Miranda rights, he stated that he knew the truck was stolen and that any key would start the ignition. He also explained that he had taken the truck to a party, but got lost on his way home.
Rodriguez was later charged in San Diego Superior Court with four counts: 1) taking and driving a vehicle (Vehicle Code § 10851(a)); 2) receiving a stolen vehicle (Penal Code § 496(d)); 3) possession of drug paraphernalia (Health & Safety Code § 11364); and 4) possession of marijuana (Health & Safety Code § 11357(b)).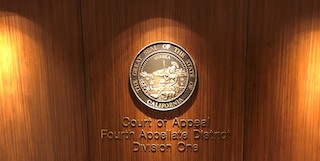 Court of Appeal Fourth Appellate District Div 1 San Diego
Rodriguez was assigned to public defender David Thompson, who was aware of Rodriguez's immigration status and had experience dealing with the collateral immigration consequences of criminal convictions. Mr. Thompson negotiated a plea in which Rodriguez pled guilty to a violation of Vehicle Code § 10851(a) and received probation, with no more than 120 days in local custody. The sentence avoided any negative immigration consequences.
Before the plea was entered, however, Thompson was transferred to a different office and Rodriguez's case was reassigned to a new deputy public defender, Ann Michelle Chhokar. Rodriguez then entered into a plea bargain that acknowledged his plea was entered "will result in my removal / deportation." Rodriguez also stated he understood that he could receive a maximum punishment of three years in state prison.
The judge then referred the matter to the probation department for a sentencing report and set sentencing over about a month pursuant to People v. Cruz (1988) 44 Cal. 3d 1247 (a "Cruz Waiver").

Before the sentencing date, however, Rodriguez was taken into custody in Riverside County on other charges and failed to appear in San Diego Superior Court for sentencing. A bench warrant was issued, but sentencing was not imposed.
In the meantime, Rodriguez was convicted of second-degree burglary in the Riverside case and sentenced to sixteen months in state prison.
Rodriguez's public defender in San Diego county then sent Rodriguez a letter in state prison, asking him to fill out a Penal Code § 1381 demand and expressed confidence that his sentence in San Diego County would be concurrent, not consecutive, to his time for the Riverside County case.
Rodriguez then filled out a 1381 demand and authorized the San Diego County public defender to handle his sentencing without him being present.
The judge in San Diego County then sentenced Rodriguez to sixteen months in state prison, elevating his conviction to an "aggravated" felony under federal immigration laws and subjecting him to deportation. Rodriguez, however, continued to believe his sentence was according to the plea agreement he reached involving probation and 120 days in county jail.
In 2008, the U.S. Department of Homeland Security issued Rodriguez a Notice to Appear and advising him that he was subject to deportation because he had been "convicted of two crimes involving moral turpitude not arising out of a single scheme of criminal misconduct."

In 2019, Rodriguez retained counsel to vacate his San Diego County conviction under Penal Code § 1473.7. He argued that there was a prejudicial error in his sentencing because he was not aware that his sentence would be elevated to an "aggravated" felony.

The judge denied the motion, but noting the unusual series of events, encouraged Rodriguez to appeal the decision.
Rodriguez did so and the Fourth Appellate District Court reversed, finding that Rodriguez was not aware that he would be deported as a consequence of his plea in the San Diego County case, especially because his original public defender was aware of the immigration consequences and worked to reach a plea bargain that was immigration neutral. Rodriguez was never advised that if he did not appear for sentencing, a different sentence could be imposed that resulted in his deportation.
The citation for the Fourth Appellate District Court ruling discussed above is People v. Juan Romero Rodriguez (4th App. Dist., 2021) 60 Cal. App. 5th 995, 275 Cal. Rptr. 3d 258.

For more information about Penal Coded § 1473.7 issues, please click on the following articles: