Expungement of Infraction, Torrance, First a Misdemeanor 372
Our client, then age 29, was a project engineer managing large-scale commercial construction projects in the Los Angeles area and elsewhere. His career as a project engineer was solid and he saw himself progressing upward to one day obtain his Professional Engineer (PE) license from the State of California. To get there, he first needed to take the Engineer in Training (EIT) exam and pass this to become an EIT.
This career path plan was put on hold unexpectedly one evening in Hermosa Beach when our client had a few too many drinks in a local bar on Pier Plaza and was walking over to the area to meet his Uber driver. On the walk over to the Uber / Lyft / taxi pick up area, our client felt the need to urinate behind a dumpster, so he did so. After all, it was just past closing time for all the bars and the bar he was at did not let him back in.
After our client finished urinating, he zipped up his pants and took a few steps toward the area when his Uber driver instructed to him wait to meet him. Our client then heard a voice from behind him say, "Excuse me, sir. Please stop." Our client looked over his shoulder to see a uniformed police officer from the Hermosa Beach Police Department.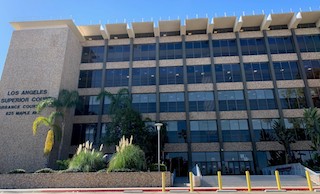 Torrance Courthouse
Our client stopped and the officer asked our client if he had just urinated. Our client stated he had and apologized, anticipating that the officer would gently warn him not to do this in the future and he could proceed to the Uber pick-up area in downtown Hermosa Beach.

Instead, the officer then asked for our client's identification and, once he was handed our client's driver's license, proceeded to fill out a ticket for our client.
Our client was confused when he was handed the ticket, believing it would be a $10 fine or something small. However, the police officer asked our client to sign a "Promise to Appear" in the Torrance Superior Court in about six weeks. Our client signed this part of the ticket, toward the bottom and was handed the ticket. The officer then walked away into the darkness.
When our client got home, he inspected the ticket more closely, seeing that it said he was cited for violation of "PC 372 Public Nuisance." Our client had no prior criminal history, so such an abbreviation meant nothing to him. He then searched this term on the Internet and realized PC 372 stood for Penal Code section 372. Our client read further and learned that this was a misdemeanor punishable by up to six months in county jail and a $500 fine. The client read further and saw that several attorney (falsely) posted that one could be ordered to register as a sex offender for public urination, which is how Hermosa Beach cited our client for public nuisance.
The client then called Greg Hill & Associates and spoke with Greg Hill. The client explained his career as a project engineer and how having a misdemeanor on his record may ruin his chances at eventually becoming a licensed professional engineer since one must pass a background check prior to even taking the test to become an engineer in training. Greg explained how such cases are generally handled at the Torrance courthouse and what our client could do to help have his case resolved as an infraction for violating Penal Code § 415(2) instead. Greg recommended that the client attend ten Alcoholics Anonymous (AA) meetings and give him the AA sheet prior to the arraignment.
The client then attended ten AA meetings like Greg recommended and e-mailed Greg the AA sign-in sheet.
Greg then went to the arraignment on the client's behalf (the client remained at work), armed with the AA sign-in sheet showing our client's AA sign-in sheet. The Redondo Beach City Prosecutor agreed to amend the complaint to allege an infraction for a violation of Penal Code § 415(2) if the client made a $550 contribution to the Hermosa Beach Nuisance Abatement Fund. The Redondo Beach City Prosecutor also kindly waived any court fine for our client because he attended ten AA meetings (this saved our client perhaps $300 in court fines).
Greg then left the courthouse and told the client about the plea bargain offered. The client was greatly relieved and then made the $550 donation, giving Greg the receipt to take back to court in a few weeks.
Greg then returned to court and showed the Redondo Beach City Prosecutor the receipt for the Nuisance Abatement Fund contribution. Good to her word, the Redondo Beach City Prosecutor then allowed our client to plead to the infraction and the misdemeanor was dismissed.
A little over a year later, our office then contacted the client to see if he was interested in having the infraction expunged from his record under Penal Code § 1203.3(a). The client indicated he was, so our office prepared the petition for dismissal (judicial council form FL-180), supplementing it with a short memorandum of points and authorities and a declaration from our client explaining why he sought expungement of the conviction for 415(2).
Our office then filed the petition and appeared at the hearing on it in the Torrance Superior Court. The judge granted this petition, which made the client very happy, knowing he had done everything possible to keep his career dreams alive.
For more information about expungement issues, please click on the following articles:
Contact us.