Expungement, Newport Beach, Driving on a Suspended License
Our client, now 34 years old, called us about expunging a misdemeanor conviction from 2011 that he had suffered in the Newport Beach (Harbor Justice Center) Superior Court for driving on a suspended license when the license had been suspended for a DUI. The code section for such a violation is Vehicle Code § 14601.2. The client explained that he needed the conviction expunged for two reasons.
The client first explained that he was not a U.S. citizen and he was trying to obtain his social security number through the DREAM (Development, Relief and Education for Alien Minors) Act because he came to the United States as a minor. He needed his social security number to apply for many jobs. If he could have the 14601.2 conviction expunged, he would be eligible for a social security number, his immigration attorney told him.
Second, he needed a work permit to continue working and to support his wife and four daughters. While he had a California State Contracting B & C licenses, he ironically could not get a work permit. It was somewhat counterintuitive, but his company was licensed to provide remodeling, painting and drywall services, but the owner of the company could not work without a work permit.
Greg explained to the client how expungement actually does not erase, delete or remove the case from one's record (and in his case, since he had a 14601.2, he also had a DUI conviction), but it does change the last plea back from guilty to not guilty and it shows the case is dismissed. Greg explained that with Jerry Brown's "new law" passed in 2015, Assembly Bill 2396, certain state licensing boards were prohibited from denying licenses based on expunged convictions. Consequently, having his conviction expunged may be a big help.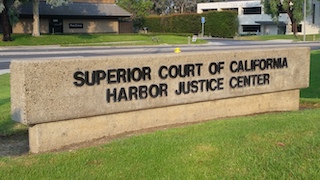 Newport Beach Courthouse
The client then described how his immigration attorney had told him to have the conviction expunged, so the client sought us out.
The client said he understood that expungement does not "cancel" the conviction or take it off one's record completely.
Greg then explained how long the process generally took because most clients expect the expungement to happen very fast. Greg explained how it did not happen overnight, but took several weeks from start to finish.

Greg Hill & Associates then sent the client about ten questions via e-mail to answer as to why he needed the conviction expunged, his immigration status, his employment and family status. The answers to these questions were then used to form a declaration from him that was filed for the judge to read with his application for expungement. We explained that such a declaration, along with a short explanation to the judge about the legal grounds for expungement often helps with the petition being granted.
The client then answered each of the questions and provided photocopies of his state contracting licenses, as well as photographs of his family that we included as exhibits to his declaration filed with his petition for dismissal (form CR-180). Our office then had him sign his final declaration and Greg went to the Newport Beach (Harbor Justice Center) Superior Court, where he filed the petition for dismissal, paid the $150 court fee to the Orange County Superior Court and served the Orange County District Attorney with the petition.
About three weeks later, which was sooner than expected, our office received a copy of the signed order of dismissal from the court clerk. No hearing had been set. Instead, the judge took the matter under submission in his chambers and granted the petition without even a hearing.
This was a huge relief for our client, who we advised of the result and e-mailed him a pdf copy of the signed order of dismissal.

However, he still had his underlying conviction for DUI outstanding from another courthouse in Orange County, so he felt confident that he could trust Greg Hill & Associates to now work on having that conviction expunged as well. If this later petition for dismissal of the DUI conviction was expunged, there would be no remaining barriers for him to obtaining his social security number and his work permit.

For more information about expungement, please click on the following articles: