Evading Arrest at 119 MPH, DUI, Santa Ana, 9 months Jail
The Gist of this Article: Client observed driving 119 miles per hour while DUI, evading arrest only to be stopped by CHP using PIT maneuver. Orange County judge sarcastically denies mental health diversion motion and client takes plea with sentence of 270 days in Orange County jail.

Our client, age 29, had experienced a very difficult past few months. He had invested all of this money in crypto-currency fund only to have the fund website "go dark" and run away with his $400,000. His girlfriend of ten years then dumped him. His real estate listings were down with the rise in interest rates.
One evening, he went out to a bar and, as he was driving home, reached speeds of near 120 miles per hour along the southbound 55 Freeway. It was 2:30 a.m., so the roads were empty, but he did catch the attention of a Santa Ana CHP officer who gave chase.
The officer sped up to reach our client, having to exceed 130 miles per hour in the process. Once he got close to our client, he paced him at 119 miles per hour. The red and blue lights flashing of the police car seemed to have no effect on our client, who eventually got off the freeway, but police still could not pull him over until they did a PIT (pursuit intervention technique) maneuver on his car.

Our client was disoriented and jarred from the crash. His blood alcohol content (BAC) at the scene was 0.09% and 0.095% by a breath test on a preliminary alcohol screening (PAS) device. He then submitted to a blood test at the station. He was released the following morning on $50,000 bail, the bail for attempting to evade law enforcement recklessly (Vehicle Code § 2800.2).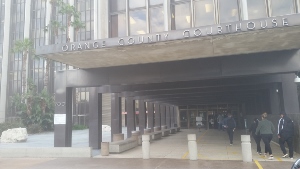 Santa Ana Courthouse

His parents in Hawaii helped coordinate bail for him. Our client had a pending DUI in Hawaii, as well. His parents then called Greg Hill & Associates and spoke at length with Greg. Greg listened to the concerned father explain what had happened in his son's life and how his son was simply not well mentally.
It had only been two or three months since Governor Jerry Brown had signed into law Assembly Bill 1810, codified into Penal Code § 1001.36. This bill allowed mental health diversion for those who were charged with a crime, but whose commission of the offense was caused by mental illness. To have the judge allow diversion, which would avoid a conviction, the judge must find that the mental disorder "played a significant role in the commission of the charged offense" or "substantially contributed to the defendant's involvement in the commission of the offense." Penal Code § 1001.36(a)(2).
The client and Greg then appeared at the arraignment on the case and were shocked to hear the initial offer was three years in state prison. Greg then had the blood sample retested by our own laboratory and it came back at 0.07% blood alcohol content. The offer then dropped to two years, but it was still quite shocking to the client's family.
Greg then prepared a motion for imposition of mental disorder diversion for the client. The hearing was assigned to a judge who heard several such motions each day. He denied the motion, sarcastically claiming that the only reason the motion was filed was because Greg suggested it, which was true and which really was no reason to deny the motion. After all, the client (non-lawyer) would have no legal knowledge about a recent change in the law. The judge was curt and rude, disrespectful and patronizing to our client. He denied the motion.
Greg and the client then proceeded toward the preliminary hearing, now nearly seven months after the arraignment and more than a year since the arrest. The Orange County District Attorney assigned to the matter then was placed on emergency medical leave of some sort and a new prosecutor took over the case.
Meanwhile, our client had continued seeing a psychologist and his mental health improved greatly. His real estate business seemed to pick up and he became engaged with a new woman, who also was pregnant with their first child.
The new prosecutor assigned to the case did not care to look over the motion and all the mitigating information in the file. At first, he offered the same two years in state prison, but at the eve of the preliminary hearing, lowered the offer to nine months (270 days) in county jail.
Our client accepted this offer.
We present this summary as somewhat of a cautionary tale as to how harsh Orange County can be. Granted, the client's DUI was an extremely dangerous situation. However, this case would not have resolved with such callousness, disrespect and arrogance had it been filed in Los Angeles County. The undeniable mental health issues would have been given greater weight and consideration and should have been recognized as causing the crime. We do not suggest that our client was innocent, but the mitigating factors in this case should have been considered much more than they were considered.
For more information about evading a police officer, please click on the following articles:
Contact us.