East Los Angeles Probation Violation, DUI, 12 Year Warrant
Our client from El Salvador picked up two DUI's within five months, both in the East Los Angeles Courthouse. At the time, he was 23 years old. It was a rough time in his life, as his family kicked him out of the house and he struggled to find a place to live and work. Then his parents moved to Maryland and he remained in California.
He was not a U.S. citizen and English was a tough second language to learn.
The Gist of This Summary: Client has misdemeanor bench warrant for probation violation in second-time DUI out of East Los Angeles Courthouse. Warrant outstanding for sixteen years. Employer tells client about it. Client living in Maryland was then facing deportation to El Salvador. Greg has warrant recalled, probation terminated.

As he was completing the three-month alcohol awareness program for his first DUI, performing community service in lieu of court fines, he picked up a second DUI. This one was more serious because he had a 0.18% BAC and was involved in a car accident.
He entered into a plea bargain at the arraignment using the public defender. This involved thirty-six months of summary probation, four days in Los Angeles County Jail, a $510 fine plus penalties and assessments (or 17 days of county jail or fifteen days of Cal-Trans) and completion of the eighteen-month SB-38 alcohol awareness program.
Mostly due to financial issues and language difficulties, our client struggled on probation, but he eventually did surrender to serve his four days in county jail. He later converted his court fines to Cal-Trans and performed the fifteen days required, albeit not without several bench warrants for not finishing by court-ordered deadlines, not appearing in court, only to appear later to have the warrant set aside.
His performance in the SB-38 program was similar. He was kicked out of the program four times for failing to attend classes, only to re-enroll and continue with the program. Due to probation being revoked repeatedly, it took his over five years to near the finish line on the program.
Then suddenly, when the client had just five "community re-entry" classes remaining, our client moved to Maryland to reunite with his family. Seven years passed with no problem, or so he thought.
Then one day his boss told him that he had a bench warrant out of California. The client called Greg Hill & Associates and spoke to Greg in Spanish.
Greg listened to the client explain what had happened, but the client did not know why there was a bench warrant. Greg then went to court and examined the court file, finding that the client was just five classes short of finishing the SB-38 program.
Greg then called the program provider in East Los Angeles and showed the program provider the client's last progress report, which was in the court file (Greg got a copy). Greg asked if that program would accept five more classes from a similar alcohol awareness program in Maryland. The program said they would not and that the client would have to start all over and do almost 17 months of the 18-month program all over.
Greg then shared this bad news with the client and went to court, as it was urgent that the client have the bench warrant recalled to work in Maryland. The client was also facing deportation proceedings in Maryland.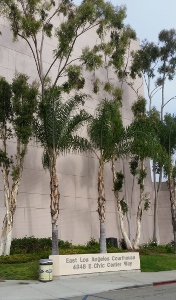 East Los Angeles Superior Courthouse
Greg appeared in the East Los Angeles Courthouse on the client's behalf and asked to have the bench warrant recalled. The judge at first denied the request, reviewing the client's poor performance on probation, but then changed his mind. Greg then asked if the judge would allow our client to complete five "community re-entry" classes online and the judge said, no, that it would have to be in-person.
Our client then endeavored to find any Spanish-speaking program provider in Maryland and could find nothing. Eventually, however, he did find such classes and did all five.
Greg then returned to court and asked the judge to find our client had finished the SB38 program. Surprisingly, the judge agreed, but not before again explaining that he thought it was unfair to grant our client such a favor. However, the judge ultimately did find the SB38 program finished and even terminated probation, too, opening the door for our client to seek expungement (and maybe avoid removal).
The client was extremely grateful to have the bench warrant lifted and probation terminated.
For more information about probation violation issues, please click on the following articles:
Contact us.