East LA Courthouse DUI, Veteran's Diversion, Dismissal
Our client, age 25, was a combat veteran of the U.S. Army. He entered the military in 2011, directly after finishing high school, and served in Afghanistan for almost eight months before suffering a severe traumatic brain injury (TBI) while serving in an Army infantry unit. An enemy rocket-propelled grenade (RFG) exploded near him, injuring him. Six pieces of shrapnel were removed from his body.
Summary: DUI with a car accident on the 710 Freeway resolved for Veteran's Diversion and no conviction. Client has a blood alcohol content of 0.23% and 0.21%. Case filed in East Los Angeles Superior Court.
He received a Purple Heart and the Afghanistan Campaign Medal with two campaign stars.
After more than four years of service, our client was honorably discharged from the Army. During his time in the military, he rose to the rank of Sergeant (E-5).
Unfortunately, due to his injuries, he took comfort in drinking excessively to fight the pain from his injury and to help as a sleeping aid. His dependence on alcohol use reached new levels, and resulted in him being arrested for DUI on the southbound 710 Freeway near the Second Street off ramp.
He had been driving his modified pick-up truck when the front right axle broke unexpectedly, causing his truck to lose control and sending him into a small retaining wall, which caused him to come to a stop. His girlfriend was in the passenger seat. It was approximately 1:30 a.m.
While inspecting the damage, he was met by a CHP officer who detected the odor of alcohol and asked our client if he had been drinking at all. Our client truthfully said he had been drinking, but stated his girlfriend was the driver.
The CHP officer then asked the girlfriend if she had been driving and she stated that she indeed was the driver.
The CHP officer did not believe the girlfriend or our client and arrested our client for DUI. The CHP then allowed the girlfriend to call an Uber and leave the scene once the Uber arrived. At the police station, our client's blood alcohol content (BAC) was measured at 0.23% and 0.21%. It was his first DUI and first arrest of any sort.
Once released, the client called Greg Hill & Associates and explained what had happened. He called Greg Hill because he read that Greg was a veteran himself and offered a veteran's discount. Moreover, he had called four other attorneys before calling Greg and each had fees that were more than the client could afford and none sounded very optimistic about avoiding a conviction. None of the other attorneys told the client that he was eligible for veteran's diversion.
Greg, in contrast, told the client that under Penal Code § 1001.80 and Senate Bill 725, signed by Governor Brown on August 7, 2017 (adding paragraph (l) to make DUI eligible), the client was eligible for dismissal of the case as a veteran under a program called Veteran's Diversion. At the time of this case, Veteran's Diversion was a relatively new program and had only been in effect about six months. It was not as widely known as it is now.
The client was very happy to find this out and hired Greg for a fee of less than half what the other, less knowledgeable and more expensive lawyers demanded. Moreover, none of the other attorneys were a veteran like Greg (Greg served in the U.S. Marine Corps from 1987 to 1994 and flew 35 combat missions in Operation Desert Storm).
Greg then filed a written motion for imposition of Veteran's Diversion. The motion, filed in the East Los Angeles Superior Court, described the client's service and had a letter from our client's doctor, explaining that the drinking was service-related.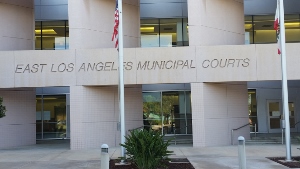 East Los Angeles Superior Courthouse
The judge in East Los Angeles Superior Court granted the motion, requiring our client to undergo a six-month alcohol treatment program at the East Los Angeles VA hospital only, but also remain out of trouble for one year.
The client was very happy that Greg knew about this program, availed him of it and charged considerably less for better results.
For more information about DUI issues involving a controlled substance and a 911 caller concerning DUI, please click on the following articles:
U.S. Supreme Court Lowers Standards for Allowing a DUI Traffic Stop Based on an Anonymous Call to 911
Contact us.