Early End to Probation, Expungement, 647(b) Bellflower
In 2018, on Super Bowl Sunday, our client decided to peruse CityXGuide.com and skipthegames.com, a website where one could find a prostitute and, our client discovered, a lot of trouble.
Our client found one named "Becky," who said she was blond, age 19 and our client began texting her about meeting her. Our client had no idea that "Becky" was really a police decoy and that the Lakewood Sheriffs placed the advertisement for "Becky," complete with a photograph of a voluptuous blond. "Becky" suggested the two meet at the Budget Inn on Clark Avenue and our client agreed. They also agreed that he would pay her $100 for certain explicit sex acts.
When our client arrived at the Budget Inn and went to the room "Becky" instructed our client to meet her in, our client was arrested by the Lakewood Sheriffs.

After being released, the client contacted Greg Hill & Associates and discussed the facts of his case, his prior criminal history and what he could expect in terms of punishment. Greg explained how such cases are resolved in other courthouses, but candidly stated that while he had handled perhaps 100 solicitation of prostitution cases all over Los Angeles and Orange County, he had not seen one in Bellflower Superior Court before, so he was not certain exactly how it would resolve.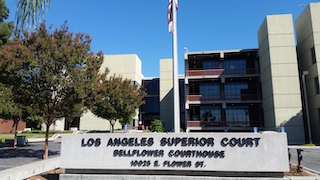 Bellflower Courthouse
Surprisingly, the prosecution, perhaps in response to then Head District Attorney Jackie Lacey's public statements about combatting human trafficking, did not make an offer to allow some form of diversion or to plea to an infraction like was routinely done in the Compton Courthouse just five miles away. Instead, the prosecutors held fast to an offer of a plea to misdemeanor solicitation of prostitution, Penal Code § 647(b), and three years of informal probation, an HIV / AIDS education class, 40 hour of community service, a $220 court fine and a stay away order from the Budget Inn on Clark Avenue. This was the plea bargain and its terms that were ultimately agreed upon, regrettably.
While our client was on probation, however, COVID 19 arrived and our client's hours as a body technician at a major collision center were reduced, making it hard for our client to make ends meet. His mother then passed away, leaving his disabled father alone. And to complete the perfect storm of bad luck, the Huntington Park homeowner from which our client rented a room decided to sell the home, terminating our client's rental agreement.
In response, our client decided to move back to Algodones, New Mexico to help his father get along. Our client was at the half-way mark of his probation (18 months) at this time and Greg asked him if he was interested in early termination of probation and then expungement and the client stated he was. Greg added that because of the passage of Assembly Bill 1950, the maximum probation on his type of case, as of January 1, 2021, was one year now.
The client, now age 42, eagerly agreed to filing such a request with the judge, which the judge granted. The judge granted the motion on application of Assembly Bill 1950 to the case, not under Penal Code 1203.3, as our office commonly invoked, which gave the judge discretion to modify the terms and conditions of probation. Instead, the judge ended probation because Assembly Bill had been held to be retroactive in effect to existing cases on probation when the bill's conditions became effective.
It merits mention that Assembly Bill 1950 limits probation to one year for most misdemeanors (exceptions being for DUI and domestic violence, among others) and two years for most felonies (exceptions being for DUI and domestic violence, as well as many others).
Our office thereafter promptly filed a petition for dismissal for our client to "expunge" the 647(b) conviction. The judge in the Bellflower courthouse also granted this request, making our client quite happy and more optimistic about finding a job in New Mexico while living with his disabled father.
For more information about early termination of probation and expungement, please click on the following articles: