DUI, Metro Courthouse, 0.10% BAC, Resolved as VC § 23109
Brief Synopsis: Client arrested for DUI with a BAC of 0.104% at the police station, but she suffered from methane sibo, a rare condition where her body releases methane out of her digestive system and therefore, such gas mixes with her breath, elevating her breath alcohol content above her blood alcohol content (BAC). Case resolved for an exhibition of speed, Vehicle Code § 23109.

Our client, age 27, had graduated from a prestigious four-year university and was working her way into the entertainment industry as an executive assistant with a global media company. It was a tough job with long hours and low wages, so when her friends suggested they burn off some steam with a few drinks at Killer Shrimp in Venice, she readily accepted the invitation.
While at the restaurant, our client did drink a glass or two of grapefruit juice with gin, but no more, as she knew she had to drive home afterwards and she did not want to be guilty of driving under the influence.
While driving home and eastward on Washington Boulevard at about 1:00 a.m., she noticed the blue and pink lights of a police car behind her. She pulled over and was advised by the CHP officer who made the stop that she was driving on expired registration. Indeed, her license plate did not have current registration and she did not have a California driver's license.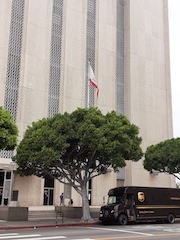 Los Angeles Metro Courthouse
According to the police report, as the CHP officer was talking to our client, he could smell the odor of alcohol, so he asked our client if she had any alcohol that evening. Our client honestly answered that she had drank two glasses of wine. She allegedly also had slurred speech and bloodshot-watery eyes.

The officer then proceeded to administer a preliminary alcohol screening (PAS) test on our client, but only 13 minutes after he first saw our client driving. The manufacturer's guidelines for this type of PAS device, as well as California Code of Regulations, Title 17, section 1219.3 require the arresting officer to observe the subject of such a test for a minimum of fifteen minutes prior to administering such a test. See also Sandra Molenda v. DMV (2009) 172 Cal.App.4th 974.
The CHP officer, however, then signed the breath test certification, stating under penalty of perjury that his administration of the test was in compliance with all applicable legal standards, as well as the manufacturer guidelines. This was false.
The client's breath test results were 0.093% and 0.094% blood alcohol content by breath. Our client was then arrested and taken to the Culver City Police Station, where she submitted to a further breath test on an Intoxilyzer EC / IR-II machine. On this test, her blood alcohol content was measured at 0.098% and 0.104%. The client was then transported to the 77th Precinct off Broadway Avenue in South Central Los Angeles, where she was held overnight, but released in the morning after signing a promise to appear in the Metropolitan Courthouse in about eight weeks.
The entire experience was very troubling for our client. She suffers from methane sibo, a medical condition wherein bacteria in her small intestine produces methane that she expels through her respiratory system, so her breath alcohol was considerably higher than her blood alcohol content. In other words, her breath alcohol content was not truly representative of her blood alcohol content like it is with most people.
Greg listened to the client explain this medical condition and explained how this condition is similar to the experiences of someone who suffers from GERD (gastroesophageal reflux disease) or acid-reflux. Greg further explained that this condition would be relevant toward resolution of the case if the Los Angeles City Attorney insisted upon resolving the case as a DUI.
Greg explained that if the prosecution offered to resolve the case as a wet reckless (Vehicle Code § 23103 pursuant to 23103.5) or an exhibition of speed (Vehicle Code § 23109), fighting about her breath alcohol content would be irrelevant.
Greg Hill & Associates then appeared in the Metropolitan Courthouse for the arraignment and was pleased to learn that the Los Angeles City Attorney assigned to the case was willing to resolve the case as an exhibition of speed and dismiss the DUI, as well as the charges for driving without valid registration and without a valid California driver's license.
As Greg explained to the client, an exhibition of speed is further advantageous to a DUI because it is not considered "priorable" as a DUI like a wet reckless is considered priorable. In other words, if our client were arrested for DUI in the next ten years, the conviction for a "speed ex" would not be considered a prior DUI.
The client accepted the resolution of the case as a violation of 23109, with two years of informal, or summary probation, a $250 fine, plus penalties and assessments (credit one day in custody, or $125 towards the base fine) and an obligation to attend the Mothers Against Drunk Driving (MADD) victim impact panel (VIP).
For more information about the issues involved in this case summary, please click on the following articles: