DUI Double Jeopardy: Is Military NJP a Bar to Civilian Case?
In October, 2009, Robert Reveles was arrested for driving under the influence while on the Kitsay Naval Base in Bremerton, Washington. He was subsequently charged with a violation of Article 111 of the Uniform Code of Military Justice (UCMJ).
Summary: DUI double jeopardy: is Military NJP (Non-Judicial Punishment) a criminal prosecution, thus barring further civilian prosecution?

At Reveles' UCMJ hearing, Reveles was found guilty of violating Article 111 and sentenced to a $200 forfeiture of pay, a reduction in rank (meaning less pay), extra duties for forty-five days and restrictions to the ship he was assigned to for forty-five days.
Based on the same conduct (DUI), Reveles was also prosecuted in a non-military, civil federal court for a violation of 18 U.S.C. §§ 7 and 13, as well as Washington DUI law Reveles perceived this as double jeopardy, so he filed a Motion to Dismiss for Violation of the Fifth Amendment's Double Jeopardy Clause. He noted that the punishment available at an NJP was certainly comparable to that which a criminal court could impose and that an NJP shares many due process safeguards with a criminal court proceeding.
The Fifth Amendment provides that no person "shall be subject for the same offense to be twice put in jeopardy of life or limb."
The trial court denied the motion and Reveles appealed to the Ninth Circuit Court of Appeals (
United States v. Robert Reeves
(2011 DJDAR 15535)).
The Ninth Circuit's analysis began by noting that the UCMJ provides for four separate methods of disposing of cases. The Court notes that NJP such as Reveles had is distinguishable from a court martial, "which resembles a judicial proceeding," whereas NJP is "administrative in nature" and "meant to deal with the most minor offenses."
Noting this difference, the Court determined that Congress' intent in drafting the UCMJ was to make NJP non-criminal in nature and to distinguish NJP from a criminal proceeding. Moreover, NJP does not result in a "federal record" or a "federal conviction," and future sentencing enhancements are not a consequence of an adverse NJP ruling.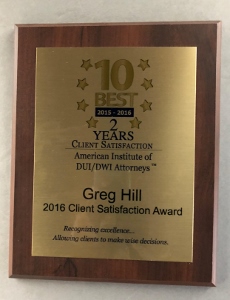 The Court also noted that the UCMJ, at part V, paragraph 1f(5), states that NJP is not a bar to a further court martial for the same offense..
The Court acknowledged that NJP proceeding shared certain due process safeguards as a criminal proceeding, but characterized these as needed to maintain good order and discipline in the proceeding. However, the Court noted that NJP proceedings had relaxed rules of evidence and a lower burden of proof (preponderance of the evidence), further distinguishing NJP from a criminal proceeding.
Lastly, the Court considered what was perhaps Reveles' best argument, namely, that NJP was so punitive that it had criminal penalties, making it subject to the double jeopardy prohibition. The Court acknowledged that in the past, NJP included the possibility of keelhauling, flogging, lashing and even being shot out of a cannon, and the modern-day punishment of even 30 days in jail favor considering NJP to be criminal in nature.
However, NJP does not require a finding of knowledge ("scienter"), a traditional requirement of criminal liability. In other words, the defendant's state of mind is irrelevant. Moreover, NJP does not promote deterrence or retribution as does criminal punishment. Instead, unlike criminal proceeding, NJP has a uniquely military goal, namely to promote good order and discipline.
The Court then ruled that NJP was not criminal in nature, denying Reveles' appeal and allowing the federal, non-military action against him to proceed.
For more information about DUI in general, click on the following articles:
For examples of our DUI case results, click
here
.
Contact
Greg Hill & Associates