DUI, Client age 74, Westminster, Early End to Probation
Our client, age 74, had gone out to dinner with a friend in the southern area of Long Beach. She had a pleasant dinner, including two glasses of wine.
She headed home to Huntington Beach along Pacific Coast Highway when she noticed a man next to her was honking his horn at her and rudely following her remarkably close. Eventually, he stopped driving this way and our client believed he had turned off the road onto a side street.
This proved to be wrong, as the man had called 911 to report our client as a suspected drunk driver. He was instructed to follow our client until police could take over and stop our client. He claimed that our client came to a stop very slowly and seemed to be trying to drive slow enough so as to hit each traffic light as it turned green, rather than drive the speed limit between each light, which would require a stop at each light. He also claimed that our client veered into the bike lane multiple times.
Just as our client was pulling into her garage, police arrived. Our client got out of her car, with her car literally parked in her own garage, while the reporting party observed the police conducting field sobriety tests in our client's driveway, causing our client great embarrassment because the police lights surely attracted attention.
Our client, a German citizen (not a U.S. citizen), had no criminal history and was arrested, taken to jail, booked and released. Her blood alcohol content (BAC) was measured at 0.11% and 0.12%. She was a widow after her husband died when she was 57.

Terrified at the thought of returning to jail and anxious about how such a conviction would affect her chances of becoming a U.S. citizen, she called Greg Hill & Associates and spoke with Greg. She described what had taken place and how the other motorist lied about her poor driving.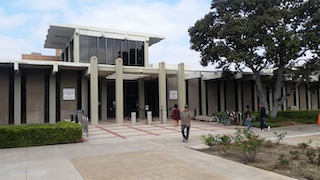 Westminster Courthouse
Greg then explained how such a case would most likely be handled at the Westminster courthouse.
Over the next six months or so, Greg ultimately resolved the first-time DUI as a DUI with the client being placed on 36 months of informal probation with an obligation to attend the AB541 three month DUI program, pay a court fine of $390, plus penalties and assessments (less credit for two actual days in custody (from 10:30 p.m. one day to about 2:00 a.m. the next day)) and an obligation to provide her DNA.
After 17 months of her probation, Greg contacted the client and asked if she was interested in ending her probation early and then having the conviction expunged. The client expressed excitement in this, as she lamented how each time she traveled back to Germany, which was quite often, she would be detained, sometimes for hours, at customs upon returning to the United States because she was on probation.

She also explained that she was in the process of becoming a U.S. citizen and her immigration attorney had advised her that if she were not on probation for DUI, her application would face less difficulty being granted.

Lastly, she explained that, as a small business owner, she constantly worried that her clients would find out that she was on probation and it often left her with insomnia. She also said she was concerned that her neighbors would find out she was on probation and that caused her great shame.
She consequently hired Greg Hill & Associates to prepare, file, serve and appear at the hearing for her motion to terminate probation early.

At the hearing on the motion, the judge in Westminster struggled with whether to grant the motion and the prosecutor argued that our client agreed to be on probation for 36 months, not just 19 months (by the time of the hearing, 19 months of probation had elapsed). The judge then listened to Greg explain the unforeseen consequences of being on probation, which for her were extremely traumatic, embarrassing and stressful, especially as a non-citizen, 76-year-old widow with her own business. The judge asked more questions of both the prosecutor and Greg, but eventually granted the motion, commenting that "this was a close call."
Greg Hill & Associates then prepared a petition for dismissal of the complaint (expungement), which was granted without nearly the same opposition and the judge had no similar qualms about signing the order of dismissal.

For more information about early termination of probation and expungement, please click on the following articles: