DUI Checkpoint Stop, Redondo Beach, Client Has 0.17% BAC
In a Nutshell: DUI Checkpoint Stop in Redondo Beach along Artesia Boulevard, client has 0.17% BAC,case resolved for six-month program and standard DUI terms.

Our client, age 57, was returning home from an early-evening Christmas party at a Hermosa Beach restaurant. He worked in a small office, so the gathering was rather informal and casual, but important. The group met at 5:00 p.m., he had a drink or two with dinner and one after dinner before parting ways and heading home. It was only 7:45 p.m. when our client got in his car to drive home.
As he was heading eastbound on Artesia, just past the intersection with Aviation, he noticed orange cones lining the side of the lane near the curb. He also noticed bright white lights in the center divider. He believed there was some construction going on in the center median as cars to the front of him slowed down and then came to a stop.

Just as he came to a stop for the traffic ahead of him, an officer approached his driver's side window and said, "Good evening, sir, we're conducting a DUI checkpoint here. Have you had anything to drink tonight?" Our client, who had no prior criminal history and was a supervisor at work, replied that he had enjoyed two glasses of wine with dinner and one beer.
The Redondo Beach Police Officer, upon hearing this, asked our client to drive his car into a Pep Boys parking lot to the right side of the road. At that point, our client became concerned, although he did not feel drunk.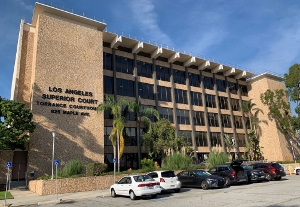 Torrance Courthouse

Police asked our client to step outside his vehicle and provide a breath sample, which our client did. His breath alcohol content (BAC) was 0.17%, or over twice the legal limit.
Before our client realized the gravity of what had just happened, he found himself with his hands handcuffed behind his back and heading south to the Redondo Beach Police Station for booking. He had just been arrested for DUI.
When he was released the following morning, he called a friend who recommended that he call Greg Hill & Associates. So, he did and spoke with Greg Hill. The client explained what had happened and how the checkpoint stop seemed so sudden. He thought there was road construction ahead and before he knew it, he was blowing into a tube attached to a breath machine and then he was arrested.
Greg explained that such DUI checkpoints are frequently scrutinized by DUI attorneys as an unlawful search and seizure, especially if the police officer handling the initial contact with drivers has unbridled discretion on who to stop or allow to pass through. Greg also explained that the essence of the Fourth Amendment forbidding unlawful search and seizure is the reasonableness of the search.
Greg went on to describe how California law has evolved to allow such DUI checkpoint stops for public safety, but only if the stop is organized and executed along certain strict standards set forth in a case called Ingersoll v. Palmer (1987) 43 Cal.3d 1321, 743 P.2d 1299; 241 Cal.Rptr. 42.
Greg briefly explained what Ingersoll required and how a closer review of the Redondo Beach checkpoint involving our client showed.
Greg Hill & Associates was then hired and Greg did some preliminary research on the checkpoint. First and foremost, he found no advance publicity of the stop. Greg even drove over to the Daily Breeze, a local newspaper with new headquarters in El Segundo (they moved from Torrance to El Segundo in 2018). Greg asked the newspaper editor to see if she could find any article about the DUI checkpoint in the newspaper in the four days prior to the checkpoint. The very helpful editor e-mailed Greg back that no such article was published.
This was a big deal, as Ingersoll lists eight factors that are considered in evaluating the reasonableness of a checkpoint stop and advance publicity is the first and foremost. While it is not per se required for police to have advance publicity, if the stop is not given advance publicity, the checkpoint needs to be conspicuously lighted "like a movie set," with abundant flares, cones, illuminated lights, warning signs, and tapered cones. People v. Banks (1993) 6 Cal.4th 926, 949. It needs to be clearly marked as such for an approaching motorist and if a motorist decides to turn away from the checkpoint, police may not pursue such a driver. Banks, supra.
In court, Greg asked the Redondo Beach City Prosecutor's Office for an "Ingersoll Packet" and received such materials, including photographs of the checkpoint and an operations plan.
Greg noticed that the plan called for a press release, but this was not done. The operations plan also did not call for the use of flares, flashing lights or any illuminated signs.
Greg therefore filed a motion to suppress evidence in the court, asking the judge to exclude all evidence gathered from the stop, which if granted would result in dismissal of the DUI for our client.
The judge, however, denied the motion, finding that the Redondo Beach Police Department made a reasonable effort to make the checkpoint conspicuous to approaching motorists by use of orange cones, unilluminated warning signs about 50 yards from the checkpoint and the use of a "bloom" white light at the point where cars were stopped.
Greg and the client were obviously disappointed with the ruling, as it seemed that without advance publicity, the checkpoint needed to meet the standards set forth in Banks, supra, which the judge acknowledged Redondo Beach did not.
The client then accepted the plea bargain for a first-time DUI, with 36 month of informal probation, a six-month DUI program (the AB762), a $390 fine (less credit of $250 for two days in custody) plus penalties and assessments, payment of the $245 City of Redondo Beach booking fee and attendance at the Mothers Against Drunk Driving (MADD) victim impact panel.
This summary is presented to illustrate how local judges rule on motions that seek to apply California law. We fight such cases hard and although we believed this case should be dismissed, it was not. However, our client was happy we pushed the case for dismissal, even though it ultimately was not.
For more information about issues, please click on the following articles:
Contact us.