Downtown Los Angeles, 17(b)(3) Relief on H & S 11350(a)
In 1995, our client was arrested for possession of cocaine. At the time, he was 35 years old and going through a rough patch in his life. He was arrested near Skid Row when he tried to purchase some cocaine from an undercover police officer. He had ten dollars and was desperate.
In 1996, a few months later, he resolved the case using a public defender through a plea bargain for a felony conviction of violating Health and Safety Code § 11350(a). He was obligated to serve three years on felony probation and attend 52 Narcotics Anonymous (NA) classes.

Our client successfully completed probation and later moved out to Riverside County. He obtained a steady job with a large agricultural company, where we rose to become their facilities manager and the company's information technology officer. He worked there for twenty-two years and was married after a few years.
In late 2020, at age 60, he realized that while his current job was good, he wanted to be his own boss. He had seen how his employer, as a state contractor, was regularly paid when providing agricultural products and working for the State of California and the County of Riverside. Our client decided he needed to start his own company as a state contractor, too, doing the same thing.
In looking into becoming an authorized state contractor, he realized his felony record, although more than 25 years ago, was a problem. He researched further into this issue and leaned that his particular conviction could be reduced to a misdemeanor by a judge.
The client then called Greg Hill & Associates and spoke with Greg Hill about possibly doing this. The client explained the underlying facts of the earlier case and how his life had changed for the better since then, as well as his goal of becoming a state licensed agricultural product supplier.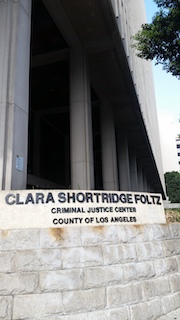 Clara Shortridge Foltz Criminal Courts Building CCB Downtown LA
Greg said he would prepare, file and serve the motion in the downtown Los Angeles courthouse, then known as the "Criminal Courts Building," or CCB, but since renamed the Clara Shortridge Foltz Courthouse. The client then retained Greg Hill & Associates and our office prepared, filed and served the motion.
The motion was brought under California Penal Code § 17(b)(3), which permits a judge to reclassify a charge from a felony to a misdemeanor after a conviction if the charge can be filed as either a felony or a misdemeanor, depending upon the facts of the case, the record of the individual and any other factors the court may believe are relevant.
The motion for our client explained the underlying circumstances of our client attempting to buy less than ten dollar of cocaine from an undercover police officer in the Skid Row area. At the time, our client was 35 and had no prior criminal history. This was clearly misdemeanor in nature.
In 1995, however, such a charge could only and was only brought as a felony. There was no such crime as misdemeanor possession of a controlled substance.

However, since 1995 with the passage of Proposition 47 (The Safe Neighborhoods and Schools Act), a violation of Health and Safety Code § 11350(a) could be filed as a felony or a misdemeanor, depending upon the criminal history of the defendant.
Our motion argued that because our client did not have the criminal history at the time of the incident, the amount of cocaine was minimal, and since he later remained free of criminal conduct, the judge should reduce the felony to a misdemeanor. Our motion included a declaration from the client with a photograph of him and his wife outside their Riverside home, which our client purchased before marrying.

The judge in downtown Los Angeles agreed and reduced the felony charge for violation of Health and Safety Code § 11350(a) from a felony to a misdemeanor. The handling district attorney assigned to the case did not oppose our motion.
The client was happy with the ruling, confident he could now apply to become an authorized agricultural products contractor for the County of Riverside and the State of California one day.

For more information about Penal Code § 17(b)(3) issues, please click on the following articles: