Domestic Violence, Knives Torrance Early Termination Denied
The following summary is meant as a cautionary tale to preserve accuracy among the case results we report. In reading the prior 120 or so case summaries of motions for early termination of probation and expungement, one may understand that it is rather easy to have a judge end probation early. In fact, one may think all one has to do is ask and the judge will indulge the request.
The following summary is meant to dispel such a perception because a judge certainly may and sometimes will, depending upon the facts, deny such a request, which we believe is all the more reason why it is important to retain a skilled and experienced criminal defense attorney to handle such motions.
In the underlying case at issue, our client was 51 years old when she became suspicious he was having an affair due to his numerous "business trips" and confronted him with two large kitchen knives in their Torrance home. She yelled, "I am going to kill you" and he ran from the house, getting into his car and driving away. He then called 911 and our client was arrested.
Remarkably, perhaps because our client had no prior criminal history, the case was filed as a misdemeanor for domestic violence (Penal Code § 243(e)(1)) since our client, prior to picking up the knives, she had hit her husband on his back with her fists.

She retained Greg Hill & Associates and we were successful in resolving the case as just misdemeanor battery (Penal Code § 242). One reason for this was because, at the time of the incident, our client was dealing with a perfect storm of stress. On one hand, her mom had died and the mortuary accidentally cremated the body, rather than allowing a proper burial. Our client was negotiating with the mortuary over how to resolve the problem. On the other hand, at the same time, our client was dealing with Seasonal Affective Disorder (SAD) that made her depressed and stressed out. Lastly, her job with a magazine was cutting back on employees due to the Internet and her job was in danger.
The plea bargain reached involved our client being placed on three years of informal probation with a requirement that she attend 52 batterers classes, pay the $449 City of Torrance booking fee, make a $500 contribution to a battered women's shelter and pay $1,077 in court fines ($250, plus penalties and assessments).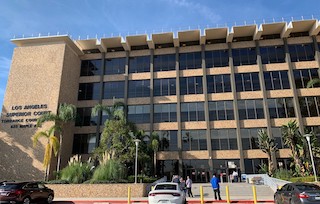 Torrance Courthouse
When the plea was entered, she had already attended over fifteen batterer's classes.
She then paid off the court fines and made the battered women's shelter contribution the day after her plea was entered. She even made a further $500 contribution out of charity to the shelter.
When the half-way mark came in her probation, our office prepared, filed and served a motion for early termination of probation. The Torrance judge hearing the motion denied the motion, but strongly suggested that if we brought the motion again at the two-year mark, it would be granted. The judge almost apologized for denying the motion, explaining that "her policy" on every motion for early termination of probation was to require that defendant serve at least two of three years of probation first.
At the two-year mark in probation, our office appeared again for the client, but the judge denied the motion. The judge explained that she thought the conduct at issue was very serious, as it involved attacking her husband with two large kitchen knives and telling him she was going to kill him.
While Greg explained the mitigating circumstances affecting the client at the time and the client's immediate performance of all terms of probation, the judge was not persuaded. She repeated that she did not think the conduct was minor in nature at all.
However, the judge did offer our client the option of ending probation by serving 45 days in local custody (Torrance jail), which probably really would mean only two or three days of actual time in jail. In response, our client declined this offer, as she was 53 years old and quite frightened of being in jail at all.
In other words, not all motions for early termination of probation end with success. While this summary is meant as a cautionary tale, we would add that knowing how some judges are reluctant to grant such motions makes our approach more respectful and mindful of what facts may trigger judicial scrutiny, so we are better prepared to address the judge's concerns to make the best arguments possible for that case.

For more information about early termination of probation and expungement issues, please click on the following articles: