Compton DUI, 0.32% BAC, Vietnam Vet, Military Diversion
The Gist of this Summary: Marine Veteran (1971-1972), Military Diversion, DUI in Compton, 0.32% BAC, Car Accident, Judge agrees that client's alcohol abuse acquired 46 years earlier was related to this later DUI.

Our client, age 69, had served in the U.S. Marine Corps at Marine Corps Air Station (MCAS) in Iwakuni, Japan in 1971 to 1972. During that time, he was 22 and 23 years old and a First Lieutenant serving as an aviation supply officer. The threat of imminent deployment to Vietnam and the very short life expectancy thereafter drove many to drink a lot of alcohol as a way to lessen the stress and anxiety.
Luckily, our client ended up never deploying to Vietnam, but his excessive consumption of alcohol did not cease. In the early 1980's, he picked up a DUI, was offered probation and successfully completed probation.
He continued to drink heavily, but always was responsible in doing so and avoided any criminal conduct.
However, in 2018, he was drinking during the day and, on his way home in Compton at about 4:00 p.m., sideswiped another car. The driver of the other car was not injured. The police measured his blood alcohol concentration (BAC) at the scene at 0.324% using a preliminary alcohol screening (PAS) device.
Our client was then arrested and taken to the Compton Police Station, where he provided a blood sample later measure at 0.31% BAC.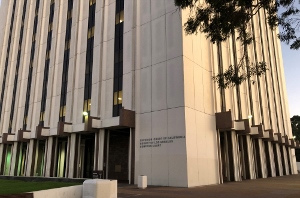 The client was devastated. He contacted Greg Hill & Associates, keen to hire Greg because of Greg's shared experience as a Marine officer. When he spoke to Greg, the two learned they had both spent time in Iwakuni (Greg spent six months there; the client two years).
The client hoped Greg would "take care of him."
Greg listened to the client explain what had happened. Greg then explained that under Penal Code § 1001.80, the client, as a veteran, could seek diversion even for a DUI. Greg explained how he had successfully sought this for several clients in DUI's recently, as Governor Brown had only recently clarified in the summer of 2017 that 1001.80 did apply to DUI.
However, Greg cautioned that the client needed to show some type of service-related mental disability (such as PTSD, manic depression, etc.) and that this disability played a role in the alleged crime. Greg thought a court might find any nexus between events in 1972 and 2018 as far too attenuated. After all, 46 years is a very long time for a service-related disability to play a significant role in one's life.
Greg and the client then brainstormed on the events and discussed when he began to drink heavily and why. The client explained that it was while he was in the service.
Greg then appeared in court and advised the Compton judge that he would be filing a motion for military diversion. The judge was openly skeptical of this and warned Greg that our client would not get any special treatment just because he was a veteran. On the second appearance, the judge even asked Greg if he had abandoned the military diversion request due to the 46 years since our client's military service. The judge obviously was trying to discourage such a request. The District Attorney assigned to the courtroom was openly dismissive of such a nexus between Vietnam and the present.
Yet what really bothered Greg was that the assigned public defender to the courtroom took Greg aside and warned him that this judge was exceedingly strict on military diversion and denied many motions seeking such a form of diversion.
Greg, however, referred the client to a psychiatrist at the Veteran's Administration (VA) in Long Beach who agreed that the client's lifelong addiction to alcohol was service-related indeed and that it played a significant role in the alleged DUI. He then wrote a letter stating his diagnosis and his opinion of the nexus between the service-related disability and the alleged DUI.
Greg then prepared a Motion for Imposition of Military Diversion, filing it and serving it on the District Attorney. When the hearing on the motion arrived, Greg tried to prepare the client for the motion being denied and that the client would then suffer a conviction for DUI.
However, the judge granted the motion, much to Greg's surprise, putting the client on nine months of diversion, during which time he had to complete the AB1353 program (a nine-month program, of which the client had already finished five months), continue attending three AA meetings per week and otherwise continue treatment at the VA for his alcoholism.
The client was especially happy with this because he would avoid a conviction, which meant his license would not be suspended by the DMV (Greg had won the DMV hearing earlier) at all. This a major concern of our client, as it is for anyone who uses a car every day.
This summary exemplifies how a little determination can result in great results. Had Greg let the judge's and the DA's skepticism influence him, the client would have suffered a conviction. Instead, Greg and the client pushed forward, almost defiantly against the judge and DA, finding a helpful psychiatrist and then Greg put together a motion that the judge granted.
For more information about Military Diversion and Mental Disorder Diversion, please click on the following articles:
Contact us.