Compton, Domestic Violence, Early Termination of Probation
Our client and his wife lived in a mobile home park in Compton with their two young children. Our client, age 45, owned his own company that cleaned and repaired the oil tanks used at our ports. It was a tough job, but at least he was his own boss.
One day, his family was having a get together and our client wanted to go with his kids and his wife. His wife said she was not feeling well and wanted to stay home, but our client still wanted to take at least his son, age 2. He was very attached to his son and his son to him.
When our client attempted to leave with his son, his wife picked up his son and held him. Our client asked his son if he wanted to go to a party, which the son understood and became excited. When our client's wife held the boy and refused to let him go, suggesting our client would not watch him closely at the party and may get drunk there, endangering the child, our client got mad.
The young boy cried, "Daddy, Daddy!" and held out his arms as if he wanted our client to hold him, but the boy's mother refused to let our client take him. To our client, this was a control issue and the wife wanted to annoy our client, making him go to the party alone, without his children or his wife. Our client did not want this type of impression for others to get, so he tried to take the boy from his wife.
The wife held the boy tightly. The baby cried even louder, "Daddy, Daddy." However, the wife held onto the boy. Our client tugged on the boy to take the boy away from his wife, but the wife held onto the boy even tighter.
Our client then gave up, walked back to his bedroom and slammed the flimsy mobile home door, breaking it.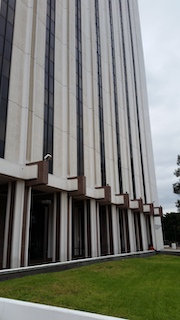 Compton Courthouse
Alarmed at the anger and violence our client showed, the wife called the Compton Sheriffs, who came to the mobile home park, saw the reddened arms of our client's wife from our client pulling on her arms and saw the broken door.
The following day, the police arrested our client. Our client was held at the Compton Sheriff's station on felony domestic violence and felony vandalism charges. He posted a $50,000 bail and was then released with a signed promise to appear in the Compton Superior Court in about two months.
The next day, the client called Greg Hill & Associates and spoke with Greg. The client explained that he had no prior criminal history except a DUI from almost twenty years earlier. He explained the events that led to his arrest. He asked Greg how he thought the case would resolve.
Greg explained how such cases generally resolve in the Compton Superior Court and in the surrounding courthouses. Greg recommended that the client immediately start a batterers program, explaining that the program may refuse to accept him to start without a court order, but to try nonetheless.
Greg then appeared at the arraignment for the case with the client and was relieved to see the case was filed as a misdemeanor domestic violence case and misdemeanor vandalism. The client had also been successful in enrolling in a batterer's program and had already attended three such classes.
Over five or six court appearances, Greg was able to reach a resolution wherein the client entered a no contest plea to domestic violence battery (Penal Code § 243(e)(1)), not a stigmatizing domestic violence charge (either 273.5(a)), and the vandalism charge was dismissed.
While the client was happy with this resolution, about a year later he applied for his petroleum pipeline license with the State of California to repair and maintain such pipes. He was denied the license because he was on probation for the case described herein. It was a devastating blow to his business.
So, when Greg Hill e-mailed the client at about half-way in his probation to find out if the client was interested in early termination of probation and then expungement, the client said he was.
Greg Hill & Associates then prepared a Motion for Early Termination of Probation and filed it in the Compton Superior Court.
At the hearing on the motion, the prosecutor opposed the motion, arguing that our client got a very good deal and this case, after all, involved domestic violence around a young child and vandalism, too. In other words, it was more serious than most domestic violence cases.
The judge, while sympathetic to our client's professional situation, also considered the People's position and decided to shorten probation from three years to two years, meaning our client would end his probation in about six months. The client was happy with this result, although it was not the immediate end to probation like he had hoped.

For more information about early termination of probation & expungement, please click on the following articles: