Compton, Child Abuse, PC 273a(b), Teacher, Expungement
Our client, age 37, has two boys, ages 8 and 9. They were good kids, but occasionally acted out.

One day, the schoolteacher for one of the boys reported to our client that her younger one had been particularly difficult to supervise at school.

The nine-year old boy had been fighting with the eight-year old at home, so our client believed both boys needed a talk. After all, our client was a credentialled schoolteacher herself, so she felt a sense of betrayal when her son acted out at school, making his teacher concerned enough to call home.
Our client calmly sat down both boys and talked to each about the importance of good behavior at school and kindness at home, direct messages to each boy. Instead of heeding her advice, the boys continued their bad behavior.
This disappointed our client greatly. She had recently separated from the boy's father, her husband, and she thought his absence also may have contributed to the boys behaving poorly.
She sat down the boys a second time and calmly explained that she had given each a chance to behave better, but they had both shown they ignored her. She then announced to each that she would whip their legs with an electrical cord, as her father used to do to her.
She then had each boy submit to the punishment, which turned out to be far more severe in its effects than she imagined. Each both had large welts, bruises and the skin rose up like blisters.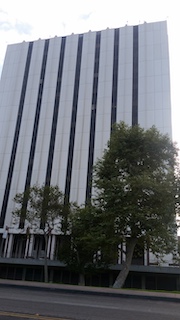 Compton Courthouse
The father noticed the boys' legs on his next turn with custody and reported our client to the police.
Police arrested our client on two counts of child neglect or harm, Penal Code § 273a(b). This was a devastating blow to our client. Her employer immediately was advised, due to the nature of the charges, and she was suspended from work. The State Board of Education also suspended her credential.

Our client had no prior criminal history at all. She had a master's degree in education and was working toward her doctorate at the time. In other words, she was achievement oriented, disciplined and an extremely hard worker, so losing her credential, after being in the education field for 17 years, was devastating.
The client contacted Greg Hill & Associates and spoke with Greg, eventually hiring us. Greg, over many months of court appearances, was able to resolve the case for a far less damaging charge of simple battery, Penal Code § 242.
This permitted the State Board of Education to reinstate our client's teaching credential after just one year, but in the meantime, our client scrambled to support herself, working for a major restaurant in their accounting department and even as a personal shopper for Whole Foods. It was humbling and difficult.
At the same time, she attended 52 parenting classes, 52 anger management classes, both one per week for a year, as part of the plea bargain. She also had to perform 200 hours of community service. However, she served no time in county jail, which was fortunate because the initial offer in the case involved a plea bargain wherein she would have served 60 days in county jail.
Half-way through the five years of probation, Greg contacted the client and asked if she was interested in early termination of probation and expungement. The client responded that she was keenly interested in this, so Greg prepared such a motion for early termination of probation first.
The hearing took place during the Covid-19 lockdown, so a judge unfamiliar with the case was assigned to hear the motion. Greg was a bit apprehensive about this particular judge being assigned to the case, as the judge was well-known to be unpredictable and often very tough on defendants. However, she read the motion and granted an early end to probation, over the prosecutor's objections that our client agreed to five years of probation, not just under three, and she ought to be held to her commitment made in the plea bargain.
Our office then quickly filed the petition for dismissal (expungement), which the court also granted. Our client was extremely happy with how the case was handled from start to finish in this difficult period of her life.

For more information about early termination of probation, the effect of a conviction on a teaching credential and expungement, please click on the following articles: