Consequences of a Conviction for a Teaching Credential?
The Gist of this Article: If one is a credentialed teacher in the State of California, there are a myriad of special rule relating to administrative action for the teacher following even an arrest for any crime that is substantially related to the duties, qualifications and functions of a teacher. This article, as well as others on this website, seek to clarify these issues and obligations.

Over the years, our office has seen our fair share of credentialed teachers facing DUI, shoplifting, public intoxication, public urination, domestic violence, prostitution and even embezzlement charges. In each case, the client is understandably concerned about what might happen to his or her state-issued teaching credential.
Sometimes, the charge is a fabricated charge arising from a vengeful student or parent based on a bad grade the teacher gave.
Often, the client's goal in life is to earn his or her teaching credential, in which case a criminal conviction certainly can be grounds for denial or revocation of a such a license (Education Code § 44424).
The answer to whether the credential will be denied, revoked, suspended, the teacher placed on some form of administrative probation or given a warning depends on many factors. The purpose of this article is to explain the most common factors, although to ensure one facing such administrative discipline addresses all factors, one should contact an experienced licensing attorney specializing in defending teachers before the Commission on Teacher Credentialing.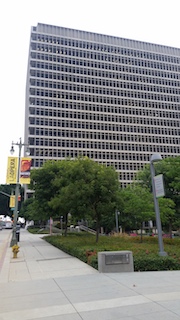 Clara Shortridge Foltz CCB Courthouse
The first factor is the conduct underlying the charge or conviction. In general, the conduct involved in the crime must be "substantially related to the qualifications, functions, or duties of the business or profession." Business and Professions Code §§ 480(a) and 490. The Education Code, at sections 44424 to 44425, specifically enumerates which Penal Code violations trigger suspension or revocation proceedings. It merits mention that the classification of the crime as a felony or a misdemeanor is not a distinction that carries much weight.
The Commission on Teacher Credentialing will automatically suspend or revoke the teaching credential of a teacher convicted of a sex offense that requires registration under Penal Code § 290, violent or serious felonies like murder, rape, voluntary manslaughter, assault on a public official or child abuse, or drug offenses such as transporting a controlled substance for purposes of sales. This list of crimes is but a small part of the listing of offenses under Education Code § 44424.
Other convictions not listed may also be grounds for suspension or revocation, depending upon the crime's likely impact on students, when it took place, aggravating circumstances of the conduct, likelihood of reoccurrence, and any publicity or notoriety associated with the crime.
The most important aspect of this issue is avoiding such a conviction, which is how an experienced criminal defense attorney can help. He or she can look for grounds to support a dismissal of the complaint, perhaps on an improper traffic stop, an illegal search and seizure, a coerced confession, an admission elicited without proper prior
Miranda
warnings, a failure of police to preserve evidence, a prosecutor's failure to produce evidence, a deprivation of the right to a speedy trial or other grounds.
The attorney can also plea bargain to resolve the case on grounds that mitigate how blameworthy the conduct appears before the Commission. He or she can tailor community service under the plea bargain to be within the education field to show rehabilitation, avoid time in jail or prison through rehabilitation, depending upon the crime, in classes such as Alcoholics Anonymous, Narcotics Anonymous, sexual compulsiveness classes, kleptomaniacs anonymous, anger management, batterer's program classes, theft prevention classes or animal cruelty classes. The attorney can also help uncover evidence that may undermine the credibility of witnesses or victims.
It should be emphasized that the Commission considers certain pleas or case resolutions as convictions that the criminal court does not. Granted, a conviction by a jury trial or bench trial is considered a conviction by the criminal court, as well as a "no contest" plea. Yet successful completion of a delayed entry of judgment program (DEJ), i.e. through a drug treatment program, is not a conviction in the criminal court. Before the commission, however, it is. Likewise, an expunged conviction under Penal Code § 1203.4 is not always considered a conviction in criminal court, but it is by the Commission.
Consequently, we highly recommend that if you have a teaching credential and face criminal charges, or you want to become a credentialed teacher in the future, retain experienced counsel who regularly appears in the courthouse at issue. It is also prudent to retain an experienced, professional licensing attorney who regularly appears before the Commission to work with criminal defense counsel so you can stand the best chance of being treated fairly and avoid or mitigate any punishment.
For more information about facing a criminal case, diversion and state licensing issues, please click on the following articles:
Contact us.