Compton, 1999 Grand Theft (PC 487(a)) Conviction Expunged
Our client, now age 38, was convicted in 1999 of misdemeanor grand theft (Penal Code § 487(a)) while working as a Kmart employee. Using her knowledge of their inventory control system, she tried to take certain products from Kmart without paying for them. However, she was ultimately caught by Kmart and the Compton District Attorney's Office then prosecuted her.
Summary in 50 Words or Less: Twenty years after suffering a misdemeanor conviction in Compton Superior for grand theft, she was still suffering from its effects on her employment. She contacted our office to have the conviction expunged, so we filed the petition for dismissal under Penal Code § 1203.4 and it was granted.

Pursuant to a plea bargain reached in the Compton Superior Court, she was placed on three years of informal, or summary, probation and ordered to pay back Kmart $3,644 in restitution, representing the value of the property she stole from her employer.
Our client was not able to pay the restitution in full during the three years of her informal probation, but she kept paying Kmart little by little, eventually paying off the full amount in 2014. Her tenacity in paying this off was truly remarkable and a credit to her otherwise honest character.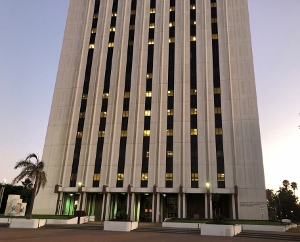 For fifteen years after being fired from Kmart, she worked at a physical therapy office, but was eventually laid off when the office discovered her conviction. During these fifteen years, she had attended nursing school on a part-time basis while studying to become a registered nurse. During these fifteen years, she also had three children and married.
However, after being asked to leave the physical therapy office, she found that the expenses of rearing three children were too much for just her husband's income to cover, so she had to return to work.
She quickly discovered that having a conviction for a crime of dishonesty, grand theft no less, was a big obstacle for most employers to overlook. Most employers did not want to take a risk on her stealing from them again.

She therefore called Greg Hill & Associates and asked about having her misdemeanor grand theft conviction expunged. Greg explained that doing so would not erase the conviction from the record or delete it, but the plea would be changed to "not guilty" and the record of the case would show it was dismissed.

Moreover, expungement (also known as relief under Penal Code § 1203.4) would allow the client to legally answer "no" to any employment application question (except for a government job, to run for public office or to operate a state lottery) that asked if she had ever been convicted insofar as this grand theft.

The client understood the limitations of Penal Code § 1203.4 relief and stated she wanted to proceed.
Greg Hill & Associates then prepared a petition for dismissal under Penal Code § 1203.4, using form FL-180, and supplemented this with a declaration from the client showing her full payment of restitution to Kmart and Kmart's acknowledgement of this full payment.
The petition was then filed in the Compton Superior Court and served to the District Attorney's office. The Compton Superior Court judge apparently struggled in how to rule on the petition, as over three months passed between the date of the filing and the ruling on it. We believe this was a result of the client not paying restitution in full by the end of the probation period, but paying it in full later. Did this mean that the client had not successfully completed probation as the statute requires or could the petition be granted in the interest of justice instead?
During these three months, our office called the Compton Superior Court about every two weeks once six weeks had passed. Finally, about three months after the filing, the judge assigned to our client's case granted the expungement.
This was a very big deal for our client because her family needed her to work to make ends meet.
For more information about expungement, please click on the following articles: