Client with Immigration Issues, Five 1473.7 Motions Granted
In 1996, our client was 19 years old and a recent immigrant to the United States from Mexico. He came to San Bernardino for a better life. Within the next five years, he had accumulated five convictions, some of which involved moral turpitude and jeopardized his ability to stay in the United States. He would not realize the significance of his youthful indiscretions, however, until 2019.
In 1996, he got a job at Kmart and began stealing from the store. It was just too easy as an employee, or so he thought. He was caught and fired. He was also charged with petty theft, Penal Code § 484(a) and when he went to court, he quickly entered into a plea bargain to avoid jail time. His public defender did not ask him about his immigration status whatsoever and the client did not think it mattered. All he wanted was to avoid jail.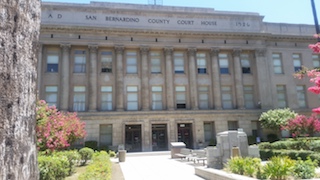 Old San Bernardino Courthouse
In 1998, while working for Walmart, he stole again and was caught. This time, he was charged with violating the-then in effect Penal Code § 666, petty theft with a prior conviction for petty theft. Again, the entered into a plea bargain quickly to avoid any jail time. As before, his public defender did not ask him if he was a U.S. citizen or if he was in the United States legally. Our client simply wanted to avoid jail time.
In 1999, he was cited twice for driving without a valid driver's license. In each case, he was cited for a misdemeanor violation, but once in court, the charge was reduced to an infraction and he entered a plea to each. As before, no one asked him if he was a U.S. citizen at all before he entered his plea.
In 2001, after getting his license somehow, he was cited for and convicted of reckless driving, Vehicle Code § 23103. He was now 24 years old. This was also in the San Bernardino Superior Court, a place he had become quite familiar with over the last five years. As in his four prior criminal matters, he entered into a plea bargain quickly to avoid any jail time.

Fast forward to 2019 and the client is 42 years old. He is married and has two children, both who are U.S. citizens. He has a steady job.
His life seems to be stable and secure until one day when he receives notice of deportation proceedings against him.
The client speaks to an immigration attorney who recommends that he have each of the five convictions expunged. So, he calls Greg Hill & Associates and speaks with Greg Hill. He describes his five convictions and Greg asks if he was ever warned of the immigration consequences of his plea. Greg tells the client that mere expungement may not help as much as seeking to vacate the convictions under Penal Code § 1473.7, a new provision of the law meant for those who were convicted without being advised of immigration consequences.
Greg then speaks with the immigration attorney for our client, who agrees with Greg that 1473.7 petitions would be the more effective way to help the client.
Greg Hill & Associates then retrieved the docket reports on each of the five cases from the San Bernardino courthouse and found that indeed, no immigration warnings were given.
Greg Hill & Associates then prepared a Penal Code § 1473.7 petition to withdraw pleas in each of the five cases. It merits mention that while these petitions were being prepared, Assembly Bill 2867 came into effect, amending 1473.7 to remove the requirement that petitioner establish ineffective assistance of counsel and that petitioner need not establish that he or she be facing deportation proceedings.
This was a good thing for our client because in three of his five pleas, he rushed into a plea at the arraignment. At the arraignment court in San Bernardino, one can do this without even speaking to any public defender. No public defender is even present in the arraignment court in San Bernardino, so establishing ineffective assistance of counsel when no counsel was involved was tough. With the passage of 2867, the wrinkle in the petitions was ironed out for our client.
At the first hearing on the 1473.7 motions for our client, the prosecutor asked for more time to prepare and the hearing was continued over for about four weeks. This was a professional courtesy no defense attorney would want to refuse to grant, but it was significant here because the prosecutor stated he wanted to speak with his supervisor about agreeing to withdraw each plea and thus vacating each conviction, but in the three misdemeanor cases, having our client then enter pleas to infractions that would not create immigration issues.
Greg then returned to court in four weeks and the prosecutor advised that the San Bernardino District Attorney's Office indeed would agree to vacating each conviction and withdrawal of the plea in each case. In the two cases involving driving without a valid license, they agreed to simply dismiss each case. In the misdemeanor reckless driving case, Greg suggested an amended complaint to allege disturbing the peace as an infraction and the prosecutor surprisingly agreed. Our client then entered a no contest plea to this infraction.
On the two misdemeanor petty theft cases, the prosecutor agreed to amend the complaints to allege infractions for violating Penal Code § 490.2, an infraction-level petty theft offense, which would not create immigration issues for our client.
The client was extremely happy with these results.
For more information about vacating a conviction due to immigration issues, please click on the following articles:
Contact us.