Client a Police Officer, Arrested for DUI, Plea to VC 23109
Our client had been out with friends at a Koreatown bar. He knew he had to be careful about his drinking and then driving, as he was a police officer with nine years of experience.
He deliberately stopped drinking after four shots of Johnnie Walker Red and waited over an hour before driving. He then got in his car with two friends to go to another friend's home. He went south from Koreatown down Western to the Santa Monica Freeway (I-10). He then proceeded westbound on the I-10.
In 30 Words or Less: Client, a police officer, arrested for speeding 90 miles per hour on freeway with 0.09% BAC. Case resolved for exhibition of speed at Metropolitan Courthouse. DUI dismissed.
It was 3:25 a.m. and he was feeling good from the alcohol. Traffic was light. He accelerated his BMW to 90 miles per hour when his speed caught the eye of a CHP officer entering the 10 from Crenshaw. The CHP officer accelerated to pace our client's car, but our client continued accelerating to over 100 miles per hour.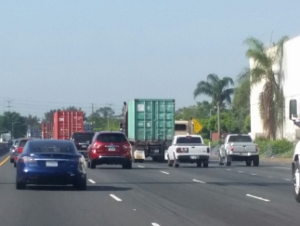 As the officer started to get close to our client, our client allegedly made unsafe lane changes. At this point, the CHP officer turned on his overhead lights to make a traffic stop.
When our client was coming to a stop, the CHP officer noticed our client's car had no license plate and had tinted windows that were illegally dark.
Once our client did stop, the CHP officer took our client's driver's license, registration and proof of insurance. He did not let our client leave the scene with a warning as might be expected in an officer to officer stop.
Instead, he was asked to perform field sobriety tests, answer certain questions about his drinking pattern and destination and then submit to a preliminary alcohol screening (PAS) test. This was quite painful for our client, as he himself had made hundreds of DUI arrests himself. His blood alcohol content (BAC) was measured at 0.09% and 0.08% at the scene.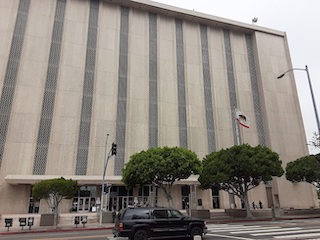 Metro Courthouse
The CHP officer then put our client in handcuffs (he was not "badged out," i.e., released to his friends to avoid his having to mix with other arrestees at the police station) and took him to the West Los Angeles CHP office for a further breath test. He then submitted to the breath test there, registering a 0.08% and 0.07% BAC.
After a few hours to "dry out," he was asked to sign a promise to appear at a future date in the Metropolitan Courthouse.
At work, he was immediately placed on 21 days of administrative leave with no pay while an internal investigation looked into the circumstances of the arrest.
The client then called Greg Hill & Associates and met with Greg Hill the following day. Greg listened to the client recite the facts leading up to his arrest. The client explained that due to his personal safety concerns, he intentionally did not maintain a license plate displayed outside and had tinted windows to avoid being recognized by suspects in his personal vehicle.
Greg asked the client many questions about the facts, causing the client to comment, "Wow, I thought I knew DUI inside-out and that I could basically represent myself, but I found out from you that I had better retain an experienced attorney instead." Greg told the client that based on his BAC, and the case being venued at the Metropolitan Court, it was almost certain that the case would resolve as an exhibition of speed (Vehicle Code § 23109).
The client and Greg agreed that the key to the case was not so much the criminal court action, but the DMV administrative per se hearing.
At the arraignment in the Metropolitan Court, the Los Angeles City Attorney handling the case indeed did offer to resolve the case as an exhibition of speed, as Greg had expected, although the client was indeed charged with two counts of DUI. The terms of the plea bargain were that the client would be placed on two years of summary probation and pay a $250 fine, plus penalties and assessments (total of about $1,175), with no requirement of any alcohol awareness class.
More importantly, while at the arraignment, Greg went to the LA City Attorney's office and received the calibration measurements for the Intoxilyzer at issue used on our client. It showed that a week before the arrest of our client and a week after the arrest that the machine was calibrated, but that with a sample of 0.100%, it measured 0.105%, meaning it measured "high" for the sample. This meant that for the client's BAC of 0.08% and 0.07%, his BAC actually was 0.075% and 0.065%, which are both below 0.08% for purposes of the DMV Hearing.
The client was extremely happy that Greg knew where to get the calibration records and that he had hired Greg Hill & Associates, as the DMV did not provide such calibration records for the hearing.
For more information about DUI and licensing issues, please click on the following articles:
Contact us.