What Happens to a Police Officer Convicted of a Crime?
A June, 2016 article in the Washington Post reported that police officers in our country are arrested at a rate of 1,100 per year, or approximately three per day. The true figures may be even higher, as the Bowling Green State University Study calculating this no doubt met with more than its share of police departments unwilling to share such embarrassing information.
The Gist of this Article: The consequences a police officer faces once arrested or charged with a crime usually involve an internal investigation and some form of discipline. If convicted of a crime, the consequences vary by the type of crime involved and can involve being terminated as an officer or suspended with or without pay.

Officers are only human, after all. They experience arrests for DUI, shoplifting, domestic violence, public intoxication, public urination and sex offenses for off-duty conduct. Our office has represented several over the years.
They also face their share of publicized cases (some unmeritorious) related to on-duty conduct, such as sexually assaulting a female suspect, extortion of a drug dealer, battery on suspects that was not privileged or filing a false police report (Penal Code § 118.1, a wobbler). What makes such cases especially painful is that alleged victim often fabricates a claim after being arrested by the officer with an ulterior motive that the prosecutor will drop the criminal case if the victim agrees to dismiss the claim against the officer (this rarely works). Other times, it is a vindictive ex-girlfriend or ex-wife seeking to make the officer's life as miserable as possible.
Sadly, once the officer is arrested or even merely cited (the officer may be "badged out" to prevent endangering the officer in jail with other inmates), most police departments begin an internal investigation and the officer may face an automatic thirty-day suspension or even an indefinite leave of absence (sometimes without pay).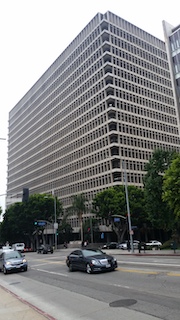 Clara Shortridge Foltz CCB Courthouse
This article is written for a police officer facing criminal charges and a parallel administrative hearing, to provide him or her information on what to expect and how to best position oneself to win in court or at least provide mitigating information for the administrative hearing so the officer can keep his or her job.
First and foremost, it is good to appreciate that an officer charged with a crime, i.e. DUI or a sex offense, while on duty is almost certainly subject to termination, as such conduct would surely violate the officer's contract of employment.
When the alleged crime occurs off-duty, the officer will almost always need to report the incident to his or her union representative, who will initiate an investigation. The best thing for the officer to do is cooperate, but also retain experienced criminal defense counsel who regularly appears in the courthouse at issue.
We find that many police officers who we have represented have a clear understanding of only part of the criminal process. They are knowledgeable about arrest and evidence suppression issues, but often do not appreciate issues involving delays in prosecution, prosecutorial discovery abuses and charge-specific issues that affect issues of proof. Raising such issues can often result in dismissal of the criminal case.
Moreover, a good criminal defense attorney can help resolve the case in a way that helps mitigate the effects of any administrative action. For example, the client can complete a significant amount of rehabilitative classes, i.e. Alcoholics Anonymous, Narcotics Anonymous, animal abuse classes, anger management classes, batterer's classes, kleptomaniacs classes or Sexaholics Anonymous classes, depending upon the case facts. A good criminal defense attorney can develop evidence undermining a victim's credibility and minimizing restitution owed, if any.
It is critical to recognize for any officer facing an administrative investigation of criminal activity that the officer has no absolute constitutional or statutory right to remain silent during the investigation.
Lybarger v. City of Los Angeles
(1985) 40 Cal.3d 822, 827, 221 Cal.Rptr. 529. The officer may be compelled to answer questions under threat of disciplinary action, although no statement made by the officer under such compulsion may be used against the officer in a criminal proceeding.
Lybarger, supra
. If the officer choses to remain silent, that silence could be considered insubordination and lead to administrative discipline.
Lybarger, supra.
For this reason, we strongly recommend that the officer retain separate counsel just for the administrative hearing, especially one who regularly represents officers in that particular department, because the officer does have certain rights under the Public Safety Officers Procedural Bill of Rights (Government Code §§ 3300-3313).
If the reader of this article is an aspiring police officer about to apply to become a police officer or a sheriff and the person has a prior case that was resolved with a delayed entry of judgment (DEJ) program, it is important that this person, under Penal Code § 1000.4(b), must disclose arrest in response to "any direct question contained in any questionnaire or application."
For more information about facing a criminal case, diversion and state licensing issues, please click on the following articles:
Contact us.