City of Torrance, DUI, Early End to Probation, Expungement
Our client, age 39, was returning home to South Torrance from a business meeting / dinner where alcohol was served. Everyone was drinking, so our client did, too.

It was about midnight by the time our client got in his car. As he was driving southbound on Hawthorne, he knew his wife would greet him once he arrived home with a scolding that he should not be out so late drinking. This caused him to drive faster and faster.
His speed caught the eye of a Torrance police officer, who pulled him over for running a red light at Skypark and Hawthorne Boulevard. Our client also allegedly made an unsafe lane change and was speeding.
Our client then argued with the police once they pulled him over, which seemed to confirm his being under the influence of alcohol. As one police officer administered the field sobriety tests, another police officer filmed our belligerent client arguing throughout the tests. Our client's blood alcohol content was 0.14%, measured on a preliminary alcohol screening (PAS) device at the scene and then confirmed at the Torrance police station.
The client called Greg Hill & Associates upon being released from jail the following morning. He explained what had happened and asked a great deal of questions about the process. He had no prior criminal history and was working as a financial analyst for a real estate investment company that was in the process of breaking up and then having each of its splintered entities being reacquired by other companies. So his employment stability was at risk and the DUI only made that more uncertain.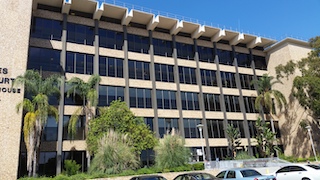 Torrance Courthouse
He then retained Greg Hill & Associates and after a great deal of time spent plea bargaining (due to prosecutors seeking higher punishment due to our client's argumentative attitude when being arrested), Greg was able to resolve the case for a DUI with minimum terms of three years of informal (or summary) probation, an obligation to enroll in and complete the AB 541 three-month DUI program, payment of court fees of $390 plus penalties and assessments (less credit of one day for one day of actual custody when arrested) and attendance at the Hospital and Morgue (HAM) program and Mothers Against Drunk Driving (MADD) victim impact panel.
At the seventeen-month mark in the client's probation, Greg reached out to the client to ask if he was interested in seeking early termination of probation and then, if the judge granted the request to terminate probation early, we could then file a petition for dismissal (expungement). The client responded that he was quite interested in this because the company he worked for was being acquired by another company and he understood that if he were on probation, he would be terminated.
Our office then prepared, filed and served a motion for modification of probation under Penal Code § 1203.3 to end probation early. The motion set forth the facts of the underlying case as well the fact that our client had fulfilled all the terms of probation except the passage of time.
The client and our office understood that because the plea bargain in this particular case was negotiated after extensive discussions about the client's behavior when arrested, the prosecutor certainly could oppose the request for early termination of probation as seeking a windfall, or put another way, the People were highly interested in the client serving the full period of probation.
Luckily, however, the prosecuting agency had a change of staffing since the time when the plea bargain was negotiated, so the "bad blood" was not an issue and the judge granted the motion without even an opposition from the People.
Our office then quickly assembled a petition for dismissal under Penal Code § 1203.4, which was filed, served and granted as well.
The client was extremely happy with this turn of events that hopefully allowed him to preserve his job.
For more information about early termination of probation and expungement, please click on the following articles: