Car Accident, Compton, 0.20% BAC, 3-Month DUI Program
Summary in 50 Words or Less: Client, age 25, crashes her car while driving home from drinking with friends. She allegedly threatens a witness by telling him not to call the police, "or my family will contact you."

Our client, age 25, was on her day off from work and over at her friend's house in Compton. The two had been just hanging out, watching television and drinking Fireball, a popular cinnamon flavored whisky, as well as Buzzbombz, a vodka, rum and tequila drink.
When 4:00 p.m. arrived, our client headed home, quite drunk, but wanting to get on the road and home before traffic became busier around 5:00 p.m.
She was heading northbound on Alameda Street, toward the 105 Freeway underpass and just across from the Lynnwood Jail, also called the Century Regional Detention Facility or CRDF. She suddenly veered to her right and crashed into a closed security gate surrounding a shoe company warehouse.
The crash alerted a security guard, who notified a shoe company representative who then went out to the crash site to check on our client. Our client was fine, but a bit shaken up and quite surprised by the sudden stop.
The shoe company representative called 911 and then began speaking with our client. Our client tried to drive her car away, but the car's front tire had popped in the collision and the front end of the car was bent down so as to prevent the tires from turning.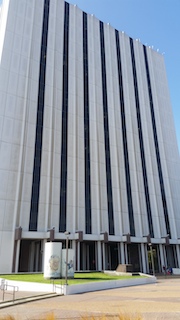 Compton Courthouse
Our client knew she was probably going to have a visit from the police, so she told the man standing nearby, "Don't call the cops or my family will contact you." The man took this as a threat and when the police came, he advised the police of this. According to the man, our client was cussing at him and our client was stumbling around, so he suspected our client was drunk.
The police officer who did arrive looked into our client's car and found a half-full bottle of Fireball, as well as an empty Buzzbombz container. Allegedly, our client told the police officer that "I really love Fireball – it's my favorite." She also allegedly told the officer that her family knew him and they would call him, so he should just let her go.
The officer asked our client to submit to a breath test at the scene, which our client refused as is her right under Vehicle Code § 23612(i). She also refused to perform any field sobriety tests, as is also her right.
She was then arrested and taken to the Compton Police Station south on Alameda near the Compton Courthouse. Once there, she submitted to a breath test, which measured her blood alcohol content (BAC) at 0.20%. She was then held overnight to sober up before her family came to pick her up.

About a week later, the client called Greg Hill & Associates and explained what had happened. She bluntly said that she was blacked out from alcohol at the time and only knew what she was told, which was that she had crashed her car into a building and that her BAC was 0.20%. She said she did not know why she crashed.
Greg then explained how such a case is often handled at the Compton Courthouse and recommended that the client enroll in the AB541 program as soon as possible to help Greg with plea bargaining the case to a resolution with easier terms for her.
Greg, however, explained that due to a 0.20% BAC, our client would have to attend the nine-month alcohol awareness program (AB 1353), which cost about $1,000, as a term of probation and to get her driver's license back from the DMV.
Greg then appeared at the Compton Courthouse for the client over several months, with a hearing once per month along the way. Quite fortuitously, the DMV hearing for our client resulted in a win for her when the recording for the breath machine result printout malfunctioned and did not show the time the breath samples were given, but did have one such breath sample measured.
The faulty machine was a critical issue at the DMV hearing, which must comply with Title 17, but the court is not dependent upon strict compliance with Title 17. Nonetheless, Greg was able to resolve the court case with our client pleading to DUI, but with only a three-month alcohol awareness program and the prosecutor agreeing to strike the Vehicle Code § 23578 excess alcohol allegation.
By striking the 23578 allegation, our client only had to attend the three-month alcohol awareness program to get her license back from the DMV, which saved her about $500 and six months of extra hassle with further classes. She was extremely happy with how the case resolved at the DMV and in court.

For more information about DUI in general, please click on the following articles: