Does a "Win" at a DMV Hearing Bar My DUI Case?
No is the answer to the rhetorical question posed in the title to this article. However, the more important message to understand from this article is why this is so.
About This Article Briefly: A "win" at a DMV admin per se hearing (also called a "set aside") about a DUI does not mean the judge must dismiss the DUI case, but such a good result sometimes helps resolve the DUI case as a "wet reckless," depending upon the reason for the DMV win.

To understand why a ruling from an administrative hearing, such as is a DMV hearing on a DUI case, does not block or pre-empt a criminal case (under principals of collateral estoppel and res judicata) one must first understand the differences between an administrative hearing and a criminal court case.
In a DMV hearing (an administrative hearing), the driving privileges of a license holder are at stake. If one loses at a DMV hearing, one's driving privileges are suspended for some period of time. In a criminal court hearing, the freedom of a defendant is at stake. The punishment available is time in jail or prison, or some form of probation with limits on one's freedoms, i.e. one must take various classes.

There also must be a ruling by the administrative agency on the merits and both parties must be present. In a DMV hearing, the District Attorney's office is not present at the hearing (the DMV hearing officer is not an agent for the District Attorney).
Several courts have had to rule on motions for dismissal of a criminal case based on an administrative agency ruling in favor of a defendant. In a welfare fraud case, People v. Sims (1982) 32 Cal.3d 468, the administrative agency hearing issue was whether overpayments were because of fraud by defendant. Defendant "won" at the administrative hearing. The criminal case against defendant was for welfare fraud, so defendant (Sims) sought to dismiss the criminal case.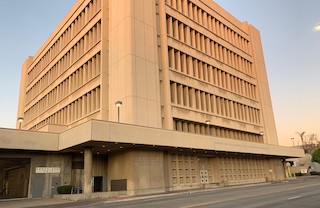 Inglewood Courthouse
The California Supreme Court ruled that an administrative agency decision favoring a defendant will be given collateral estoppel effect in a criminal court when the administrative agency decision was reached in a judicial-like adversary proceeding that gave both parties the opportunity to fully litigate the issue; the issue was identical, with a final agency decision on the merits and the party to be estopped (barred – here the DA) was in privity with the administrative party.
In Sims, privity of parties (closeness) was found because the county Department of Social Services and the county district attorney operated jointly in investigating and controlling welfare fraud.

In the context of a DUI, it is not so easy. In fact, California Vehicle Code, at section 13558(g) literally states: "A determination of facts by the department upon a hearing pursuant to this section has no collateral estoppel effect on a subsequent criminal prosecution and does not preclude litigation of those same facts in the criminal proceeding."
Similarly, Vehicle Code § 13359(b) states, "A finding by the court after a review pursuant to this section shall have no collateral estoppel effect on a subsequent criminal prosecution and does not preclude litigation of those same facts in the criminal proceeding."

Looking at the interrelationship from the opposite angle, however, it is important to realize that a dismissal of a criminal case can have collateral estoppel effect on a DMV license revocation proceeding. See Zapata v. DMV (1991) 2 Cal.App.4th 108, 113; Buttimer v. Alexis (1983) 146 Cal.App.3d 754.
Despite the fact that an administrative agency ruling in favor a defendant does not have collateral estoppel effect on a court case, when our client "wins" at a DMV hearing, we do show the prosecutor the ruling. We do so to show there are issues that a jury may find in favor of our client in court and therefore, the prosecutor may have difficulty proving as part of a DUI case. After all, the burden of proof at a DMV hearing for the DMV is merely preponderance of the evidence, so it is more lenient and favorable to the DMV than the beyond a reasonable doubt standard that the People must meet in court. So, a "win" at the DMV strongly suggests a similar outcome in court just on the disparate burdens of proof, it can be argued.

This sometimes, depending upon the prosecutor and the BAC of our client, allows resolution of a DUI as a wet reckless.

For more information about DMV issues, please click on the following articles:
Contact us.