For a DMV Hearing, What Is Reasonable Cause to Believe DUI?
Recently, the Fourth Appellate District issued a ruling in
Espionza v. Shiomoto
(2017 DJDAR 2896) that addresses the standards the DMV must follow in an admin per se hearing. While the
Espinoza
case deals with a refusal to submit to a blood test unless the police secured a warrant, it also covers the law on the most common standards applicable in every DMV hearing.
Brief Synopsis: Reasonable cause to believe a driver is DUI, in the context of a DUI admin per se hearing, is "that state of facts as would lead a man of ordinary and prudence to believe and conscientiously entertain an honest and strong suspicion that the person is guilty of a crime." People v. Adair (2003) 29 Cal. 4th 865, 904.

The opinion discussed issue number one for a DMV hearing on a DUI, "whether the officer had reasonable cause to believe the motorist drove under the influence of alcohol in violation of Vehicle Code § 23152 or § 23153."
In addressing this issue, the court first discussed the distinction between probable cause and reasonable cause. It is important that the reader understand, in other words, what reasonable cause is not. It is not probable cause.
"Probable cause exists when the facts known to the arresting officer would persuade someone of reasonable caution that the person to be arrested has committed a crime.
Dunaway v. New York
(1979) 442 U.S. 200, 208, fn. 9. It is incapable of precise definition.
Maryland v. Pringle
(2003) 540 U.S. 366, 371."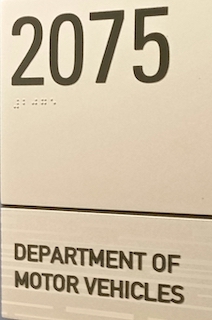 DMV Sign El Segundo Office
Reasonable cause, in contrast, is "that state of facts as would lead a man of ordinary and prudence to believe and conscientiously entertain an honest and strong suspicion that the person is guilty of a crime."
People v. Adair
(2003) 29 Cal. 4th 865, 904.
To be arrested on suspicion of DUI, "the liquor or liquor and drugs must have so far affected the nervous system, the brain, or muscles as to impair to an appreciable degree the ability to operate a vehicle in a manner like that of an ordinarily prudent and cautious person in full possession of their faculties."
People v. McNeal
(2009) 46 Cal. 4th 1183, 1192-1193.
The reader may wonder, after reading the above passage from
McNeal
, what if the officer never sees the suspect driving, i.e. the officer responds to a traffic collision, finds the suspect walking away from a parked car, etc. The court in
Espinoza
addressed this, stating "evidence of actual impairment may include the driver's appearance, and odor of alcohol, slurred speech, impaired motor skills, slowed or erratic mental processing, and impaired memory or judgement. Conversely, absence of these manifestations may indicate that the driver was not impaired."
McNeal,
at 1198.
In addition, to erratic driving and objective symptoms of intoxication, an investigating officer may also properly consider the motorist's refusal to step out of the vehicle and refusal to submit to field sobriety tests when determining whether there is probable cause to arrest for DUI.
Kinlin v. Kline
(6th Cir. 204) 749 F. 3d 573, 580-81;
Marvin v. Department of Motor Vehicles
(1984) 161 Cal. App. 3d 717, 719-720. The reader should note that such conduct is not a factor in determining reasonable cause.
It merits mention that the preceding paragraph deals with probable cause, which is distinct from reasonable cause. Probable cause is needed to arrest. Reasonable cause is a lower standard, as it only requires "strong suspicion" that the person committed a crime, whereas probable cause requires more. Probable cause requires that the officer believes the person committed a crime.
In
Espinoza
, the police officer did not notice any impairment is Espinoza's driving. The traffic stop was initiated because the officer saw Espinoza driving while talking on her cell phone. However, the DMV found the officer had reasonable and probable cause to believe Espinoza was driving under the influence of alcohol because the officer observed: 1) red, blood shot and watery eyes and 2) a strong odor of alcohol on her breath. She also: 3) stumbled when standing on the sidewalk, 4) fumbled her keys and dropped them, then 5) repeated herself numerous times. She also 6) parked two feet away from the curb.
We think this case is worth noting not only for its distinction between reasonable cause and probable cause, but because of the six factors the court cited to show there was sufficient reasonable cause or probable cause.
This suggests as much is required to find the same in other cases and if not as much is shown, there is an argument that reasonable and probable cause does not exist.
For more information about DMV Hearing issues, please click on the following articles:
Contact us.