Auto Burglary at Salt Creek, Identity Theft, Newport Beach
Our client, age 28, was caught on a Cerritos Best Buy store security video buying an Apple I-pad with the credit card of another person who did not authorize such a purchase. Our client was African American. Four other African-American males in their mid-to-late 20's also used the same person's credit cards to buy items at the same Best Buy, as well as men's clothing at a Nordstrom's nearby.
The owner of the credit card told police that at about 9:45 a.m. he had parked his truck in the parking lot near Salt Creek beach to go surfing. He had placed his car key in his gas cap access door compartment so he did not have to risk losing it while surfing.
Apparently, our client and his friends were sitting in the same parking lot and watched this man place his car key in the gas cap access area and then go surfing. Our client and his friends then opened the gas cap area, took the key, opened the car and found the man's wallet.
When the man returned from the ocean to his car about 11:15 a.m., his key was missing, so he had to hitch-hike back to his home to get his spare key.
At 11:30 a.m., our client was filmed inside the Cerritos Best Buy, which was 41 miles away and in Orange County, whereas the Cerritos Best Buy was in Los Angeles County.
When the man returned to Salt Creek with his spare key, he noticed his wallet was missing and called the police after cancelling his credit cards, which had already been used. Police commented that there had been a series of such auto burglaries and identity theft crimes in many beach area parking lots and Salt Creek was one of those areas.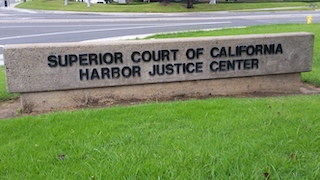 Newport Beach Courthouse
The surfer told police what his credit card companies told him were the locations where his credit cards were used. Police then went to each store and retrieved the store security videos with five separate purchases, one by each man, using the same victim's credit cards.
Police recognized several of the men from prior crimes, including our client, who was on probation for a similar offense out of the West Covina courthouse. Our client was then 24 at the time of the offense in West Covina. He also had an earlier grand theft and resisting arrest conviction at age 20, also in Los Angeles County.
Surprisingly, our client had a secure job with health care and retirement benefits through a local city's utility company. He had worked at this company for several years.

The Orange County District Attorney's Office filed a case against our client and just one other man in the Newport Beach Superior Court. They then mailed our client a letter advising him that such a felony case had been filed.

Our client contacted our office after receiving the letter and explained that he did not know what the complaint was for, but he did explain that he had two prior convictions for crimes involving identity theft and misuse of credit cards.
Our office quickly got a copy of the docket on the case, showing what the charges were and who our client's co-defendant was, who our client knew as an acquaintance, but not a close friend. Our client had not spoken to the other man in months.
The client then hired Greg Hill & Associates and Greg appeared with the client in the Newport Beach Superior Court about a month later for the arraignment. At this time, we were given the police report, which was surprisingly well-documented and detailed, however, certain aspects were suspect. For example, police stated that they recognized our client's photograph from a prior crime in Montclair, but our client had never been involved in any crime in Montclair. Therefore, our client was apparently identified by other means.
Plea bargain negotiations in the case were extended. On one hand, our client was charged with auto burglary, which was not factually supported and in fact, our client never went to Salt Creek. Second, after the case was filed, one of the investigating Orange County detectives was himself the subject of a criminal action involving dishonesty. Third, there was a question of whether Orange County even had jurisdiction over our client for use of the credit card in Los Angeles County.
The case ultimately resolved for a misdemeanor with our client having to serve 30 days in Orange County jail and having to perform 30 days of community labor, which was far, far less than the initial plea bargain offered, which included two years of state prison (to be served in county jail). The client was pleased with the resolution, thankful that he could keep his job and serve the 30 days in county jail through weekends.
For more information about identity theft and auto burglary, please click on the following articles: