Writ of Habeas Corpus Granted When DA Says Issue Moot.
Among criminal defense attorneys who have practiced for at least twenty years, there is usually agreement that while judges often do make mistakes and prosecutors can be vindictive, in the long run, defendants usually end up with, all things considered, more luck than prosecutors and better plea bargains than bad plea bargains.
Some might attribute this to the fact that many judges are former prosecutors, so they are more critical of prosecutors than of defense attorneys and consequently, more likely to rule in a way that seeks to hold prosecutors to a high standard. Others may cynically say it is because judges need financial support from criminal defense attorneys to remain in office. And yet others may say judges become more liberal (or empathetic) the older they are. Our explanation is, quite frankly, that we really cannot say in a general way why this phenomena seems true.
Brief Synopsis: Defendant granted a writ of habeas corpus when People fail to follow court's order to file brief opposing an evidentiary hearing, believing such a hearing was moot anyways, and court instead regards the failure a concession that the writ should be granted. Lesson to take away is follow court orders even if one believes the issue is moot.

The following summary of a case arising in Orange County certainly exemplifies a defendant getting both "bad luck," only to be followed by good luck exceeding the bad luck.
In 2014, Defendant Jeffrey Donal Duval was arrested for and later entered into a plea bargain for possession for sale and transportation of methamphetamine (Health & Safety Code §§ 11378, 11379(a)), receiving stolen property (Penal Code § 496(a)) and unlawful possession of a stun gun (Penal Code § 22610(a)). He admitted two prior drug-related convictions (Health & Safety Code § 11370.2(c)) and two prior prison commitments (Penal Code § 667.5(b)).
In exchange for his plea, he was to receive two years in county jail, even though his maximum exposure was eleven years and four months in prison. Duval then entered into a
Cruz
waiver (
People v. Cruz
(1988) 44 Cal.3d 1247, 1254, fn. 5), agreeing that if he did not appear at his sentencing hearing, the trial court would not be bound by the negotiated two-year deal and could sentence him up to the maximum term in his absence.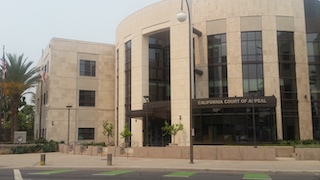 Fourth Appellate District CA Court of Appeals Santa Ana
Duval then failed to appear at his sentencing hearing. In his absence, the judge imposed a prison sentence of nine years and eight months. Duval's attorney did not object to the sentence, did not ask for a hearing on whether defendant's violation of the
Cruz
waiver was willful and did not present any evidence on why defendant failed to appear.
The next day, Duval appeared and was taken into custody. The next day, at the request of defense counsel, the judge recalled the sentence and vacated defendant's prison sentence, but imposed a five-year county jail term.
Duval then filed a petition for writ of habeas corpus, claiming ineffective assistance of counsel because his attorney did not argue or present evidence that Duval did not willfully violate his
Cruz
agreement.
The Fourth Appellate District Court of Appeal denied the petition and Duval appealed to the California Supreme Court in January 2018, after now having served four of the five years.
In its answer to the petition, the Attorney General conceded that, if the allegations in the petition were true, they established a prima facie case of ineffective assistance of counsel.
The Supreme Court then granted the petition for review and directed the Fourth Appellate District "to vacate the order denying the petition for writ of habeas corpus, and to issue an order directing [the People] to show cause before the Orange County Superior Court why petitioner is not entitled to the relief requested."
The Fourth Appellate District then ordered the matter remanded to the Orange County Superior Court for an evidentiary hearing to determine whether a writ of habeas corpus should be issued. It ordered such a hearing to be held within 90 days.
At the 83rd day, such a hearing was held and, in the interim, the People did not file any return or response to the Fourth Appellate District's order to show cause.
The hearing on the 83rd day turned out to be no real hearing at all. Instead, the judge held an in chambers discussion and stated to the parties that it was inclined to grant Duval's petition without making any factual findings.
The judge then granted relief by way of resentencing Duval to a four-year jail term.
The People then appealed the judge's order, but in doing so, did not request a stay of execution of the resentencing order from either the Fourth District or the Orange County Superior Court (see Penal Code § 1506, impliedly repealed as to capital cases in
Briggs v. Brown
(2017) 3 Cal.5th 808, 840). The People argued that their failure to file a return to the Fourth District order was moot because an evidentiary hearing was ordered.
The Fourth Appellate District then denied the appeal, finding that the People's failure to file a return explaining why defendant was not entitled to the requested relief meant the appellate court was entitled to accept the allegations in the petition as true with no need for an evidentiary hearing and grant Duval's petition in the interest of justice.
We bring this summary to the reader's attention to show how a good defense attorney can point to the order to show cause as something the People cannot take so casually or assume is unnecessary due to another order for the evidentiary hearing. Just as defendant's must "turn square corners," the prosecution must as well.

The citation for the Fourth Appellate District Court ruling discussed above is In re Jeffrey Donal Duval (4th App. Dist., 2019) 44 Cal. App. 5th 401, 257 Cal. Rptr. 3d 557.

For more information about petitions for writ of habeas corpus, please click on the following articles: