What is a State Court Petition for Writ of Habeas Corpus?
A petition for writ of habeas corpus seeks to overturn a conviction, reverse a conviction and have a new trial, seek a new sentence or challenge a condition of custody or even parole or probation as unlawful. Penal Code § 1473. When filed in California state court, it alleges a violation of California law, but should also raise violations of the U.S. Constitution because if the petition is denied, petitioner may wish to later file a petition for writ of habeas corpus in federal court and such arguments should be raised first in state court.
The Gist of this Article: A petition for a writ of habeas corpus, regarded as a last alternative after all other forms of appellate relief have been exhausted, argues a person is being unlawfully restrained due to violations of California law, but it should also allege violations of federal law if petitioner seeks further review of the case by a federal court. No certificate of probable cause is required before filing such a petition.

It is important to appreciate that a petition for writ of habeas corpus does not appeal a finding of guilt. Instead, it argues that there was a problem in the proceeding such as to merit a prisoner's release from custody, new trial, etc.
It is regarded by judges as something of a last attempt at freedom, not a first option as many movies and books portray and glamorize it. Courts have commented that a petition for a writ of habeas corpus "should only be used in extraordinary circumstances." In re Clark (1993) 5 Cal.4th 750.

The writ should make it clear that an appeal is unavailable or otherwise is not an adequate remedy under the circumstances.

It should only be filed after one exhausts all other remedies (In re Harris (1993) 5 Cal.4th 813, 829), such as a direct appeal, an application and / or motion for resentencing, depending upon the applicable circumstances and if relevant, the petition should state how administrative remedies have been exhausted. In re Muszalski (1975) 52 Cal.App.3d 500, 503, 125 Cal.Rptr. 286.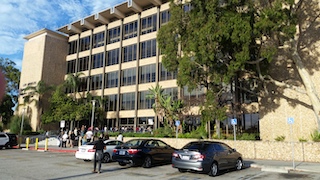 Torrance Courthouse
Nonetheless, it is important that counsel file this petition "as promptly as the circumstances of the case allow." In re Stankewitz (1985) 708 P.2d 1260, fn. 1. It is important that the petition state and describe when and how petitioner first learned of claims raised in the writ to assure the court reviewing it that the claims truly are being raised in a timely manner.
However, the general rule is that only one petition for writ of habeas corpus may be filed. Successive petitions are usually looked upon with disfavor and denied. Accordingly, all reasonably supported arguments should be raised in the initial writ, including those having a federal law basis.
There is no requirement that petitioner first obtain a certificate of probable cause to file the petition. However, the petition must be verified. Penal Code §§ 1474-1475.
The petition may be filed in the superior court, the court of appeal having jurisdiction over the case or the Supreme Court of the State of California.
The petition may argue that a person is unlawfully imprisoned or unlawfully serving a sentence on probation due to some mistake or deficiency not in the trial record. The most common arguments in a habeas petition are acts or omissions of a defense attorney (i.e. failure to investigate, failed to hire an expert or private investigator, failed to object to certain evidence, or failed to request some type of order), new evidence that shows defendant's innocence or establishes an affirmative defense, prosecutorial misconduct (most commonly in producing exonerating evidence or in arguments to the jury), a sentencing error, and juror misconduct. The petition can also challenge a determination that a prisoner is unsuitable for parole or challenge a denial of parole.

For example, a petition for writ of habeas corpus may argue that defense counsel was ineffective by not contesting a sentence enhancement for defendant's use of a firearm. The petition may also argue that the judge pressured defendant into accepting a plea bargain, rendering the plea involuntary, or imposed a high-term sentence without articulating any aggravating factors to support such a high-term.

Support for such claims may include affidavits (including from jurors) of actual innocence, declarations from witnesses, exhibits and almost anything else that counsel deems appropriate to support the petition.
After the petition is filed, there will be some type of response. The "return" is the response to the petition, filed on behalf of the confining authority when the court does not deny the petition at the outset (see Penal Code § 1480) for, i.e. procedural errors or for failing to state a prima facie case for relief.
Petitioner then responds to the "return" by filing a "traverse" in appellate court or a denial in superior court. See California Rules of Court, Rule 4.551(e).
It merits mention that a request for a Franklin Hearing is not made through a petition for a writ of habeas corpus, but it is evaluated separately in a different article. Such a petition is to request resentencing in light of the mitigating factors of youth ("hallmark features of youth" such as immaturity and impulsiveness) and the developing maturity of a young person (and thus capacity for rehabilitation) when defendant committed a crime before the age of 26.

For more information about post-conviction relief in general, please click on the following articles: