Should I Appeal? What Is the Standard the Court Applies?
Our office is asked the above question quite often. The context of the question is often related to a conviction or a sentence, but it also is regularly asked about setting aside or withdrawing a plea. This may because someone is have sober second thoughts about the plea a few days later, perhaps after discussing the case with friends and/or exploring the Internet.
Why This Article Matters: The decision whether to appeal or withdraw a plea cannot be answered in a general yes or no manner. Instead, one should have a fact-specific discussion of the case and legal issues that apply because hiring an attorney to file an appeal or a writ is expensive and, in some cases, can result in a worse outcome.
The scope of this article is general because the decision to appeal any conviction or to set aside any plea is fact dependent, which dictates what law applies.
A related question we hear is whether someone can remain free on bail while the appeal is pending. The answer is yes, if it is a misdemeanor; no if it is a felony. Penal Code § 1272(2) provides the right to bail pending appeal for a misdemeanor matter when custody time is imposed. Not surprisingly, many of our clients are relieved to hear this.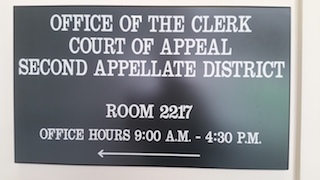 Clerk's Office 2nd Appellate District
Indeed, someone facing a felony often views an appeal as a way to delay or avoid imprisonment. This is, of course, not what an appeal should be filed for. In fact, if one sentenced to prison does not surrender when ordered, he or she loses the right to appeal. Put another way, a convicted fugitive has no right to an appeal. People v. Kubby (2002) 97 Cal.App.4th 619, 622, citing People v. Perez (1991) 229 Cal.App.3d 302, 308; see also Ortega-Rodriguez v. United States (1993) 507 U.S. 234, 239 ("It has been settled for well over a century that an appellate court may dismiss the appeal of a defendant who is a fugitive from justice during the pendency of his appeal.").
A few general procedural rules apply to any appeal. The first step is to file a notice of appeal. This is just a one page or two page document that simply states that one will appeal a ruling, verdict or sentence. No argument is included. The deadline for filing this is thirty days after sentencing for a misdemeanor and sixty days for a felony. In juvenile court proceedings, the notice of appeal is due within 60 days of the final judgment, which is sentencing.
For an adult to appeal a guilty plea, the defendant also needs to fill out at the same time as the notice of appeal, or have an attorney fill out, a certificate of probable cause for the reason why there is a need for an appeal of a guilty plea. A superior court judge will have to approve the certificate before the appeal goes to the court of appeal.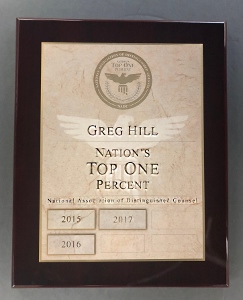 The second general type of question we receive, as mentioned above, is a question about withdrawing a plea. This is known as a motion to withdraw the plea under Penal Code § 1018. The motion must be filed in the superior court within six months of the court's order granting probation or before sentencing. In other words, if the defendant was already sentenced to prison, this section does not apply. However, if he or she was sentenced to probation, there is six months to file the motion. If a defendant can show "good cause" to withdraw the plea, the court should grant the motion.
"Good cause" to set aside a plea is shown when the defendant demonstrates that the plea was entered as the result of a mistake, ignorance, inadvertence or some other factor that demonstrates overreaching defendant's free and clear judgment. People v. Caban (1983) 148 CA3d 706; People v. Superior Court of City and County of San Francisco (1974) 11 C3d 793.
If one cannot file a motion under section 1018, the person may consider filing a petition for writ of habeas corpus. A defendant is eligible to file this whenever that person is in jail, prison, or on parole or probation. A petition for writ of habeas corpus is not truly an appeal because it is typically filed in the superior court and relies upon facts outside of the superior court record. A habeas petition is, however, the most common way that defendants allege ineffective assistance of counsel or actual innocence claims.
The habeas petition needs to be filed in the superior court and outline all of the reasons, both evidentiary and legally, why the petition should be granted. The support for the petition is usually declarations, reports, or new evidence that shows the attorney erred or the person is innocent. I would recommend you hire a well-known habeas attorney as soon as possible because a petition has to be filed in a timely manner, and anything past six months could result in the petition being found untimely. There are also many procedural rules as to format, color of paper, font and margins that must be strictly followed and can be intimidating to the first-timer.
The last resort used to reopen a case for fundamental errors of fact or law is a writ of error coram nobis. However, in this "appeal, one cannot argue the lack of effective aid of counsel, his misrepresentation of defendant, or failure to perform his duty are not a basis for relief under a writ of error coram nobis." People v. Remling (4th Dist. 1956) 146 Cal.App.2d 476, 479.
Finally, it merits mention that in California, a defendant cannot get an increase in his sentence after reversal on appeal, since this would violate California double jeopardy and chill the right to appeal. People v. Hanson (2000) 23 Cal.4th 355.
For more information about the risks of appealing and overall considerations of handling your case, click on the following articles:
Contact
Greg Hill & Associates