Four New Post-Conviction Relief Laws Effective in 2019
Beginning on January 1, 2019, there are four new laws offering post-conviction relief to certain groups of qualified people. This is a brief overview of these four laws, some of which made news when passed.
1. Assembly Bill 865
– Resentencing for Military Vets or Active Duty Military Suffering from Service-Related Mental Health Problems on Felony Convictions. This law permits current or former members of the United States military and who may be suffering from specified mental health problems as a result of his or her military service to request resentencing for any felony conviction suffered prior to January 1, 2015. This law amends Penal Code § 1170.91 of the Penal Code relating to sentencing.
The bill allows a judge to resentence a veteran or current service member convicted of a felony prior to 2015 if the service member was suffering from PTSD, traumatic brain injury (TBI) or other service-induced mental health issues if such health conditions are mitigating factors in the commission of the crime.
Statistics show that of the 2.6 million Americans deployed to Iraq and Afghanistan since 2001, up to 20% suffer or will develop service-related mental health problems.
2. Assembly Bill 1941.
Expanded 17(b)(3) Relief for Felony Sentences Imposed on Wobblers. The new law authorizes a judge to reduce an offense otherwise punishable as a felony or misdemeanor to a misdemeanor upon successful completion of probation regardless of whether the court had previously imposed a sentence. This new law amends Penal Code § 17(b)(3).
This is significant because prior to 1941 being passed, if a judge granted a defendant probation with imposition of sentence suspended, but then defendant violated probation and the sentence was imposed, i.e. prison, the individual was ineligible, or unable, to later seek reduction of the felony to a misdemeanor.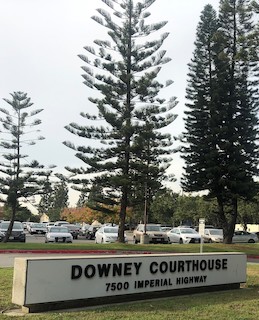 Downey Courthouse
3. Assembly Bill 2867. Clarification of Procedural Requirements for Vacating a Conviction under 1473.7 for Lack of Immigration Warnings. This law amends Penal Code § 1473.7 relating to vacating a conviction based on a person's immigration status. AB 2867 clarifies the timing and procedural requirements of motions for post-conviction relief that are based on either a prejudicial error regarding defendant's comprehension of immigration consequences stemming from his or her conviction or newly discovered evidence of actual innocence.
Perhaps the biggest change is that 2867 clarifies that a prior conviction, to be found legally invalid, need not require a showing of ineffective assistance of counsel (IAC). This is provided for at the new 1437.7(a)(1).
Further, the new law clarifies that a "notice to appear in immigration court" is not a jurisdictional requirement for petitioning for relief under the Section. (Penal Code section 1473.7(b)(2)(A)).
It is clear that by enacting the recent amendments to Penal Code section 1473.7, the California Legislature is intending to expand the ability for non-citizen defendants, who are now prejudiced by their convictions, to obtain post-conviction relief for immigration purposes.
4. Assembly Bill 1393
. Expanded Judicial Discretion for Striking a Prior Serious Felony for Sentencing. This law, which has been publicly criticized quite a bit, restores a judge's discretion to strike a prior serious felony in the furtherance of justice to allow defendant to avoid the five-year prison enhancement otherwise mandatory for one sentenced on a further serious felony (under § 1192.7(c) and § 1192.8). This law changes Penal Code §§ 667 and 1385 of the Penal Code relating to sentencing.
We think this is long overdue, as we have had several clients with prior strikes fail in
Romero
motions to "strike a strike" and then face now only a doubled sentence for the prior strike, but also a five-year sentence enhancement for the prior serious felony.
This law is not retroactive, so if you or a loved one is serving time that includes a five-year prison sentenced enhanced under 1192.7 for a prior serious felony, one may not now seek resentencing in light of 1393. The only exception is under Penal Code § 1170(d)(1) if one was sentenced in the last 120 days, or 120 days prior to January 1, 2019 (back into early September 2018).
For more information about other recently-passed post-conviction relief laws, please click on the following articles:
Contact us.