What Is Senate Bill 1437 (SB 1437)? Who Is Eligible?
As of September 11, 2018, Senate Bill 1437 has not been signed into law, but it is significant in many ways even if Governor Brown refuses to sign the bill into law (it was presented to him on September 7, 2018).
In a Nutshell: Senate Bill 1437, changing California's felony murder rule and providing a mechanism for one previously convicted of felony murder or murder under the natural and probable consequences doctrine to seek resentencing, is an important new law that will be tested in many ways, as it potentially allows the release of many people now in state prison.

The bill changes the felony murder rule to allow resentencing for accomplices already sentenced with first-degree convictions. This is not going to result in thousands of folks in state prison being released, but it will allow vacating the conviction and resentencing in many cases (it is estimated that 800 folks are serving sentences for first-degree murder for murders that they did not actually commit or help commit, but were involved in a specified violent felony that unexpectedly (to the defendant) resulted in the murder of someone).
The "felony murder rule" is best epitomized by convictions to three defendants who enter a liquor store to rob the cashier. As the robbery is taking place, one of the defendants pulls out a gun and shoots the cashier, without any premeditation or prior plan (no "malice aforethought") among the three defendants to do so. The shooter just became nervous that the cashier will recognize him later and tell the police, so he decides to eliminate the witness, as "dead men don't talk." All three defendants are thus charged with first degree murder and, under existing law, face possible sentences of 25 years to life, life without the possibility of parole or death, before any sentencing enhancements apply.
Similarly, a common scenario is where a man and his girlfriend go to rob a bank (or any store). The girlfriend agrees to be a distraction to the bank employees or the store staff. She dresses provocatively or flirts with a security guard. Her boyfriend, however, gets nervous and punches the clerk, killing him.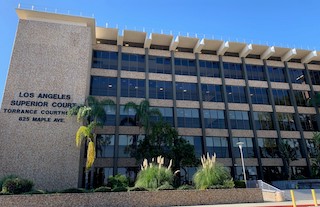 Torrance Courthouse
Felony murder also applies to a murder that takes place during other violent felonies such as arson, rape, carjacking, burglary, mayhem and kidnapping.

This law has been harshly criticized for decades as being unfair to those defendants, accomplices, who had no idea the other defendant would commit murder. The law is seen as far too broad.
All other murders are considered second-degree and are punishable by fifteen years to life in prison, before any sentencing enhancements apply.

First-degree murder otherwise also applies to one who kills another or a fetus, with malice aforethought. This type of killing, i.e. the classic lying in wait, premeditated murder, will remain first-degree murder and 1437 will not change the law on first-degree murder for such actors
.
Senate Bill 1437 would allow those convicted of first-degree murder in a felony murder situation or accomplice liability in first degree murder to have their convictions vacated and require the prosecution to prove that person was the one who killed the victim (this may not have been established in the original case), he or she assisted in the killing, the person had malice aforethought, or had reckless indifference to human life.

The goal is to punish the person for the crime that did take place, i.e. robbery or rape, but not first-degree murder if the person did not have malice aforethought, reckless disregard or actually kill or conspire and help kill the victim.

This may be extremely difficult to prove, so the defendant may be resentenced for the crime he or she did actually commit, i.e. robbery, arson, burglary, carjacking, kidnapping or mayhem.

The new law, if passed, will not change the way gang members face sentencing enhancements or the Three Strikes Law. However, it will revise the felony murder rule to narrow its scope instead of the wide scope of application it now has. It will not abolish the felony murder rule per se, as some states have (i.e. Michigan, Kentucky, Hawaii and Massachusetts).
We think revision of the felony murder rule is long overdue. There are literally almost 1,000 people serving life sentences without the possibility of parole for murders they did not expect to take place and they did not agree to or even participate in. Our judicial system should rise above this type of punishment, as it just does not fit the crime actually committed.
For more information about murder, please click on the following articles:
Contact us.