Must the Jury Agree Upon Only One Theory of Murder?
A downtown Los Angeles jury's conviction of Cesar Omar Sanchez for first degree murder was struck down due to improper jury instructions permitted by the judge.
Overview: First Degree Murder Conviction Reversed Because Judge Instructed Jury That It Was Not Necessary for the Jury to Agree upon One Theory of Murder.

The reason for the Second Appellate District ruling as it did made sense, but may appear too academic to a layman. In other words, it could seem like a classic legal loophole to a person unfamiliar with our legal system. This article will attempt to show that the reasoning was no loophole at all, but an important confirmation that convictions should not be reached with ambiguity.
It is important to understand that our law distinguishes between first and second degree murder. In a prosecution for murder, all jurors first must decide upon the conduct as being consistent with a certain degree of murder, either first or second degree. If each of the jurors agree that the crime constituted first degree murder, the jurors do not need to agree on a single theory of the crime, as long as they all believe beyond a reasonable doubt that defendant is guilty of first degree murder. First degree murder is generally a planned out murder (premeditated).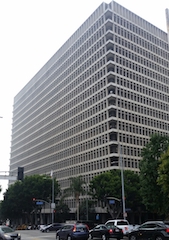 Clara Shortridge Foltz Criminal Courts Building CCB Downtown LA
However, there are often different theories of a crime and each theory can supports different degrees of murder. One theory may support first degree murder; another may support second degree murder.
Cesar Omar Sanchez was arrested in 2008 for allegedly being involved in abducting Marco Parra and shooting him, with the help of several other men. The shooting arose because Walther Quevedo, a truck driver and suspected drug dealer, accused Parra of stealing $1.5 million and then Mr. Sanchez became involved. Allegedly, drugs were also stolen. This all took place in Huntington Park.
Sanchez was charged with both first degree and second degree murder. No one alleged Sanchez fired the fatal shots, but he involved as an alleged aider and a better. The first degree charge was based on Parra being shot in the course of Sanchez helping kidnap Parra. The second degree murder charge was based on a theory that Parra died from an assault by Sanchez.
Sanchez was also charged with attempted carjacking (Penal Code § 664, 215(a)), second degree robbery (§ 211) and possession of a firearm by a felon (Penal Code § 12021(a)(1)).
At trial, the prosecution sought to pursue two alternative theories of murder. This in and of itself meant that the prosecution was arguing, in effect, "we think Sanchez killed Parra this way, but, if you don't agree, we ask you to consider this other way." Specifically, the DA asked the jury to find Sanchez guilty of the first degree murder of Parra during his kidnapping. Alternatively, the DA asked the jury to find Sanchez guilty of second degree murder if Parra's death was a "natural and probable consequence of an assault or a kidnapping."
Confusing? Indeed, or so thought the jury. During deliberations, it asked the judge for the definition of second degree murder. The judge answered, quoting California Criminal Jury Instructions, CALCRIM No. 548:
You may not find the defendant guilty of murder unless all of you agree that the people have proved that the defendant committed murder under at least one these theories. You do not need to agree on the same theory.
We do not think this answer really addressed the definition of second degree murder. Instead, it anticipated the jury's follow-up question about having a disagreement over the theory of murder.
Sanchez argued that this instruction, telling the jury that it did not need to all agree on a theory of murder, was error. Sanchez argued that the two theories of murder supported different degrees of murder. Therefore, all jurors could agree upon a theory of murder supporting second degree murder, but then find Sanchez guilty of first degree murder, as he was.
The Second Appellate District, in
People v. Cesar Omar Sanchez
(2014 DJDAR 15526), agreed with Sanchez. The appellate court pointed to the trial court's instructions on CALCRIM 548 as particularly erroneous. Before giving the quoted text above to the jury, it told the jury, "the defendants have been prosecuted under two theories: (1) Malice aforethought; and (2) felony murder. Each theory of murder had different requirements, and I will instruct you on both." In other words, even the trial court acknowledged that the first degree and second degree in murder requirements were different, but then said the defendant could be convicted without all jurors agreeing on one theory, suggesting that trying to form an agreement was a waste of time.
The appellate court agreed that the jury instruction was subject to erroneous interpretation. However, if a person is to be convicted of first degree murder, all jurors must agree upon the degree of murder as first degree,
People v. Milan
(1973) 9 Cal. 3d 185, 195.
Consequently, the conviction for first degree murder was reversed and the case remanded to the trial court for a new trial.

The citation for the Second Appellate District Court of Appeal ruling discussed above is People v. Cesar Omar Sanchez (2d App. Dist., 2014) 221 Cal.App.4th 1012, 164 Cal.Rptr.3d 880.

For more information about murder issues, click on the following articles:
Sixth Amendment Right to a Speedy Trial Not Violated When There Is a Seven Year Delay Between Arrest and Murder Trial
Does the Passage of 33 years Bar Prosecution for Murder if Suspect Flees from California to Texas after Event?
Contact
Greg Hill & Associates