What're Common Federal Claims Raised in Habeas Corpus Writ?
A federal writ of habeas corpus is the final avenue for review of claims of Constitutional violations or violations of federal laws or treaties that were denied in California state court. These are most commonly a Fifth Amendment (right to remain silent), Sixth Amendment (ineffective assistance of counsel, right to confront witnesses), Eighth Amendment and Fourteenth Amendment violations. Fourteenth Amendment violations are often categorized as either due process or equal protection claims.
Brief Synopsis: This article sets forth the most common federal claims that can be asserted in a federal petition for a writ of habeas corpus. We hope this article is helpful to the reader by providing citations to the leading cases, from which further, more detailed arguments can be made.

Common Fifth Amendment claims can include involuntary confessions (Miranda v. Arizona (1966) 384 U.S. 436, 16 L.Ed. 2d 694, 86 S. Ct. 1602), a prosecutor's comments about defendant's silence (Wainwright v. Greenfield (1986) 474 U.S. 284, 88 L.Ed. 2d 623, 106 S. Ct. 634), double jeopardy (Schiro v. Farley (1994) 510 U.S. 222, 127 L. Ed. 2d 47, 114 S. Ct. 783) and violations of defendant's right against self-incrimination (Carter v. Kentucky (1981) 450 U.S. 288, 67 L.Ed. 2d 241, 101 S. Ct. 1112 (when requested, trial court must give instruction that jury cannot draw inference from defendant's claim of right of silence).
Common Sixth Amendment claims include the right of confrontation (Crawford v. Washington (2004) 541 U.S. 36, 158 L.Ed. 2d 177, 124 S. Ct. 1354), the right to counsel (Michigan v. Jackson (1986) 475 U.S. 625, 89 L.Ed 2d 631, 106 S. Ct. 1404), the right to self-representation (Faretta v. California (1975) 422 U.S. 806, 45 L.Ed. 2d 562, 95 S.Ct. 2525), claims of ineffective assistance of counsel (Williams v. Taylor (2000) 529 U.S. 362, 390, 146 L.Ed.2d 389, 416, 120 S.Ct. 1495; Chacon v. Wood (9th Cir. 1994) 36 F.3d 1459 (interpreter's errors can render assistance of counsel ineffective despite counsel's own competence)), the right to speedy trial (Doggett v. U.S. (1992) 505 U.S. 647, 120 L.Ed. 2d 520, 112 S. Ct. 2686), the right to present a defense (Crane v. Kentucky (1986) 476 U.S. 683, 90 L.Ed.2d 636, 106 S.Ct. 2142), the right to a jury trial (Sullivan v. Louisiana (1993) 508 U.S. 275, 124 L.Ed. 2d 182, 113 S. Ct. 2078) and defendant's right to testify (Rock v. Arkansas (1987) 483 U.S. 44, 97 L. Ed. 2d 37, 107 S. Ct. 2704).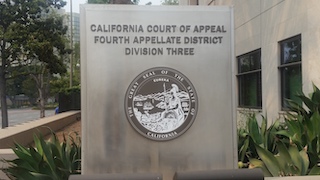 CA 4th Appellate District Division 3 OC
Common Eighth Amendment claims can include unreasonable bail (Murphy v. Hunt (1982) 455 U.S. 478, 71 L. Ed. 2d 353, 102 S. Ct. 1181) and disproportionate penalty (Lockyer v. Andrade (2003) 538 U.S. 63, 72, 155 L. Ed. 2d 144, 123 S. Ct. 1166 (Eighth Amendment disproportionality challenge to prison sentence available in exceedingly rare and extreme cases).
Common due process claims raised as Fourteenth Amendment violations include prosecutorial misconduct (Donnelly v. De Christoforo (1974) 416 U.S. 637, 40 L.Ed. 2d 431, 94 S. Ct. 1868), failure to collect or preserve exculpatory evidence (Arizona v. Youngblood (1988) 488 U.S. 51, 102 L.Ed. 2d 281, 109 S. Ct. 333), involuntary confessions (Miller v. Fenton (1985) 474 U.S. 104, 8 L. Ed. 2d 405, 106 S. Ct. 445), insufficient evidence (Smith v. Mitchell (9th Cir., 2006) 437 F.3d 884), involuntary guilty plea (Hayes v. Kincheloe (9th Cir. 1986) 784 F. 2d 1434), denial of the right to be present at trial (Kentucky v. Stiner (1987) 482 U.S. 730, 96 L. Ed. 631, 107 S. Ct. 2658), competency to stand trial and plead guilty (Godinez v. Moran (1993) 509 U.S. 389, 125 L.Ed. 2d 321, 113 S. Ct. 2680), evidentiary ruling by the judge (Estelle v. McGuire (1991) 502 U.S. 62, 116 L.Ed. 385, 112 S. Ct. 475) and impermissibly suggestive pretrial lineup or identification (Manson v. Brathwaite (1977) 432 U.S. 98, 53 L. Ed. 2d 140, 97 S. Ct. 2243.

Common equal protection claims raised as Fourteenth Amendment violations include the denial of the right to race-neutral use of peremptory challenges in jury selection (Batson v. Kentucky (1986) 476 U.S. 79, 90 L.Ed. 2d 69, 106 S. Ct. 1712).
Perhaps one of the most common challenges involves challenging "false evidence" that "is substantially material or probative on the issue of guilt or punishment" and was introduced against the petitioner at a hearing or at trial. Penal Code § 1473(b)(1); see also In re Richards (2012) 55 Cal.4th 948, 960. "False evidence" includes opinions of experts that have either been repudiated by the expert who originally provided the opinion at a hearing or trial or that have been undermined by later scientific research or technological advances. Penal Code § 1473(e)(1); In re Richards (2016) 63 Cal.4th 291, 309.
It is common, too, for petitioner to present newly discovered admissible evidence that would have changed the outcome at trial. Penal Code § 1473(b)(3); see In re Miles (2017) 7 Cal.App.5th 821 (lowered standard of proof for new evidence under Penal Code § 1473(b)(3)(A); three confessions of suspect qualified as new evidence warranting relief).

It is worth mentioning here that a claim of an illegal search or seizure cannot be brought in a habeas corpus petition. In re Sterling (1965) 63 Cal.2d 486, 489.

The federal court will usually deny the writ if a California writ of habeas corpus was not first filed and adjudicated. In other words, one must first exhaust his or her state court remedies before filing in federal court.
Federal writs of habeas corpus must be filed within one year after the 90-day period expires following a final ruling by a state court. 28 U.S.C. § 2244(d), Federal Rules of Civil Procedure, Rule 6(a)(1).

For articles concerning habeas petitions, please click on the following articles: