Can False Testimony Support Habeas Corpus Relief?
About This Article Briefly: If one discovers that a witness gave false testimony and such testimony arguably was the but for reason defendant was convicted, a petition for writ of habeas corpus may be well grounded, if filed promptly after discovering such false testimony.

Our office often receives phone calls from family members or significant others of those in prison, serving long sentences as a result of a conviction at trial. The caller will quite frequently explain that the conviction arose after a witness lied on the stand, leading to a conviction. We will then usually listen to the caller explain the basic facts of the case and realize that the testimony of the witness was not material to the guilty verdict.
Occasionally, however, the false testimony was relied upon the jury in arriving at a guilty verdict. In other words, cross examination fails to serve its role as "the greatest legal engine for the discovery of truth." United States v. Salerno (1992) 505 U.S. 317.
Sometimes, we simply cannot decide if the allegedly false testimony was something that led to a miscarriage of justice. For that reason, we advise that a much more time-consuming analysis of the trial transcripts is needed and that can be expensive.
What is the general rule or standard on seeking habeas corpus relief when false testimony is the issue? The recent published decision in In re Rogers (2019 DJDAR 6567) addresses this issue because in his trial in Kern County, one witness (Ms. Tambri Butler) testified falsely in her identification of him as the man who sexually assaulted her and concerning the circumstances surrounding it. This resulted in a sentence of death.
A brief factual background of the case is helpful. In 1988, a jury convicted David Keith Rogers, a Kern County sheriff's deputy, of the first-degree murder of fifteen-year old Tracie Clark in February 1987 and the second-degree murder of Janine Benintende, age 20, in early 1986. Both women had been sex workers on Union Avenue in Bakersfield. Both bodies were found in the Arvin-Edison Canal. Both had been shot multiple times. Bullets removed from Clark's body were the same type as sheriff's department-issued ammunition that was available to all deputies.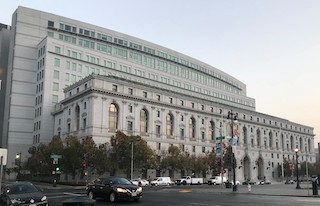 California Supreme Court San Francisco
Rogers was arrested a few days after the Clark murder and admitted to her murder.
Rogers testified at trial and admitted killing Clark, but claimed he did not form the intent required for the crime due to a mental disturbance stemming from sexual and physical abuse he had suffered as a child. Three mental health professionals testified that Rogers suffered from various mental disorders and that he was incapable of premeditating and deliberating that is required for first-degree murder.
At the penalty phase of the trial, the jury determined a verdict of death.

Eleven years after this verdict and sentence (in 1999), Rogers filed a habeas corpus petition appealing the verdict and sentence, claiming that newly discovered evidence showed that another man, Michael Ratzlaff, actually assaulted Tambri Butler. Rogers also submitted a declaration from Butler stating that, "I now believe my identification of Rogers was wrong" and "I am now more concerned than ever that I wrongly identified David Rogers as the man who attacked me."

In 2007, the California Supreme Court issued an order to show cause to the Secretary of the Department of Corrections and Rehabilitation why it should not grant Rogers relief on the grounds of misidentification of him by Tambri Butler because of: 1) newly discovered evidence and the use of false evidence; 2) the prosecutor's failure to disclose exculpatory evidence; 3) ineffective assistance of counsel because Roger's counsel failed to request a specific jury instruction (CALJIC 2.92); and 4) cumulative penalty phase prejudice arising from the misidentification of Rogers.
The Secretary of the Department of Corrections and Rehabilitation then appointed Louis P. Etcheverry, a Kern County judge, to referee the factual inquiry and conduct an evidentiary hearing in which 27 witnesses, including Ms. Butler, testified. In 2015, he issued a report of his findings and in 2016, the California Attorney General filed its response to the referee's report.

The referee's report found that Butler had seen Roger's photograph on television as the suspect prior to testifying, but lied in court by saying she had not. She then identified him as her attacker in a prior incident where Rogers supposedly picked her up for sex and then shot at her, but did not hit her. She also lied in court, saying she had not discussed Rogers case in jail (Butler was jailed many times for possession of heroin), but she had discussed the case with other sex workers in jail. The referee also found out that someone from the police station rewarded her by "cutting her loose" from jail in exchange for her testimony helping convict Rogers.
In 2016, the California Supreme Court granted habeas relief to Rogers insofar as it sought relief from the death sentence. The opinion is extremely long, but worth reading as if shows how excruciatingly careful the analysis is of whether such false testimony made any difference at all in the jury's findings and verdict.
The citation for the California Supreme Court ruling discussed above is In re David Keith Rogers (2019) 444 P.3d 665.

For more information about material false testimony, please click on the following articles:
Contact us.