Can I Sue Accuser for False Allegations in Criminal Case?
The Gist of this Article: One can sue an accuser for false allegations in a criminal case through abuse of process, malicious prosecution or defamation, but recovering on such a claim can be extremely difficult and if one loses in an anti-SLAPP motion, one may owe the accuser his or her attorney fees, adding insult to the injury.

In many cases involving domestic violence, vandalism and even theft, an outraged client will ask me if he or she can sue the accuser or even the police officer for false accusations in a police report.
My answer is always yes because, generally speaking, anyone can file a lawsuit against anybody or anything. As one of my professors from law school explained, using hyperbole to make a point, "you can sue the Pacific Ocean for being blue." In other words, you can sue anyone for anything. The court clerk must accept the filing.
The next level of inquiry is more practical: can I win? My answer in this regard is usually a bit unsettling to clients, as I explain that an accuser and a police officer, as long as each has a good faith belief in the accuracy of what they are stating, has a defense.
The police officer enjoys a limited right of governmental immunity for negligent acts, so one could expect the police officer's attorneys to argue such immunity applies to bar any complaint against an officer.
As to a lay witness, i.e. a jealous ex-girlfriend, an angry neighbor or a vindictive co-worker, that accuser enjoys limited immunity under the right of petition guaranteed under the First Amendment to the U.S. Constitution, made applicable to the states through the Eleventh Amendment. The right of petition has been interpreted as the right to contact police to seek help or report a crime.
This right, however, is limited insofar as one cannot knowingly file a false police report in order to harass, annoy or otherwise "vex" another by seeking to have police make contact and possibly arrest the person, or worse yet, have the person ultimately prosecuted.
If one arrested or prosecuted were to sue the accuser, we first and foremost recommend waiting until there is a favorable resolution of the criminal case, i.e. it is dismissed or pled out to a charge that has little resemblance to the allegations and is subject to a People v. West waiver.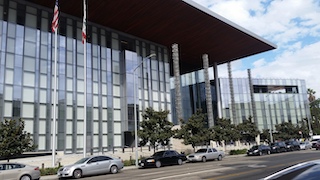 Long Beach Courthouse
We also warn that if one does sue another for defamation, abuse of process or malicious prosecution (by pretextually exercising his or her First Amendment right of petition), the plaintiff (the criminal defendant) could face an Anti-SLAPP motion filed by defendant that, if granted, could subject the plaintiff to paying the accuser's attorney fees. SLAPP stands for "Strategic Lawsuit Against Public Process."
Under California Code of Civil Procedure (C.C.P.) § 425.16(b)(1) and well-explained under
Equilon Enterprises v. Consumer Cause
(2002) 29 Cal.4th 53, 66 [124 Cal.Rptr.2d 507], a defendant facing a malicious prosecution, defamation or abuse of process lawsuit can file an Anti-SLAPP motion.
"Characteristically, the SLAPP suit lacks merit; it will achieve its objective if it depletes defendant's resources or energy. The aim is not to win the lawsuit, but to detract the defendant from his or her objective. . . "
Church of Scientology v. Wollersheim
(1996) 42 Cal.App.4th 628, 645 [49 Cal.Rptr.2d 620]. Put another way, such a civil lawsuit by the criminal defendant against the accuser might be seen as a SLAPP case insofar as it appears to action to "masquerade as an ordinary lawsuit, but be generally meritless and brought merely to deter common citizens from exercising their political or legal rights or to punish them for doing so."
Kajima Engineering and Const., Inc. v. City of Los Angeles
(2002) 95 Cal.App.4th 921, 926-927.
If the judge ruling on such an Anti-SLAPP motion to dismiss grants the motion, the judge can award attorney fees to the defendant (the original accuser). Such fees can easily exceed $10,000, as such a motion is extremely time consuming.
We therefore recommend caution before filing any such civil case against an accuser, even if the accusations are found to be false.
For more information about issues, please click on the following articles:
Contact us.