Will They File a Case? If No, Why Not? If Yes, Why?
We get many calls from those who were stopped by police and perhaps even taken into custody, but are hopeful that the prosecuting agency will not file a case upon further review of the evidence. The caller may be just seeking to discuss the evidence, but our comments usually extend to a discussion of Rule 5-110 of the California Rules of Professional Conduct.
About This Article Briefly: A prosecutor is not supposed to file a criminal complaint against a person unless there is sufficient evidence of probable cause under the circumstances that a "person of ordinary caution and prudence" would believe that the suspect committed a crime. Prosecution should not be retaliatory, vindictive, discriminatory or selective.

Rule 5-110(A) states that a prosecutor shall "[n]ot institute or continue to prosecute a charge that the prosecutor knows is not supported by probable cause." In other words, as the official discussion following this code section states, "[a] prosecutor has the responsibility of a minister of justice and not simply that of an advocate. This responsibility carries with it specific obligations to see that the defendant is accorded procedural justice, that guilt is decided upon the basis of sufficient evidence, and that special precautions are taken to prevent and to rectify the conviction of innocent persons."
"Probable cause," as required for the prosecutor to find before filing any criminal case, is synonymous with "reasonable cause" and "sufficient cause" in the pre-filing context. It means a "state of facts that would lead a person of ordinary caution and prudence to believe and conscientiously entertain an honest and strong suspicion that the person arrested is guilty of a crime."
People v. Ingle
(1960) 53 Cal.2d 407, 412. As applied to arrests, probable is a "practical, commonsense decision that, given all the circumstances, a fair probability exists that a crime has been committed and that the individual at issue committed it."
See People v. Rosales
(1987) 192. Cal.App.3d 759, 768.
In deciding whether to charge a defendant or not, the prosecutor should not prosecute if the prosecution is retaliatory or vindictive.
Twiggs v. Superior Court
(1983) 34 Cal.3d 360, 374. This means that the defendant is being prosecuted as punishment for some unrelated event to the facts at issue in the potential criminal case.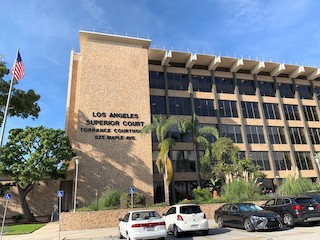 Torrance Courthouse
The prosecution must also not be discriminatory or selective.
Yick Wo v. Hopkins
(1886) 118 U.S. 356, 6 S. Ct. 1064;
Murgia v. Municipal Court
(1975) 15 Cal.3d 286, 301. If defense counsel believes that this obligation has been violated, he or she may file a "
Murgia
motion" for dismissal.
If the defendant was already charged with the offense as a misdemeanor, the prosecutor cannot charge him or her again with the same offense. This is often called the "one dismissal rule" applicable to misdemeanors under Penal Code § 1387.
The rule changes if a felony charge is involved. Then there is a "two dismissal rule." A dismissed felony charge can be refiled once, but not twice. Penal Code § 1387. There is an exception for a violent felony under 1387.1, which can be filed a third time, but not a fourth time. The prosecutor cannot try to evade this rule by, after dismissing a non-violent charge, file the same charge with added enhancements to make it a violent crime in order to circumvent the "two dismissal" rule.
People v. Salcido
(2008) 166 Cal.App.4th 1303, 1313.
The prosecutor also must not file such a case if defendant has been acquitted of the offense or already convicted of the offense. Penal Code § 1023. Likewise, the prosecutor should not file a case if defendant was already once in jeopardy on the same offense. Penal Code §§ 656, 793-794. There also, similarly, cannot be res judicata (Latin for "the thing was already decided") or collateral estoppel (the issue is legally barred) over the issues or the parties involved.
People v. Gephart
(1979) 93 Cal.App.3d 989, 997.
If a preliminary hearing already took place and defendant is answering the information in superior court, the prosecutor cannot charge defendant with a crime that was not shown by the evidence at the preliminary hearing. Penal Code § 739. Likewise, the prosecutor may not charge defendant in the information with charges inconsistent with any factual findings made by the magistrate at the preliminary hearing. Pizano v. Superior Court (1978) 21 Cal.3d 128, 133.
For more information about what happens before a case is filed, please click on the following articles:
Contact us.