Will My Bail Go Lower After In re Kenneth Humphrey?
On January 25, 2018, the First Appellate District issued its forty-five-page ruling in
In re Kenneth Humphrey
, a great case concerning how bail is set by judges in our state. Criminal defendants and their counsel have been applauding this decision for weeks now and for good reason, as bail is all too frequently set so high that "bail" is really nothing more than a "lock them up and throw away the key" device or a pretrial detention order and denial of bail, punishing certain defendants for their poverty.
The Gist of this Article: The ruling in In re Kenneth Humphrey is currently on appeal (June, 2020), so citing to this opinion is improper, but if the California Supreme Court affirms the appellate court, judges will have to consider alternative methods of insuring public safety besides just a dollar figure for bail and judges will have to consider defendant's financial condition before setting bail.

Bail, in other words, is often set so excessively high that defendant has no ability to post bail even if he emptied every dollar his or her entire family owned into a bail bondsman's hands, penalizing the poor by inordinately keeping poor people in custody while the more financially able post bail and avoid custody. This may violate the Eighth Amendment's prohibition on excessive bail, but for practical purposes exacerbates socioeconomic disparities and effects racial bias.
Bail, after all, is meant to assure public safety and serve as collateral that defendant appear in court in the future.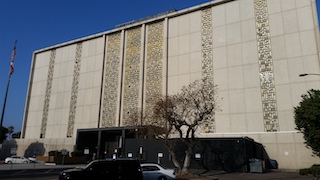 Norwalk Courthouse
To understand the
Humphrey
decision, one must keep in mind that there are non-monetary conditions of release that can address public safety such as SCRAM anklets with GPS monitoring, as well as drug and alcohol sensors, firearm surrender conditions, anger management classes, narcotic anonymous (NA) classes, alcoholic anonymous (AA) classes, etc.
Kenneth Humphrey, age 63, was a retired African-American shipyard laborer. He was single and living in a "senior home" apartment in downtown San Francisco. Humphrey allegedly robbed a 79-year-old man of $2 in cash and a $5 bottle of cologne. Humphrey lived in the same building, one floor below the victim.
Humphrey was a participant and beneficiary of the Golden Gate for Seniors Program, a six-month recovery program serving chronically homeless men and women in San Francisco with multiple problems including substance abuse, alcohol abuse and mental problems.
Humphrey was charged with first-degree robbery (Penal Code § 211), first-degree residential burglary (P.C. § 459), inflicting injury on an elder and dependent adult (P.C. § 368(c)) and theft from an elderly person (P.C. § 368(d)). This was considered a third-strike case for Humphrey.
Humphrey had three prior convictions, the most recent being 26 years earlier in 1992, and had never failed to appear in court. The trial court judge set bail at $600,000 and issued a criminal protective order for Humphrey to stay away from the victim.
On a bail review hearing following this, the judge reduced bail to $350,000. Humphrey still could not afford bail.
Counsel for Humphrey, the San Francisco public defender's office, then filed a writ of habeas corpus. The First Appellate District noted in its ruling that the District Attorney did not produce "clear and convincing evidence" that there was a "substantial likelihood" Humphrey's release "would result in great bodily injury to others" or that Humphrey "threatened another with great bodily harm" and "there is a substantial likelihood" he "would carry out the threat if released" as required for detention under Section 12 of Article 1 of the California Constitution and the trial court judge did not make such a finding.
Thus, the appellate court found, the trial court was required to make individualized findings regarding Humphrey's financial ability to pay bail and less restrictive alternatives to money bail, taking into account public safety, victim safety and his risk of flight.
The case was then remanded back to the trial court to conduct such inquiries for bail and bail alternative.
We feel that this opinion, if followed, conceivably could result in a myriad of consequences. If more defendants are granted lower bail or own-recognizance (OR) release, prosecutors will find it more difficult to reach plea bargains with custody time. After all, it is easier to reach a plea bargain with custody time if the person is already in custody and more difficult if defendant is out of custody, albeit on SCRAM on house arrest of some sort.
As a result, more cases will go to trial, which will frustrate judges at the trial court level and lead such judges to encourage less onerous plea bargains. Furthermore, if less people remain in custody, those in custody will serve a higher percentage of their time, particularly on felonies wherein defendant earns "good-time, work-time" credit of four days credit for each two days actually served under Penal Code § 4019.
The citation for the First Appellate District Court ruling discussed above is In re Kenneth Humphrey (1st App. Dist., 2018) 19 Cal.App.5th 1006.

For more information about bail issues, please click on the following articles:
Contact us.