I Need to Get a Bail Bond – What Information Helps?
If you just found out there is an arrest or bench warrant out for you, your next concern is getting a bail bond. Likewise, a loved one may be in jail and he or she needs to be back to work or just wants to be out of custody.
Brief Synopsis: To have a good experience with a bail bondsman, have all the information needed before calling the bondsman. This article details what information is helpful and, consequently, will make the experience smoother and could result in lower payments.

Before speaking to a bail bondsman, it is good to know what helps the bail bondsman quickly write a bond, and in turn, if the bail bondsman has confidence in you, you may be seen as a lower risk and thus, a lower premium than ten percent may be offered.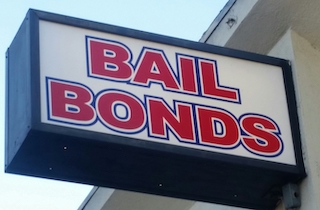 Bail Bonds Sign
Consequently, it is wise to look through the following list of information a bail bondsman typically seeks so that you can provide it all in the first phone call, which may speed along the time for posting the bond. Before calling the bail bondsman, try to get as much information as you can to answer the following questions:
What happened? What crime did police arrest your loved one for? A long description of the events that took place imposes on the bail bondsman a challenge to figure out what might be charged. Take the guesswork out, if you can, by giving the bail bondsmen concise, accurate information so he or she can consider the maximum exposure the person may face.
If there is a victim, what is the relationship between the accused and the victim? Are they spouses? Rival gang members? Is the victim a police officer?
What is the criminal history of the person who needs the bail bond? Any prior convictions and when? Is the person on parole (a bail bond cannot be posted)? Is the person on probation (it is possible if on misdemeanor probation)?
Is the person in custody on a 1275 hold (to see where the source of bail is from, i.e. proceeds from a crime)? If so, bail bond companies can contact the D.A. to show the source of bail is from an outside source and not from and "ill-gotten" gain.
Has the person ever failed to appear in court before? If so, how many times?
Has the person been the subject of an arrest warrant or bench warrant before? If so, when and for what?
How old is the person?
Is the person married? Does he or she live with his spouse?
Is the person employed? What is the address of the employer? What does he or she do for his employer? How long has he or she been employed with the same employer?
Is the person in the military?
Is the person in a union?
Is the person a U.S. citizen (bail bonds can be written for those who are not citizens, if there is not a pre-existing hold)?
How will you pay for the bail bond? In one lump sum? In monthly payments?
Have you hired an attorney? Who? Have you paid the attorney in full yet? Have you paid him anything and if so, how much?
If there is an arrest warrant or a bench warrant, when was it issued?
Who are three people that will know the person's whereabouts when released? What are their phone numbers? Their addresses? How do they know the person to be bailed out?
Does the person have a passport? Take it to the bail bondsman as collateral to help.
What can you post as collateral (many bail bondsmen do not require collateral on bonds below $50,000, but there are certain exceptions)? Can you bring the title to the house, mobile home, boat or a car? Do you have a mortgage statement? How much equity does the house have (print out a Zillow profile of the property for the bail bondsman)? Remember, collateral and thus, bail is negotiable.
Most bail bondsmen will not take a personal check, so consider how to get a cashier's check or cash. Most bail bondsmen will take a credit card, even multiple credit cards.
In short, being prepared for the conversation with the bail bondsman is a sign of respect for their time. It shows you care about the impression you make, which can cause the bail bondsman to accept less collateral, i.e. less than 10% as collateral. If the bail bondsman has trust in you, they will not see you as a great risk and you will pay less.
Such trust is formed at the initial phone call, so we recommend you be prepared.
This article was written with assistance from the helpful staff at Sylvia's Bail Bonds in San Pedro. Jen, who works there, helped Greg on this article.
For more information about bail in general, please click on the following artcles:
Contact us.