What's a Motion to Examine the Source of Bail (PC § 1275.1)?
If one has been served with a motion to examine the source of bail, one may be bewildered that the prosecutor served this with the court for the judge to consider. Alternatively, defendant may understand exactly what is argued, but wants to know how to best respond.
The Reader's Digest Version: A judge may demand that defendant show that the source of money used to post bail or pay for a bond for bail is not proceeds from criminal activity.

Such a motion is far more common in federal court under alternative statutory authority (not Penal Code § 1275.1), but in state court for the State of California, it is unusual, but our office has been served with this in big embezzlement cases, drug sales and auto theft matters where it is understood the car at issue was sold for a large sum of money. From a practical point of view, the general motivation for such a motion is to prevent a defendant from spending money he or she obtained illegally and which cannot be later used to repay the victim for the losses experienced.
Under Penal Code § 1275.1, a judge cannot accept a bail bond if any portion of it was obtained as a result of crime;
People v. Indiana Lumbermens Mut. Ins. Co.
(2011) 192 Cal.App.4th 929, 936;
People v. Pollard
(2001) 90 Cal.App. 4th 483. Section 1275.1 itself states that bail "shall not" be accepted by a judge or magistrate unless he or she finds that no part of the security, pledge, deposit, consideration or indemnification paid "was given, made or promised for its execution was feloniously obtained." In this regard, feloniously simply means "illegally," not necessarily by committing a felony, as compared to a misdemeanor. It can also mean that the bail bond was paid for by an illicit source.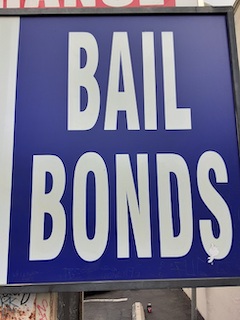 Bail Bonds
Indeed, it is generally understood that "the mere deposit of cash bail is not sufficient to deprive the court of the right to inquire into other factors which might bear on the question of the adequacy of the bail."
U.S. v. Nebbia
(2d Cir. 1966) 357 F.2d 303, 324.
Bail is more broadly understood as a way of guaranteeing the defendant appears in court in the future. As another court put it, "[t]he function of bail is not to purchase freedom for the defendant, but to provide assurance of his reappearance after release on bail; a guarantee of the obligation of defendant to appear. . . For this purpose, it becomes appropriate to identify the sources of bail and ascertain their purpose and satisfy the Court [judge] that there is a moral assurance for reappearance to be gained by acceptance of the funds emanating from such sources."
U.S. Melville
(SD NY 1970) 309 F. Supp. 824, 826.
For a judge to order that a defendant identify the sources of bail or collateral, the prosecutor must show probable cause to justify a belief that all or some portion of the money or property proffered for bail has been feloniously obtained. The prosecutor usually shows this through a declaration that specifies why a judge should believe defendant used the proceeds from crime or another co-defendant, perhaps himself suspected of obtaining money or property illegally, posted bail for defendant.
If a judge determines that the money or property used to post bail was illegally obtained, bail is revoked and defendant is remanded with a new bail set, often higher.
In opposing such a motion, our office has been successful in providing a declaration from our client stating where such money came from, i.e. from family or a home equity line of credit, or some other form of borrowing. We have had another person sign a declaration stating this is so, or through loan documents.
When served with such a motion, we must have a "heart to heart" conversation with our client to prevent the client from committing perjury in a declaration in opposition to such a motion, as the client suddenly realizes his or her freedom is in jeopardy.
For more information about, please click on the following articles:
Contact us.