Why's People v. Sanchez Relevant for Expert Testimony?
There is a saying among civil litigators that one can "smuggle in hearsay" at trial through an expert witness if hearsay is something the expert relied upon in forming an opinion. It is acknowledged that this is a clever way to let the jury know about something that no other witness can testify to.
This dirty little secret (it really is not much of a secret!), however, would not find a warm reception in criminal courtrooms due to a recent California Supreme Court case, People v. Sanchez (2016) 69 Cal.4th 665.
The Reader's Digest Version: People v. Sanchez, a 2016 California Supreme Court ruling, set new, more defense-friendly rules for the admission of testimony form a prosecution gang expert so as to preserve defendant's Sixth Amendment Right to Confrontation and set new limits on testimony that might be otherwise inadmissible hearsay.

Indeed, until Sanchez, the criminal law governing an expert witness' reliance on hearsay – and the latitude given to experts to testify about such hearsay – was pretty well-settled. It was similar to what civil law was in this regard. For example, in People v. Gardeley (1996) 14 Cal.4th 605, the California Supreme Court held that a gang expert could testify to out-of-court statements he had heard from fellow officers and gang members, including even a co-defendant in the crimes with which the defendant was charged, relating to the gang's activities and upon that basis could opine that the crime defendant was charged with was a gang activity.

In allowing this, the California Supreme Court relied upon Evidence Code § 802, which allowed an expert to state on direct the reasons for his opinion and the matter upon which it is based, even if the matter is otherwise inadmissible hearsay. In such a case, the logic goes, the gang member's statements are not admitted for their truth, but only as a basis for the expert's opinion. This was classic "smuggling in hearsay" through an expert.
In Sanchez, the California Supreme Court stopped such "smuggling in." There, the court rejected the "not -admitted-for-its-truth" rationale with respect to case-specific hearsay "relating to the particular events and people alleged to have been involved in the case being tried," explaining "this paradigm is no longer tenable because an expert's testimony regarding the basis for an opinion must be considered for its truth by the jury" Sanchez, at 679.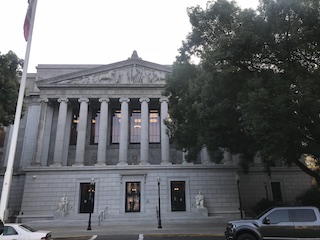 Court of Appeal Third Appellate District Sacramento
We could not agree more and appreciate that the California Supreme Court recognized the "dirty little secret."
However, it was not until the 2017 Yolo County case of People v. Adam Akhtar Malik (2017 DJDAR 10229), appealed to the Third Appellate District, that a defendant could feel its benefits (after Mr. Sanchez).

Mr. Malik was convicted by a jury of assault with a deadly weapon and making a criminal threat. With respect to both counts, the jury found that Malik personally inflicted great bodily injury on the victim. The trial court judge, Paul K. Richardson, sentenced Malik to seven years in state prison.
Malik appealed the verdict, alleging that Judge Richardson abused his discretion and violated his federal constitutional rights by allowing the prosecutor to cross-examine his expert witness, a psychologist who testified that Malik suffered from post-traumatic stress disorder (PTSD) concerning her review of several police reports.
The Third Appellate District Court recognized that Malik's challenge essentially "represents the flipside of Sanchez, we conclude Sanchez applies equally" in this case. Here, the prosecutor questioned Malik's expert on case-specific issues such as whether Malik "suffered from PTSD" at the time he threatened and stabbed the victim, which was testimonial because such alleged facts came from police reports.

The Third Appellate Court found that the trial court abused its discretion by allowing the prosecution to ask such questions without first establishing that the witness statements claiming Malik "threatened and stabbed the victim" because the prosecutor did not establish that that witness was unavailable and the defendant had a prior opportunity to for cross-examination of that witness or forfeited that right by wrongdoing (i.e. witness intimidation to keep the witness out of court).
Nonetheless, the Third Appellate District Court of Appeal did not reverse the verdict against Malik, sadly finding that the violation was not prejudicial to him.

Nonetheless, we present this case summary for what we believe is a huge step in the right direction of stopping prosecutors from using hearsay or an expert to "smuggle in hearsay" and thereby influence a jury in ways our hearsay rules are meant to safeguard against.

The citation for the Third Appellate District Court ruling discussed above is People v. Adam Akhtar Malik (3d App. Dist., 2017) 16 Cal. App. 5th 587, 224 Cal. Rptr. 3d 435.

For more information about confrontation issues, please click on the following articles: