Why Is a Factual Basis for a Plea Important?
When a plea of guilty or no contest is entered, the terms of the plea bargain are often heavily negotiated. Defendant may appreciate that trial is expensive and stressful, so he or she instead chooses to resolve the case with a plea bargain. Defense counsel may also warn defendant that if defendant is convicted at trial, the judge will most likely sentence defendant to more punishment than offered in the plea bargain. It is a practical decision by defendant.
Yet what if evidence pointing to defendant's innocence is discovered later? This may be a big concern with a missing witness.

Brief Synopsis: A factual basis for a plea can be added to a plea when defendant seeks to prevent immigration or licensing consequences; likewise, a prosecutor can demand a factual basis for a plea to prevent an appeal or collateral attack on the conviction.

To preserve the conviction, and not have it overturned on appeal due to later-found exculpatory evidence, judges in a felony case must find a factual basis for the plea. Penal Code § 1192.5. To find such a factual basis for the plea, a judge will often inquire directly to defendant in court if he or she admits the conduct that forms the crime. This inquiry also helps the judge better evaluate defendant's competency, willingness to plead guilty and understanding of the charges. People v. Watts (1977) 67 Cal.App.3d 173, 178.
Interestingly, there is no such requirement of a factual basis for the plea in a misdemeanor case. In re Gross (1983) 33 Cal.3d 561. This is why prosecutors are often willing to resolve a public intoxication case for disturbing the peace, Penal Code § 415(2) ("disturbing the peace of another by making a loud and unreasonable noise"), or a prostitution case as trespassing (Penal Code § 602).
When defendant maintains his or her innocence of the charges, some defense attorneys believe as an ethical manner, that they should not join in the guilty plea. An "Alford Plea" is a plea wherein defendant pleads guilty while maintaining his or her innocence so as to gain an advantage in a sentence. North Carolina v. Alford (1970) 400 U.S. 25, 91 S. Ct. 160; People v. Snyder (1989) 208 Cal.App.3d 1141. Defense counsel, when the plea is taken, states on the record that he or she does not join in the plea because of information that is protected from disclosure by the attorney-client privilege.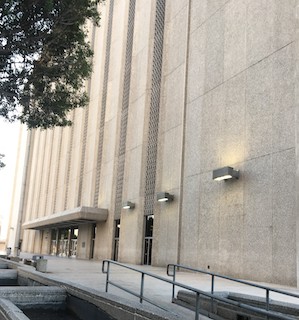 Metro Courthouse
When this happens, some judges will not accept a defendant's plea of guilty in open court unless he or she admits that he or she is in fact guilty.

A judge's conclusory statement that "there's a factual basis" is insufficient to create such a factual basis for the plea. People v. Tigner (1982) 133 Cal.App.3d 430, 435.
We find that this situation happens quite a lot in domestic violence cases when our client insists he acted in self-defense or the alleged victim self-inflicted the injuries at issue. Other times, in such cases, our client will maintain that he or she did not intend to touch the other person in an offensive manner, but that person was injured during such touching. In a shoplifting case, our client will insist that the taking of another's property was unintentional.
When defendant refuses to admit guilt, a judge can ask the parties to stipulate to the police report or the preliminary hearing transcript as providing the requisite factual basis for the plea. People v. Enright (1982) 132 Cal.App.3d 631 (police report was the factual basis); People v. Watts (1977) 67 Cal.App.3d 173 (preliminary hearing transcript was the factual basis).

We think any stipulation should be as vague as possible. If possible, defense counsel should just say "there's a factual basis" without even specifying the police report because it could be used, although incomplete or erroneous, in the client's removal proceeding later.
An oral stipulation (agreement) by defense counsel and the prosecution may also be sufficient for certain judges. People v. McGuire (1991) 1 Cal.App.4th 281 (prosecutor's and defense counsel's "so stipulated" sufficient because no particular inquiry under Penal Code § 1192.5 required; court may satisfy factual-basis inquiry with statements and admissions made by defendant); but see People v. Willard (2007) 154 Cal.App.4th 1329, 1335 (general stipulation by counsel with no reference to documents containing factual allegations insufficient).
For more information about pleas, please click on the following articles:
Contact us.