Beware of the Civil Consequences of a DUI or Sex Case
In our experience, when someone is charged with DUI or a sex case, the biggest concern if often avoiding jail or prison. The client wants to keep his or her job so he or she can keep paying the mortgage and supporting the family. The chances of a parallel civil lawsuit may be clear, but the consequences of such a civil case are less dire and thus are ignored. The client is in "triage mode" and focusses on freedom and money.
However, there may be helpful evidence a criminal defendant may be able to obtain from a civil case, but the criminal defense attorney fails to exploit such opportunities.
About This Article Briefly: Criminal defense attorneys must be aware of how resolution of a criminal case, and even what type of testimony is introduced, can be helpful or hurtful to the client facing a parallel civil lawsuit over the same conduct.

Ignoring such consequences and opportunities is a mistake. There are things an attorney can do in handing the criminal case that can eliminate or minimize the civil consequences. For example, an attorney can gain the sexual history of a plaintiff in a civil case (relevant toward causation of emotional distress damages), to show a victim's prior false claims of sexual battery. Or, in the context of a DUI - felony usually, but can be a misdemeanor car accident, including a hit and run – the civil case can reveal prior similar injuries that serve to reduce restitution because the medical treatment is really to treat pre-existing injuries.
This article will address mostly evidentiary issues, as what may seem like a harmless admission in a criminal case can unintentionally translate to thousands or even millions of dollars in a civil case – or a defense verdict in a criminal case.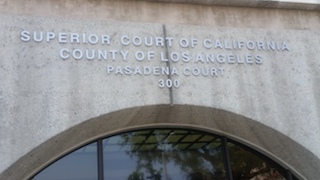 Pasadena Courthouse
A fundamental right that should never be overlooked from the outset is the defendant's right in a civil case to assert his Fifth Amendment right against self-incrimination. However, surprisingly, a defendant often is eager to "prove his case" in the civil context, perhaps with naïve trust that if the full facts or circumstances are known, his criminal case will be dismissed. To assert this right, there must be an ongoing criminal charge or a legitimate possibility of criminal prosecution.
The Fifth Amendment does not apply once a person has been acquitted, pled guilty to a crime or been convicted without an appeal. A person, for example, cannot use the Fifth Amendment as a "shield and a sword."
Dwyer v. Crocker National Bank
(1987) 194 Cal.App.3d 1418, 1432. For example, a victim cannot invoke the Fifth Amendment in a civil lawsuit deposition (or in written discovery) and then seek to testify in a criminal case.
Within the context of sex offenses, the "victim" is usually the plaintiff and the defendant is the defendant in a civil case. However, this is not always so, especially if a victim sues his employer for negligent supervision or negligent hiring or a bar for premises liability. Then the criminal defense attorney may want to attend civil depositions to hear testimony that might even establish consent issues, i.e. the victim regularly worked late at night with defendant or went to a bar that was well known as a hang out for defendant.
On the other hand, it can be damaging to have a civil lawsuit reveal prior assaults by defendant, which while inadmissible to prove predisposition to commit such a crime, can be admissible under Evidence Code § 1101 to show motive, opportunity, intent, absence of mistake and to combat consent evidence.
In the majority of such sex cases, however, the overwhelming strategy should be to prevent the majority of the evidence from being introduced in a criminal court first.
In other words, an attorney should be wary of having a detective testify, even at a preliminary hearing, or have photographs or videos introduced. Testimony under cross-examination by defense counsel can be very damaging in a civil lawsuit that follows. Demonstrative evidence may be authenticated or other foundation issues can be transformed to solid evidence for a civil plaintiff. The criminal defense attorney ought to be especially aware of the advantages of a plea bargain that avoids only making the civil case stronger, for example, a plea entered under
People v. Dale Irven West
(1970) 3 Cal.3d 595, 91 Cal. Rptr. 385, 477 P.2d 409 (causation of damages is not admitted).
Such a plea, if "no contest," is admissible in a subsequent civil trial, but is not conclusive of fault. Evidence Code § 1300. This can be a big deal in a negligence action for a car accident premised on a DUI car accident. A guilty plea, however, is admissible as an admission of certain conduct. This is true even if a misdemeanor sentence is later imposed. Misdemeanor convictions and pleas, in contrast, are generally not admissible in any context in a civil action. See
Rousseau v. W. Coast House Movers
(1967) 256 Cal.App.2d 878, 888.
For more information about the issues in this case, click on the following articles:
Sex Crime Defendant Has Right at Trial to Present Evidence of Alleged Victim's Prior False Sexual Assault Claims
Conviction for Felony Resisting Arrest (Penal Code § 69) Reversed For Improper Evidence or Prior Resisting Arrest Incidents Introduced
Contact us.