Which Court Is Proper If Crime Occurs on a Moving Train?
A case can only be filed against a defendant in one court for a crime that is alleged. In other words, under the Fifth Amendment ban against double jeopardy, made applicable to Californians through the Tenth Amendment, no one may face possible loss of "life or limb" for the same crime twice or more.
But what if the crime takes place as defendant and the victim are moving across two or more counties? Which county court is the correct one to file the case in? Where the crime begins, is finished or the majority of it takes place?
Summary in 50 Words or Less: Venue for a crime that takes place on a train can be in any county over which the train travels or where it stops, or the travel ends (Penal Code § 783), although generally, venue is limited to the county wherein the crime takes place (P. C. § 777).

The First Appellate District, in People v. Jerome Dion Dawkins (2018 DJDAR 5841), answered this question in a false imprisonment, criminal threats, lewd acts, indecent exposure and stalking case in which Mr. Dawkins allegedly harassed two passengers on Bay Area Rapid Transit (BART) trains over two days in the San Francisco area.
On the first day, May 5, 2015, a fifteen-year-old girl named E. boarded a BART train at the San Bruno station to go to school. She intended to get off the train at the Civic Center station in San Francisco, but she accidentally got on the wrong train and went towards San Francisco International Airport (SFO).
Along the way for part of the trip, she and Dawkins were alone in the same train car. Dawkins told E. to look at him, but E. was scared of him so she did not. Dawkins then began masturbating while continuing to ask her to look at him. Eventually, Dawkins tried to sit next to her, but E. switched seats and Dawkins followed her.

When the train got to the next stop (Daly City), E. tried to exit the train, but Dawkins grabbed her shoulder and told her to come with him because he "was going to make her pregnant." E., however, got out and boarded a more crowded car, but Dawkins followed her.

Eventually, Dawkins got off the train, E. reported the incident and Dawkins was later arrested.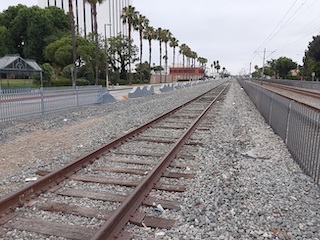 Train Tracks
In the second incident, the following day, A. was on a BART train with her one-year old daughter. They boarded the train in Contra Costa County and headed toward Pittsburg Bay Point. Dawkins again masturbated while staring at the woman. Dawkins called the police and Dawkins was arrested after the Concord station, also in Contra Costa County.
Dawkins was then prosecuted in San Mateo County for these two incidents. A jury convicted him of multiple counts and due to his prior criminal history, he was sentenced to twenty-five years in state prison.
Dawkins appealed the verdict on many grounds, but this article will focus only on his argument that venue was improper in San Mateo County for the offense involving A. because it only took place in Contra Costa County.
The First Appellate District rejected this argument, noting first that generally speaking, under Penal Code § 777, "the proper venue for the prosecution of a criminal offense is in the superior court of the county where the crime was committed." People v. Thomas (2012) 53 Cal.4th 1276, 1281.
However, there are exceptions to where a crime may be prosecuted. Under Penal Code § 783, when a crime is committed "on board . . . a railroad train or car . . . [or] common carrier transporting passengers," venue is proper "in any competent court, through, on , or over the jurisdictional territory of which the . . . train . . . [or] common carrier . . . passes in the course of its voyage or trip, or in the jurisdictional territory of which the voyage or trip terminates." § 783; see also Thomas, supra, at 1281-82.
Therefore, the First Appellate district held that "the plain language" of 783 provides for venue in San Mateo County because at the preliminary hearing, two BART officers testified that the train for A. originated in San Mateo County.
We bring this article to the reader's attention because venue is often a perplexing issue, but in this case, it was clear due to the applicable statute, Penal Code § 783.
The citation for the First Appellate District Court ruling discussed above is People v. Jerome Dion Dawkins (1st App. Dist., 2018) 24 Cal.App.5th 698.

For more information about venue issues, please click on the following articles:
Contact us.