When's a Witness Unavailable So as To Admit Prior Testimony?
"A criminal defendant has the right, guaranteed by the confrontation clauses of both the federal and state Constitutions, to the prosecution's witnesses." People v. Herrera (2010) 49 Cal.4th 613, 620.

However, there is an exception to the confrontation requirement where a witness is unavailable and has given testimony at prior judicial proceedings against the same defendant and was subject to cross examination . . ." Id., at 621; see also Evidence Code § 1291(a)(2).
In a Nutshell: Prior testimony may be admitted from a witness without violating the Sixth Amendment when that witness is "unavailable," which means the witness is absent from a hearing, but has provided testimony in a prior proceeding, i.e., a preliminary hearing, and the party against whom it was given had an opportunity and had a similar interest or motive then to cross examine that witness.

Under Penal Code § 240(a), a witness is unavailable when the witness is absent from a hearing and the proponent of the statement has exercised reasonable diligence, but is unable to compel the witness' attendance in court. If a judge finds that a witness is unavailable, the proponent of the witness may read prior testimony from the witness against the same defendant as long as the defendant was then present and given an opportunity to cross-examine the witness with an interest and motive similar to which he has at the hearing.

The most common example of how this exception is applied is when a witness testifies at the preliminary hearing, but then is unavailable at time of trial.
The recent reported First Appellate District decision in People v. Eljarod Lawson, a case originally out of the Alameda County Superior Court, exemplifies how this was used in a sex offense case.
In September 2007, Mr. Lawson forced Jane Doe 3 into his car, drove to a remote area and then brutally raped and sodomized her. He also forced her to orally copulate him. Jane Doe 3 was, at first, too traumatized to report this to the police, but about a year later, she did.
After making this report, she did not hear back from the police or prosecutors again until 2016, when Lawson was arrested in connection with rapes of Jane Doe 1 and Jane Doe 2.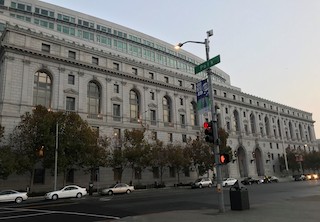 Court of Appeal First Appellate District San Francisco
Lawson was then charged with ten counts relating to sexual assault of all three "Janes." The jury acquitted Lawson of the charges relating to Jane Doe 1 and it could not reach a verdict related to Jane Doe 2 or 3, so a mistrial was declared.
The prosecution again charged Lawson with sexual assault involving Jane Doe 2 and Jane Doe 3, as well as counts involving a new Jane Doe 1 (perhaps more properly named Jane Doe 4).
Jane Doe 3 refused to testify in the second trial. When representatives of the district attorney's office visited Jane Doe 3 at her home, she was angry and adamant that she would not testify again. She expressed the need to protect her emotional well-being.
The district attorney's office visited her a second time and served her with a subpoena to appear in the second trial. After receiving it, Jane Doe said she would not come to court to testify. When she was told that a subpoena was a court order, she explained that "while she did not want to disrespect the court, she felt that she could not come to court again." Jane Doe 3 then wrote a letter to the judge explaining that she would "not attend court on this matter or partake [in] this case [d]ue to the trauma this has cause[d] by resurf[a]cing into [her] life." She continued, "After I testified, I felt as if everything that happened was my fault, being ridiculed and shamed, has forced me to backslide in my life. I am trying to move forward not backwards."
At the behest of defense counsel, the trial court issued an order to show cause for Jane Doe 3's appearance and the judge appointed counsel for her. The prosecution then served her with the order to show cause as directed.
Jane Doe 3 then appeared in court with her court-appointed attorney twice, but when sworn in to testify as a witness, said that she had previously testified at the preliminary hearing and the first trial and that she was not prepared to testify a third time.
The judge then asked her, "If I ordered you to testify, would you?" She replied, "With all due respect, no." She later said, "I don't want to relive the situation."
The judge then, upon the People's request, found her unavailable as a witness and allowed the prosecution to admit her prior testimony from the preliminary hearing in the first trial, as well as her evidence from the first trial, into evidence.
The jury then convicted Lawson of forcible rape (Penal Code § 261(a)(2)), forcible oral copulation (former Penal Code § 288a(c)(2)(A)) and forcible sodomy (Penal Code § 286(c)(2)(A)) against Jane Doe 3.
Lawson then appealed the conviction, arguing that she was not unavailable because she appeared in court, twice no less.
The First Appellate District Court rejected this argument, explaining that her inability to testify, expressed respectfully, was credible and therefore, she was unavailable and the exception applied to allow the read back of her prior testimony.

We cannot help but comment that Jane Doe 3's reluctance to testify must have affected the judge's views of the guilt of Mr. Lawson, so the prosecution gained an advantage by Jane Doe 3's description of how hard it was to relive the crime, making the case against Mr. Lawson much more credible.
The citation for the First Appellate District Court ruling discussed above is People v. Eljarod Lawson (1st App. Dist., 2020) 52 Cal. App. 5th 1121, 267 Cal. Rptr. 3d 183.

For more information about the Sixth Amendment right to cross examine a witness, please click on the following articles: