When's a Certificate of Probable Cause Unnecessary?
Penal Code § 1237.5 states that "[n]o appeal shall be taken by the defendant from a judgment of conviction upon a plea of guilty or nolo contendere except where the trial court has executed and filed a certificate of probable cause for such appeal with the clerk of the court."
This requirement seems to allow no exceptions, which is true. However, in some unique situations, as in the case summarized below, such a certificate of probable cause was found unnecessary. To best understand this, the factual background for the case is good to know.
Summary in 50 Words or Less: For most appeals of a conviction arising from a plea bargain, one must file and the judge must sign a certificate of probable cause before the appeal can be filed. However, there are very narrow exceptions to this general rule, as the following summary describes.

In 2006, John Packnett left a friend's house in Sonoma County to meet another friend, Jason Hopkins, on Lancaster Street.

Randy Alonzo, a person Packnett did not know, approached Packnett as Packnett was waiting and demanded his cell phone. Packnett told him no and walked away. Alonzo then followed Packnett and the two walked down the street. Alonzo had his own cell phone and was talking to someone while he walked.
Hopkins then pulled up in his car and Packnett got in. Alonzo also jumped in the car, sitting in the backseat. Hopkins turned around, surprised, to say, "what's going on?" and Alonzo grabbed Hopkins' cell phone.
Packnett then saw a hand holding a knife come through the window. Packnett was then stabbed once in his arm and three times in his upper chest by another man, apparently working in concert with Alonzo. Hopkins then jumped out of the car to defend Packnett and Alonzo jumped into the driver's seat to drive away. Hopkins was then also stabbed three times in the side of his neck.
The knife-wielding assailant was Juan Carlos Arias. Arias then jumped in the car and he and Alonzo drove away. Arias and Alonzo were caught by police a short time later.
Arias was prosecuted and charged with attempted murder, grand theft auto and other charges and enhancements.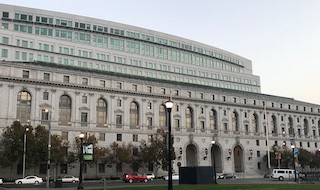 Court of Appeal First Appellate District San Francisco
A month later, in May, 2007, he entered a plea to two counts of assault with a deadly weapon (Penal Code § 245) and one count of unlawful driving or taking a vehicle (Vehicle Code § 10851(a)), and admitted that he committed these felonies for the benefit of a criminal street gang (Penal Code § 186.22(b)(1)(C)) and inflicted great bodily injury (Penal Code § 12022.7(a)). The plea bargain was to 18 years and eight months in state prison.
On the assault with a deadly weapon charge, the judge sentenced him to the mid-term of three years, plus a consecutive term of three years for the enhancement for personal infliction of great bodily injury and ten years for the gang enhancement. On the second assault with a deadly weapon count (against the other victim), the judge imposed a one-year term (one-third the midterm of three years), a consecutive one-year term for the personal infliction of great bodily injury enhancement and imposed, but stayed the ten-year gang enhancement. He was also sentenced to eight months (one-third the midterm of 2 years) on the vehicle taking count.
In September, 2018, the Secretary of the Department of Corrections and Rehabilitation recommended to the superior court that Arias' sentence be recalled and he be resentenced in accordance with Penal Code § 1170(d)(1) on the basis that appellant's sentence may be unlawful under People v. Gonzalez (2009) 178 Cal.App.4th 1325.
Gonzalez held that imposition of both the three-year great bodily injury enhancement and the 10-year gang enhancement violates section 1170.1, subdivision (g), which provides in relevant part, "[w]hen two or more enhancements may be imposed for the infliction of great bodily injury on the same victim in the commission of a single offense, only the greatest of those enhancements shall be imposed for that offense."
The trial court then revised the sentence on Mr. Arias and Mr. Arias then appealed the new sentence, which included a ten-year gang enhancement on each assault. Arias argued that he acted with a single intent, so the judge could only impose the gang enhancement once on his sentence, even though there were two victims.
The prosecution opposed his appeal, arguing that the appeal was procedurally barred because Arias did not first obtain a certificate of probable cause. The prosecution also opposed the appeal on other grounds.
The First Appellate District Court disagreed with the prosecution, saying that since the sentence Arias was appealing did not arise under a plea bargain or judgment of conviction, a certificate of probable cause was not required. In other words, Penal Code § 1237.5 was not a bar because Arias' appeal was not an attack on his plea bargain.

The citation for the First Appellate District Court ruling discussed above is People v. Juan Carlos Arias (1st App. Dist., 2020) 52 Cal. App. 5th 213, 265 Cal. Rptr. 3d 817.

For more information about appeals, please click on the following articles: