Is a Certificate of Probable Cause Required for SB1393?
On September 30, 2018, then-Governor Jerry Brown signed Senate Bill 1393 into law. It gave judges the new power and discretion "in the interest of justice" to strike or impose the Penal Code § 667(a)(1) prior serious felony five- year sentence enhancement. The law was considered overdue, as previously, Penal Code § 1385(b) prohibited a judge from striking any prior conviction for enhancement purposes under Penal Code § 667.
In a Nutshell: A certificate of probable cause is required for one to obtain first before seeking resentencing under Senate Bill 1393, the new law (that is not retroactive) that permits a judge the discretion to strike a five-year sentence enhancement (allowed under Penal Code § 667(a)(1)) for a prior serious felony conviction.

This law was particularly needed for those folks who had an extremely old prior serious felony conviction that may have been entered into when the defendant was young and accepted such a plea or sentence out of expediency, never thinking it would become an issue in the future. Similar to the power that a judge had under Romero (People v. Superior Court (Romero) (1996) 13 Cal.4th 497, at 531) to "Strike a Strike" for purposes of sentencing, SB1393 allowed a judge to remove a five year sentence enhancement just like a prior strike that would have otherwise doubled defendant's sentence or even exposed defendant to an indeterminate minimum sentence of twenty-five years to life.
The law is not considered retroactive, as it would open upon the floodgates for thousands of folks to seek resentencing. Rather, the law only applies to those cases whose appeal process is not final. An appeal is not final if 1) the appeal is still pending in any court of appeal; 2) there is time to file a petition for writ of mandamus or other review in the California Supreme Court; or 3) the 90-day limit for filing a petition for writ of certiorari to the U.S. Supreme Court has not passed (this 90-day period starts the day one's petition for any type of review is denied at the California Supreme Court.

However, what if a defendant entered into a negotiated and stipulated plea bargain and whose appeal process is not complete just prior to SB1393 coming into effect and voluntarily agreed to a sentence that include punishment for a prior strike conviction under Penal Code § 667(a)(1)?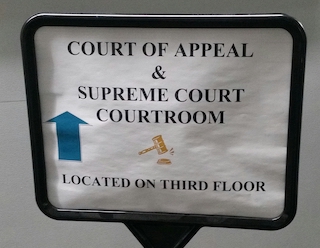 Court of Appeal Second Appellate District Los Angeles
This "perfect storm" took place in the plea bargain entered into by Christopher Williams in May of 2018 in Los Angeles County. Can one such as Williams just seek application of SB1393 or must one obtain a certificate of probable cause first before asking to have the five-year enhancement (or in plural) removed?
A bit of factual background may be helpful to understanding Williams' case. In May of 2018, Williams pleaded no contest to two felony counts of robbery and admitted a prior strike offense. Judge Edmund Wilcox Clarke, Jr., then sentenced him to 30 years and four months in prison as part of a plea bargain. Five of the thirty years were due to a prior serious felony enhancement under Penal Code § 667(a)(1).
Without requesting or receiving a certificate of probable cause, Williams simply filed a notice of appeal on May 31, 2018, the issue on his appeal being irrelevant to the topic of this article. SB 1393 came into effect while Williams' appeal was pending before the Second Appellate District. SB1393 certainly applied to Williams (under In re Estrada (1965) 63 Cal.2d 740, 744-745), at least to request resentencing, so he amended his appeal to also request resentencing under 1393.
The Second Appellate District (in downtown Los Angeles) denied Williams' added request for resentencing under SB 1393, pointing out that he needed to first seek and receive a certificate of probable cause for good cause to have the appellate court review the sentence. After all, when the sentence is negotiated between the prosecution and the defense in exchange for certain promises, there must be probable cause to re-evaluate the sentence, even though Williams entered into his deal before 1393 was passed by the Legislature or signed into law.
The appellate court noted that Williams had the alternative of simply filing a petition for writ of habeas corpus on the same basis with no need for a certificate of probable cause.
We understand the appellate court's ruling, as Williams is necessarily challenging the validity of the plea itself, not just seeking a "do over" because a new law allows a judge to reevaluate application of a sentencing enhancement.

However, in Williams' case, we struggle with this ruling because SB1393 was not heavily publicized prior to its enactment, so it is unlikely that his counsel or the prosecutor considered the plea deal in light of the five-year enhancement being later subject to reconsideration. We do not know if Williams' counsel or the prosecution even discussed SB1393 in negotiating the plea deal.
For more information about violent crime sentencing, please click on the following articles:
Contact us.