Does SB 1393 Apply Retroactively for 5 Year Enhancements?
The answer to the question posed in the title to this article is yes if judgment in the case is not final, but no if the judgement is final.
How then does one know if a judgment is final for purposes of Senate Bill 1393, which became effective January 1, 2019, and requesting that a judge exercise his or her discretion to possibly strike one or more five-year sentencing enhancements?
Why In a Nutshell: Senate Bill (SB) 1393, allowing a judge to remove a five year sentence enhancement for a prior serious felony conviction, is not retroactive to modify a sentence when the judgment is already final. However, if judgment is not final yet, i.e. there may have been a verdict, but the case is in some stage of appeal or the time to appeal to the California Supreme Court or U.S. Supreme Court has not expired, one can ask for resentencing under its provisions.

A familiar quote on this issue is that "[f]or purposes of determining retroactive application of an amendment to a criminal statute, a judgement is not yet final until the time for petitioning for a writ of certiorari in the United States Supreme Court has passed."
People v. Vierra
(2005) 35 Cal.4th 264, 305. In other words, if one has allowed the time to pass for filing an appeal in state court and one has not appealed in federal court, i.e. on a writ of petition for habeas corpus, the judgment is considered final and 1393 would not apply.
More precisely, a judgement is not final if: 1) an appeal of any issue in the case is still pending in the court of appeal; 2) a petition for review can still be filed or is pending at the California Supreme Court; or 3) the 90-day timeline for filing a writ of certiorari to the United States Supreme Court has not expired (the 90-day "clock" starts on the date one's petition for review to the California Supreme Court is denied).
However, even when a judgment is not final yet, a court does not need to remand a matter for resentencing if the record shows that the superior court "would not . . . have exercised its discretion to lessen the sentence."
Applying this law to an actual case is what the Fourth Appellate District did in the San Diego County case of Peter Johnson and Ian Guthrie in
People v. Peter Johnson
(2019 DJDAR 1111).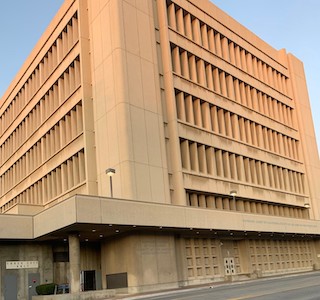 Inglewood Courthouse
Both Johnson and Guthrie were convicted of murder (Penal Code § 187) for the 2014 shooting of Lamar Canady in broad daylight in his barbershop in the Oak Park neighborhood in San Diego. The murder was apparently over a belief that he had stolen marijuana from a drug kingpin Omar Grant and slept with Grant's girlfriend.
Johnson and Guthrie were arrested months later in Kansas City Missouri. They both had prior criminal histories. The killing was especially brutal. At the time of trial, Grant had died.
After the verdict and the sentences, there were automatic appeals, as Johnson was sentenced to 50 years to life, consisting of 25 years to life doubled under the Three Strikes Law and to a consecutive 25 years for the firearm enhancement. Guthrie was sentenced to 50 years to life, doubled under the Three Strikes Law, plus another five years consecutive for a prior conviction for a serious felony.
The appeals covered a broad array of rulings during the trial, but for purposes of this article what is most relevant is that before the Court of Appeals could rule on such issues, Senate Bill 620 was passed, allowing courts to strike firearm enhancements under Penal Code § 12022.5 and 12022.53, as well as SB 1393 became effective, giving the judge discretion to strike the five-year enhancement for a prior serious felony conviction.
The prosecution opposed the application of either SB 620 or SB 1393, noting that the trial could judge was quite unsympathetic to either defendant at the time of sentencing. The People's attorney argued that remand of the case to the trial court would be futile because the trial court judge stated at sentencing that it "has no discretion to strike the prior serious conviction and wouldn't strike it if I had such discretion."
However, the Fourth District ordered a remand of the case for re-sentencing to the trial court judge, holding that "out of an abundance of caution" it would be remanded to consider whether Guthrie's prior serious felony conviction would be stricken for purposes of sentencing.
In other words, the appellate court rejected the People's argument that remand would be a futile act because the sentencing judge already addressed the issue, albeit before the statute came into effect.
The citation for the Fourth Appellate District Court ruling discussed above is People v. Peter Johnson (4th App. Dist., 2019) 32 Cal.App.5th 26.
For more information about SB 1393 and striking a five-year sentence enhancement for a prior serious felony conviction, please click on the following articles:
Contact us.