Does SB620 Have Retroactive Effect to Lower Prior Sentences?
On October 11, 2017, Governor Jerry Brown signed into law Senate Bill 620 to give discretion to judges at the local level to determine on a case-by-case basis if a ten, twenty or life-term enhancement in sentencing is proper for an individual defendant in any felony case involving the use of a firearm. It does not give the judge the power to reduce the enhancement, i.e. from twenty years to ten years, but only allows the judge to dismiss the enhancemet under Penal Code § 1385 ("in the interests of justice").
What One Should Learn from This Article: SB620 does not have retroactive effect, meaning if one's sentence is final, one may not have a firearm enhancement reduced. While most new laws that reduce a punishment are retroactive, SB620 specifically and unfortunately states that it is not.

Previously, judges were not given discretion to dismiss sentencing enhancement involving firearms that prosecutors decided, although judge do otherwise have broad authority to dismiss other types of enhancements.

The American Civil Liberties Union of California sponsored the bill, noting that the current gun enhancements disproportionately affect people of color. The author of the bill was State Senator Steven Bradford of Gardena.
We at Greg Hill & Associates understand how one could fear an overly zealous prosecutor who seeks a twenty year or life sentencing enhancement for the use of a gun.
The bigger issue, however, that we see with passage of this bill is its retroactive application and equal protection issues for those serving sentences with twenty year and lifetime sentencing enhancements.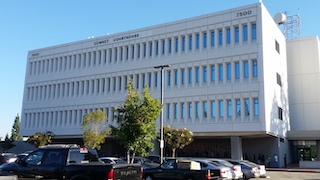 Downey Courthouse
In this regard, we are reminded of In re Estrada (1965) 63 Cal.2d 740. In re Estrada held that if an amended statute mitigates punishment, the amendment will operate retroactively to impose the lighter punishment unless there is a saving clause. (In re Estrada, supra, at p. 748.) The reason for this rule was that " '[a] legislative mitigation of the penalty for a particular crime represents a legislative judgment that the lesser penalty or the different treatment is sufficient to meet the legitimate ends of the criminal law.' " Id. at p. 745.
Here, in SB620, there does seem to be such a saving clause. According to the bill, judges will be able to exercise their discretion on gun enhancements at sentencing (which implies from once the bill becomes effective and into the future) and in resentencing.

Resentencing now is extremely limited to situations such as under Prop 47 (limited to low level theft offenses and drug possession matters), Prop 64 (marijuana charges only), Penal Code § 17(b), Prop 36 (three-strike cases where the third strike charge is not a serious or violent felony) and in certain juvenile matters under Graham v. Florida. These types of cases usually do not involve guns, with the exception of the juvenile cases involving life without the possibility of parole (LWOP).
However, it should be noted that if a person can invoke his or her to resentencing under, for example, Prop 36 or Prop 47, any part of the sentence, including for firearm use, could be altered. In People v. Garner (2016) 244 Cal.App.4th 1113, the appellate court concluded that when resentencing defendant under the resentencing provisions of Proposition 36 (§ 1170.126), the trial court had authority similar to that exercised by a trial court resentencing a defendant pursuant to section 1170, subdivision (d). Garner, supra, at p. 1118. Accordingly, when resentencing defendant, "the entire sentence may be reconsidered." Ibid.

With time, we will certainly find out if 620 is to be read narrowly (as we fear) or broadly, in the spirit of Estrada. We believe the issue will be the constitutional issue of equal protection and whether the bill is unconstitutional by limiting its application to sentencing and resentencing only. But for the present, the general understanding, based on the text of the bill, is that it only applies to open cases that are for defendants being sentenced or resentenced and does not provide for a petition for reduction of a sentence.
For more information about sentencing issues, please click on the following articles:
Federal Lifetime Ban on Owning a Firearm Applies After Misdemeanor Conviction for Domestic Violence under California Law
Restoring the Right to Own a Firearm After Being Convicted in California of a Crime That Triggers a Ten-Year Ban Is No Easy Task
Contact us.