Does Prop 47 Relief Remove a Sentence Enhancement?
The Reader's Digest Version: Proposition 47, after it changes a felony to a misdemeanor, does not change the prison term served for the felony to a county jail sentence for purposes of applying a prison prior sentence enhancement, i.e. under Penal Code § 667(b). Ironically, after this decision was heard, in early 2020, Senate Bill 136 removed the 667(b) one-year sentence enhancement from all use.

In 2009, Robert Diaz suffered a felony conviction for petty theft with a prior, under Penal Code § 666. For this conviction, he went to prison and was later released.
In early 2014, before the five-year "washout" period had elapsed, Diaz was convicted of possession of a firearm by a felon (Penal Code § 29800(a)(1)) and admitted a prior strike allegation and two prison priors (Penal Code § 667.5(b)). One of the prison priors was due to the petty theft with a prior conviction.
The judge sentenced Diaz to six years in prison, including one year for each of his two prison priors.
Proposition 47 was then passed and Diaz petitioned under Penal Code § 1170.18(f) to have his Penal Code § 666 conviction reclassified as a misdemeanor. The judge hearing the petition granted the petition, designating the crime as a misdemeanor. He then resentenced him to 180 days in county jail.
Diaz then filed a petition for writ of habeas corpus in his possession of a firearm by a felon case, arguing that one of the one-year enhancements for his § 666 conviction should be subtracted from his six-year sentence because it was re-designated as a misdemeanor and his sentence was changed to 180 days in county jail. The Los Angeles Superior Court judge, Craig E. Veals, granted the petition and changed the sentence to five years.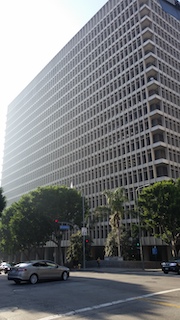 Clara Shortridge Foltz Courthouse
The District Attorney's office appealed this reduction in the sentence. They filed their appeal in the Second Appellate District.

The People argued that reclassification of Diaz's 2009 felony conviction of petty theft with a prior as a misdemeanor, which occurred after his six-year sentence was imposed, does not mean its use as a sentencing enhancement under Penal Code § 667.5(b) was improper. The People pointed out that the re-designation operates prospectively, from the date of re-designation forward and not retroactively, as if the conviction had always been a misdemeanor.

The Second Appellate District, in People v. Robert Mark Diaz (2017 DJDAR 1427), agreed. It looked to the statute itself and found that it had no retroactive effect. The reader should note that the effect is distinguishable from the fact that someone can seek resentencing on a conviction that predates the statute. However, if resentencing is granted, it is only effective from the date of resentencing.

The appellate court noted that Prop 47 creates two separate mechanisms for re-designating offenses from felonies to misdemeanors. The first provision applies to those people "currently serving a sentence for [that] conviction." The second provision applies to a defendant who has "completed his or her sentence."

Moreover, Proposition 47 expressly provides that the two mechanisms it provides are exhaustive. "Nothing in this and related sections is intended to diminish or abrogate the finality of judgments in any case falling within the purview of this act." Penal Code § 1170.18 (n)

The appellate court further noted that Proposition 47 borrows language from Penal Code § 17 that has a well-defined meaning that it does not grant an offense's designation with retroactive effect. The recent decision in People v. Abdallah (2016) 246 Cal. App. 4th 736 concerning Prop 47's effect on a sentencing enhancement based on a prior felony reduced to a misdemeanor, was on point.

In Abdallah, the trial court re-designated defendant's prior 2011 felony conviction for possession of methamphetamine as a misdemeanor. It did so prior to sentencing him on a new case. In the new case, it applied Penal Code § 667.5(b) to enhance defendant's sentence by one year, as in Diaz's case

Abdallah appealed the one year enhancement, arguing that because his prior felony conviction was re-designated a misdemeanor prior to his sentencing on the new case, the 667.5(b) enhancement could not be applied. The court of appeal agreed with Abdallah, saying that the re-designation of the felony as a misdemeanor precluded its use for later imposition of the one-year enhancement.

In Diaz's case, in contrast, his earlier § 666 conviction was not reduced until after sentencing on the new case. Consequently, the trial court had erred and the original six year sentence was restored.

The citation for the Second Appellate District Court ruling discussed above is People v. Robert Mark Diaz (2d. App. Dist., 2017) 8 Cal.App.5th 812, 214 Cal. Rptr. 3d 169.