Does Prop 47 Reduce a Federal Sentence of Life in Prison?
Proposition 47, as the reader of this article may already be aware, is a provision wherein certain felony convictions in California state court can be reduced to a misdemeanor. As the reader of this article may also be aware, federal sentencing includes enhancements for felony convictions in prior cases. With the recent passage of Prop 47, the issue has increasingly risen: does Prop 47 also have an effect on federal sentencing?
The Reader's Digest Version: A reduction of a felony conviction to a misdemeanor under Prop 47 does not affect federal sentencing on the case, so the original felony remains a felony for sentencing enhancement considerations.

Jesse Vasquez was one of ten people facing sentencing in federal court who had his state court felony conviction reduced to a misdemeanor through Prop 47. The other nine named parties were Gilbert Olivia Diaz, aka Chaparro, Arturo Cruz, Alberto Hernandez, aka Lil Black, Manuel Hernandez, aka, Frog, Francisco Flores, aka Lil Frank, Luis A. Aguilar, aka Woody; and Cesar Deleon Cruz, aka Thumper. In each case, the individual's prior California felony was the basis on which his federal enhancement rested.
Vasquez then bought an appeal with the nine others, arguing that his federal enhancement should be invalidated because he no longer stood convicted of two prior felonies that qualified him for life imprisonment under 21 U.S.C. § 841.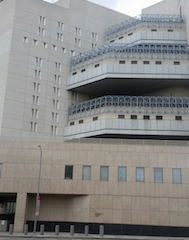 Federal Jail in Downtown
In 2007, Vasquez was charged in federal court with multiple counts of racketeering and drug related crimes. He was a mid-level leader in the Florence Trece gang. In 2009, he was convicted in federal court of the alleged drug-related crimes.
Vasquez had prior convictions from state court cases. In 1996, he was convicted of a felony under California Health and Safety Code § 11350(a) for possession of a controlled substance. He had other convictions as well, but the 1996 conviction is the one at issue in his federal case and the focus of this article. At sentencing in federal court in 2010, the judge ruled that a life sentence was mandated under 28 U.S.C. § 841(b)(1)(A) because Vasquez had two prior California convictions for felony drug offenses.
In November, 2014, California voters enacted Prop 47. Among other provisions, Prop 47 reduced future convictions under Health and Safety Code § 11350(a) from a felony to a misdemeanor. It also allows previously convicted individuals to petition the court to recall the sentence and reclassify certain felony offenses as misdemeanors. Vasquez, like the nine other defendants, did this successfully in state court, and then asked the federal court to resentence him to erase the life sentence under 28 U.S. C. § 841.
In
United States v. Gilbert Oliva Diaz
(2016 DJDAR 3779), the United States Court of Appeal for the Ninth Circuit considered Vasquez's appeal and rejected his arguments. The appeals court noted at the outset that Proposition 47, at Penal Code § 1170.18(n), provides that "[n]othing in this and related sections is intended to diminish or abrogate the finality of judgments in any case not falling within the purview of this act."
The appellate court, however, noted that federal law and not state law governed the analysis because the real question is how 28 U.S. C. § 841 applies once a prior conviction is modified. See
United States v. Norbury
(9th Cir., 2007) 492 F. 3d 1012,1014 ("whether a defendant's prior state conviction was a "conviction [within the meaning of § 841] is a question of federal, not state, law."); see also
Dickerson v. New Banner Inst., Inc.
(1983) 460 U.S. 103,111-112 (noting that consulting federal law to determine the meaning of "convicted" makes for desirable national uniformity unaffected by varying state laws, procedures and definitions.").
The appellate court also noted
United States v. Cisneros
(5th Cir, 1997) 112 F. 3d 1272, 1280, which held that a federal court is not bound by a state law's treatment of a felony conviction when the federal court applies federal sentence-enhancement provisions.
Turning to the retroactive effect Proposition 47 had on Vasquez's felony conviction, the court referred back to
Norbury
,
supra
, and explained that it had to evaluate whether the prior conviction qualified as a predicate offense under the law as of the day a defendant was convicted of his current offense; we ignore any later state changes to the state conviction." See, e.g.,
United States v. Salazar- Mojica
(9th Cir., 2011) 634 F. 3d 1070, 1072-74 (holding that, in the context of U.S. Sentencing Guidelines, defendant had still "previously been deported after being convicted of a felony," even though his felony was reduced to a misdemeanor after his deportation because "the relevant time for evaluating a prior conviction" is the time of the deportation).
As such, the appellate court in Vasquez's appeal, as well as in the nine companion cases, refused to undo the federal sentence that had already been imposed, regardless of Prop 47.
We understand how the federal is certainly bound by prior cases interpreting this very issue, but respectfully disagree with this ruling. We hope that Vasquez appeals this decision to the next highest court, as it seems individuals in the future who are today convicted of Health and Safety Code § 11350(a), like Vasquez was, but now as a misdemeanor, will avoid the life sentence beset on Vasquez, although the underlying conduce it equally blameworthy. This type of unequal treatment is fundamentally unfair and should not continue.

The citation for the Ninth Circuit Court of Appeals ruling discussed above is United States v. Gilbert Oliva Diaz (9th Cir., 2016) 821 F.3d 1051.

For more information about Prop 47, please click on the following articles:
Does Proposition 47 (Prop 47) Apply Automatically or Must One Affirmatively Request Reduction of an Offense?
Does Prop 47's Definition of Unreasonable Risk to Public Safety Apply Retroactively to Allow Resentencing under the Three Strikes Reform Act?
Contact us.